In October 2021, on a flight from Munich (MUC) to Keflavik Airport (KEF), I decided to go for a new type of posting. Onboard food, regardless whether we are talking about planes, trains or any other kind of transportation, feels to be very interesting for many of you – thus I decided to try out a new type of posting. Under the label Food I Had Onboard, I am presenting which kind of bite I got – from a several course meal to a chocolate bar. It is not a complete picture (for example, I did not record the breakfast in the skies on the return flight from Keflavik), but a nice indicator, I hope. My first episode covers a span of some six weeks – but I would guess that in the future, it will be significantly longer.
Always look forward to your feedback on this new idea. Enjoy – or feel scared – about these meals:
Food I Had Onboard – October 2021 until November 2021
Here is the food I had onboard, listed in chronological order.
14th Oct 2021, Lufthansa LH 2468 Munich (MUC) – Keflavik (KEF), Business Class
That's actually the meal which made me think about sharing more with you about food on board. This Lufthansa Business Class meal on a late evening flight to Iceland was themed after the German city of Leipzig. There were no menu cards, so that I cannot really tell you what kind of starter it was. The stripped meat with veggies and rice was actually really nice, as well as the dessert. Very friendly and attentive crew on this flight as well.
18th Oct 2021, Lufthansa LH 74 Frankfurt (FRA) – Dusseldorf (DUS), Business Class
The forty minute hopper from Frankfurt (FRA) to Dusseldorf (DUS) is always challenging for the crew. The more I appreciated the nice morning snack of a sandwhich, a cereal / nut bar and the Lufthansa apple, which has a lot of potential to an edible legend. The sandwich was not special – but finally, you just have some ten to fifteen minutes to consume the food anyway. Nice one.
22nd Oct 2021, Lufthansa LH 848 Frankfurt (FRA) – Helsinki (HEL), Business Class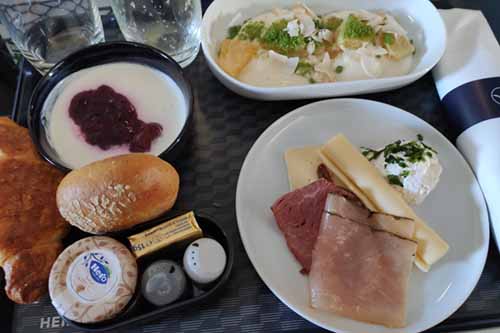 Lufthansa is nowadays branding business class meals after "typical dishes" of certain German cities. The outbound flight on my trip to Finland was branded as a typical Dusseldorf meal in this Tasting Heimat breakfast. Apart from the cold cuts plate, you could select between a (warm) Hash Brown Potato with Mustard Hollandaise – or the coconut rice pudding with condensed milk, pineapple and miso and matcha green tea shortcrust crumbles. The side dish was a yogurt with red berry compote. Sounds a bit weird, but overall really a nice bite.
25th Oct 2021, Luthansa LH 855 Helsinki (HEL) – Frankfurt (FRA), Business Class
Early flight on the way back home as well. This time the Tasting Heimat food was branded as a typically Hamburg dish. I went for the grilled sweet potato with scrambled egg. Again, there was a cold cut plate, bread (muesli yogurt bread, nice). The menu showed a yoghurt with pears – but I liked the grapes as well.
28th Oct 2021, Lufthansa LH 630 Frankfurt (FRA) – Dubai (DXB), Premium Economy
After a series of Business Class flights, these bites have been something like "Back to Aviation Reality": a small shredded green salad with two dried tomatoes opened this feast. I had been really looking forward to the sweet and sour beef – but the meat was simply too tough and the size of the dish was too small. The apple crumble was a bit of dry, but actually rather nice. One drink service in Premium Economy is not enough to in my point of view as well. There was a small wrap with a drink service before landing as well.
8th Nov 2021, Lufthansa LH 631 Dubai (DXB) – Frankfurt (FRA), Business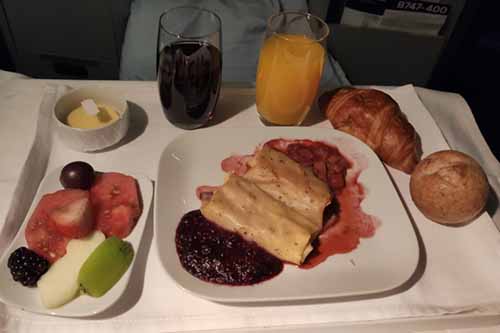 With a scheduled departure of 02:50 hrs, we had the night hopper back to Germany in Business Class, at the 747-400 Upper Deck. I slept over the welcome snack and just went for the breakfast. There was the choice of an omelette-alike egg pie, a cold cut plate – or the sweet crepes which I had. The crepes were actually really nice, the side dishes were fine as well. Unfortunately, there was hardly any other choice than honey when I have been offered bread and jam. Later, they also brought stuff like Nutella. Rather average.
12th Nov 2021, British Airways BA 937 Dusseldorf (DUS) – London-Heathrow (LHR), Business
On two consecutive trips to my favorite Rock of Ages musical, BA gave me the same option thrice: quinoa salad or antipasti plate. I cannot say that I really enjoy quinoa – but this time, I went for it. The salad was quite nice, the dessert was actually much better. The service was very distanced (as on the flight back on 14th November as well). Staff running through the cabin without masks (including the captain!) did not really feel safe.
14th Nov 2021, British Airways BA 932 London-Heathrow (LHR) – Dusseldorf (DUS), Business
Not too much to say here. Afternoon service, same option, this time I went for the antipasti. Interestingly the volume of the cheese and the lovely ham, massively differs from plate to plate. As I had the same option on my flight from Dusseldorf to Heathrow two days later, I skip this flight.
17th Nov 2021, British Airways BA 936 London-Heathrow (LHR) – Dusseldorf (DUS), Business
After the series of quinoa and antipasti, it almost felt refreshing to go for a breakfast dish at the very early BA service back to Dusseldorf. The choice was rather limited between a croissant with ham and cheese and one with cheese and tomato. As you see on the picture above, I went for the latter option. Finally, the Do&Co catering is best at the sweet delights.
18th Nov 2021, LOT LO 410 Dusseldorf (DUS) – Warsaw (WAW), Premium Class
LOT offers a proper premium class even on their European service. Thus, we sat in front of the curtain on this Embraer 195 service. Business Class does get some nicer food and a free seat next to you, but overall, this breakfast plate with cold cuts, joghurt with fruits and bread was really nice, even compared to some business class services on similar routes. The plate also contains a chocolate bar.
18th Nov 2021, LOT LO 45 Warsaw (WAW) – Toronto-Pearson (YYZ), Business
A cash bid brought us to LOT Business Class on this long-haul flight to Toronto-Pearson. Surprisingly, there were no menus, which I especially dislike in regard of the drink selection. However, the LOT meal services in the front of the cabin are great: the food selection was nice (maybe not too special), but the selection of spirits is just making you smile. I went for chicken as a main dish, while my wife had salmon. Desert was an apple pie. Love to finish my meal with a Polish sweet wodka, definitely.
Before landing, there was a second meal service, which was just served on one plate. Nice selection of some cold cuts and fruit.
22nd Nov 2021, LOT LO 46 Toronto-Peason (YYZ) – Warsaw (WAW), Business
The flight from Toronto Pearson (YYZ) to Warsaw (WAW) departs in Canada at 22:55 local time – the more I was surprised that LOT served the "major" meal dish on that flight not before landing, but after take-off. Even though the staff worked well (again), it took a while to serve the starters. The duck breast was actually really nice. I don't understand why you have to destroy the beauty of a Greek Salad with bleu cheese – but compared to the sticky bread rolls and the mayo-alike dressing, this still felt somehow fine. Again, there were no menus, so that I can only tell you that I went for "beef" and my wife for "chicken". Both dishes were really nice. Dessert was on your choice. I went for some fruit and the tropical cake. Apart from the critics on North American aviation catering, the food was really fine.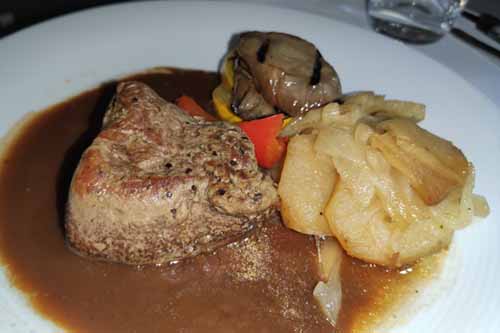 The breakfast service started some 100 minutes before landing in Warsaw. The dish was a fruit quark-alike creme with a grape, fresh fruit and cheese and cold cuts. The bread rolls were the same and still felt "special". Later, the crew also brought more rolls and condiments like Nutella.
23rd Nov 2021, LOT LO 407 Warsaw (WAW) – Dusseldorf (DUS), Premium
Back in the lovely Premium Class, there was a combination of two dishes, a nice Mexican-style side salad and chicken breast with… something. Hard to say what it actually was. It felt like hummus, but finally hasn't been that at all. Despite these definition issues, it was a nice snack on the 90 minutes flight from Poland to Germany. However, I again missed a second round of drinks, though – the more you eat, the more you have to drink as well.
Flyctory.com on Eating & Drinking
Flyctory.com is not a culinary blog. Nevertheless, here are all posts dealing with Eating and Drinking:
Lufthansa Group
Here are all my postings related to the Lufthansa Group: