Belfast and Northern Ireland have two airports: while Belfast International Airport is West of the capital and out of city bounds, George Best Airport or Belfast City Airport is in close proximity of city center. After my visit of the Rock of Ages Musical, I headed back home to Germany via London Heathrow Airport. Here is my review, which also includes some experience from previous flights.
George Best Airport – Location & Access
George Best Airport is located on the Northeastern edge of the city, close to the harbor area. The Titanic Quarter is not too far away, but in general, you likely do not end up staying in the airport area, but closer to the city.
There are multiple travel options to get to and from the airport. First of all, the airport website lists the Sydenham train station, which is some ten minutes walk away. However, you have to cross a bridge, which may be inconvenient with luggage or physical reductions. There is an airport bus, Bus 600, as well as one regional bus to Derry. I finally opted for the taxi option, which was most convenient and is less than 10 GBP from city center.
George Best Airport – Destinations
Belfast City Airport majorly features domestic routes throughout the UK. There is no connection to the Republic of Ireland like Shannon or Cork. For international or intercontinental travel, you likely connect via Heathrow (Aer Lingus, British Airways) or Amsterdam (KLM). Aer Lingus offers flights to Faro and Malaga.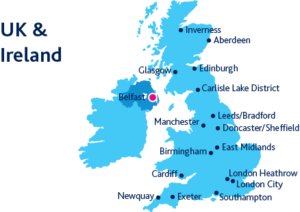 George Best Airport – Landside and Check-In
You cannot really say that the landside part of Belfast City Airport is super-charming, but it is functional and okay. However, you already see that the facilities have some capacity problems – especially the queues at the check-in desks are quickly tending to become a bit too long.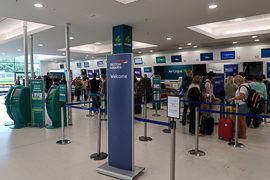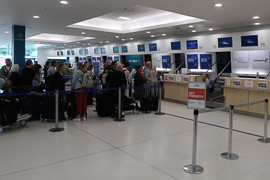 George Best Airport – Airside / Gate Area
After security, you first have to follow the nowadays quite mandatory labyrinth through the duty free store zone. Duty Free is compact, but will suit your travel needs. There are some stores for general needs thereafter.before you make it to the waiting area with more shops, restaurants etc. There felt to be just a too quite low number of seats in the waiting area. During my flights there, I thus either headed towards the pub and had a bite or took the British Airways Lounge.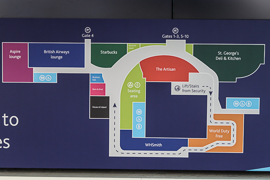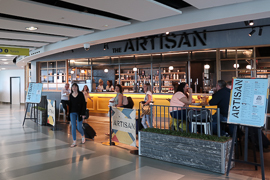 George Best Airport – British Airways Lounge
It is amazing in how many places (in general) British Airways is operating their own lounges. Due to the limitation in the ordinary waiting area, the lounge is a huge treat for the traveler – even though it is not too special and offers the basic British Airways lounge offers. I was happy to spot European power plugs in the working area. There are two very special things about this place: first of all, it does not have a toilet so that you have to leave the lounge for your biological affairs Secondly, there is boarding through the lounge – which is a lot of added value here – lining up for boarding for the ordinary passengers tends to become chaotic due to the very limited space here.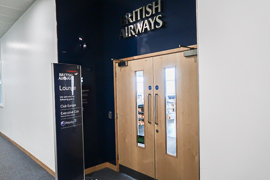 George Best Airport – My View
Too crowded at the gates – this minor Northern Irish hub is obviously operating at its very limits. Air travel has grown a lot, especially in the United Kingdom. George Best Airport is suffering from that with high consequences. The airport is charming and likely still the much better option compared to Belfast International, which is significantly more far away from the city center. However, it is definitely not a very good experience you will have in this place.
Flyctory.com in Belfast
Here are all Flyctory.com postings about the Northern Irish Capital:
Airports on Flyctory.com
Here are all other airport-related postings:
Destination map: Airport Website