Madame Tussauds London
34 GBP (adult walk in)
Flyctory.com Pros
Likely the best quality wax figures available
Very well set up dioramas / ares
Good information about the characters
Good ticket packages available
Flyctory.com Cons
Terrible Covid-19 hygienic handling
Typically very crowded during non-pandemic times
High nominal price
2.5 million visitors per day – Madame Tussauds is definitely one of the most popular touristic destinations of London. The wax museum is on the same level like the Tower of London – the London Eye is even more popular in non-pandemic years. Due to the crowds typically being in the line for a visit to the origin of the global wax figure empire, I would not dare to visit "M.T.". However, I took opportunity of the special situation in October 2020 and met Pele, Shah Rukh Khan and the Queen. Here is my review.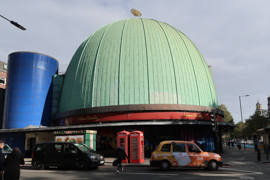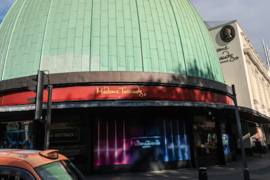 Madame Tussauds – Location & Admission
Madame Tussauds London is located at Maryleborne Road, the A501. Five Underground lines (Bakerloo, Circle, Hammersmith & City, Jubilee, Metropolitan) connect to Baker Street, which is just a few steps away. Attractions nearby are the Sherlock Holmes Museum or Regent's Park with the London Zoo. There are some parking spaces around, but I highly recommend to avoid driving into the center of the city by car.
Standard admission (adult) for Madame Tussauds is 30.50 GBP if you book online and 34 GBP walk-in rate. There are, however, quite interesting combo tickets. For example, I visited Madame Tussauds together with Sea Life London, Shrek's Adventure and the London Eye for 55 GBP. The opening times vary significantly with the volume of visitors expected. Typical opening times are 9:00 or 10:00 hrs and the museum closes between 16:00 and 18:00 hrs. The museum is opening all year round.
Madame Tussauds – The Visit
As have been too stingy and did not buy one of the guidebooks, I unfortunately cannot tell you the exact number of figures in this London place – but depending on the internet source, there are 300 to 400 copies of celebrities, politicians and other people, who somehow deserve to be admired by about 6,000 people per day (on a normal day). Like in all Madame Tussauds outlet, the figures are arranged in different sections, dioramas or however you like to call them. Right at the beginning of your visit, you take an elevator upwards, where your tour is beginning. As in all locations, there are signs to each figure giving you basic biographic information.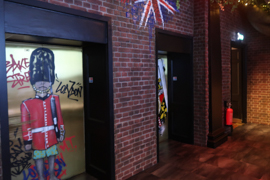 The first section takes you to the movies. There are not just Hollywood superstars like Denzel Washington, you also meet highly valued actors from other markets like Bollywood.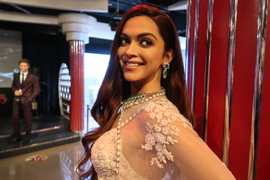 Aftter a short Alien display, the next area features more actors, but typically represented in their most famous roles. You also run into legendary movie characters like E.T., or King Kong. Arnold Schwarzenegger is ready for a Terminator picture – if that it too violent for you, what about meeting Shrek? The section finishes with Alfred Hitchcock.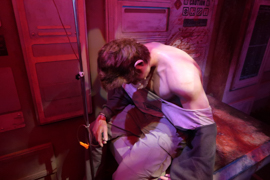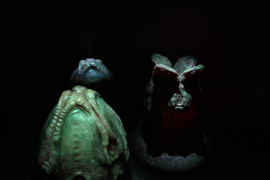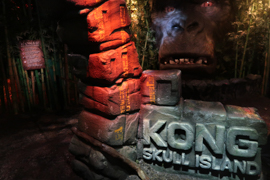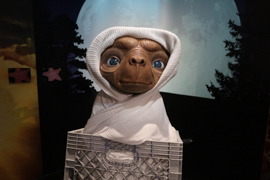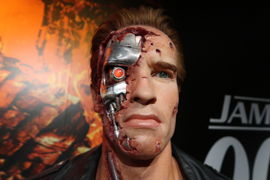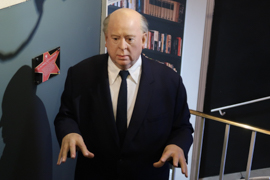 The World of Sports – and Politics
The section about sports feels suprisingly small. Meet Jesse Owens, Ursain Bolt, Rafal Nadal and some legendary British sportsmen, before you head to the world of politics. Of course, former and active members of the British royal dynasty have to be represented in this place. The Queen is even represented twice (see below), but Lady Di or Kate are also very popular pals for a picture.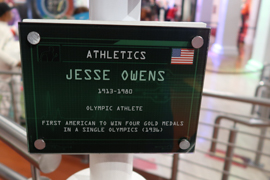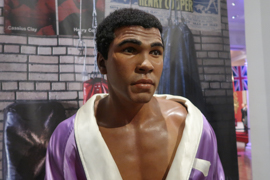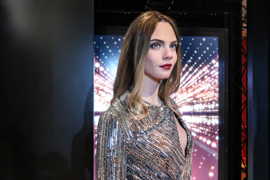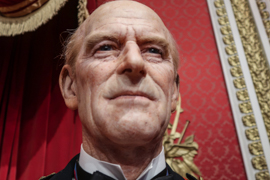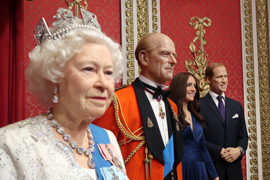 After the royal section, there are international politic big players, from the Dalai Lama to Donald Trump (who has, of course, still been the US President at the time of my visit).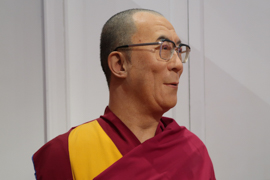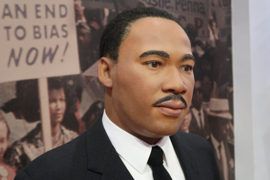 Music Superstars – and the Real Legend of this place
Right next to Barack Obama and other politicians, there are The Beatles, Britney Spears, Pink or Michael Jackson – the wax who is who of music business business. The end of this section does not only allow for a snap with Adele, but also for a High Tea picture with the Queen.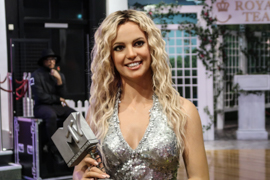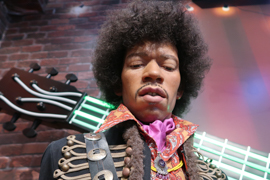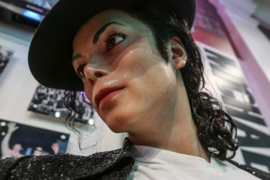 A Madame Tussauds palce would not be complete without honoring the legendary founder of these places and an overview how the figures are done now and then.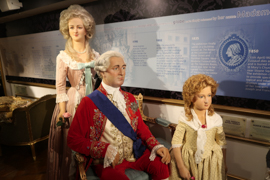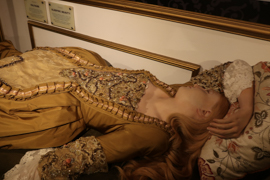 Licenced Stuff…
If you like Marvel or Star Wars, the hightlight of your visit might be quite at the end of your time. A giant Hulk figure introduces you to the Marvel Hall of Heroes. I personally liked the legendary Star Wars scenes more, including the cantina or a light saber battle between Luke and Darth Vader.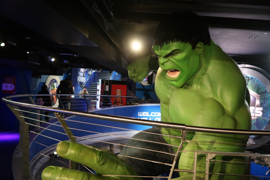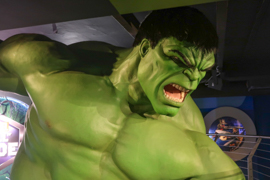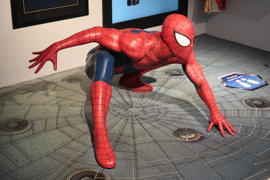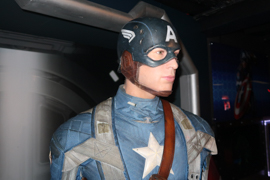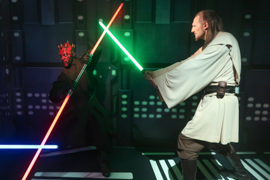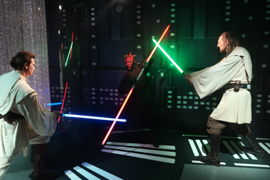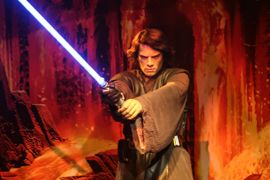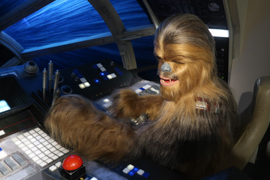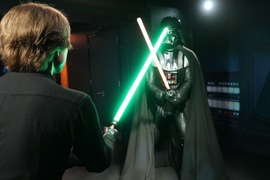 Madame Tussauds – Services
Of course, there are a couple of photo services (many of them were closed during my visit, likely due to the low attendance and hygienic measures. At the end of your visit, you mass a souvenir store which does not really give you any big surprises. Typical M.T. souvenir stuff.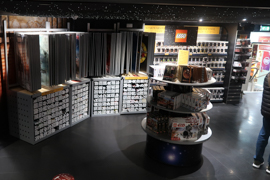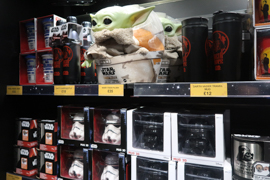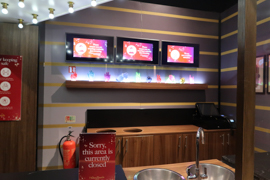 Overall, the staff was very friendly.Unfortunately, they are absolutely inefficient guidance regarding people ignoring the Covid-19 measures. They were told to be able to ask people to leave after the third violation. Unfortunately, the staff rather stays in the same area, while the people are moving so that even a group of three girls, who took off their mask at (really!) any wax figure and also touched and hugged them had a complete visit. I feel that this is the wrong customer policy – quite a bunch of other guests were complaining, including myself.
Madame Tussauds – My View
In generally, I agree to the comment in the Lonely Planet travel guide about London that Madame Tussauds is one of the most useless attractions in the times of internet. You nowadays know how your kings and queens or other superstars are looking like. But there is that Madame Tussauds factor: they just do it right and visiting the place is a lot of fun. The figures are just outstandingly good, the dioramas are well made. My visit in October 2020 was set for a perfect time at the wax museum legend. Unfortunately, they do not dare to blame customers. I feel it was really a shame (and lead to a significant downgrade) – and something they need to adjust in post-pandemic times as well.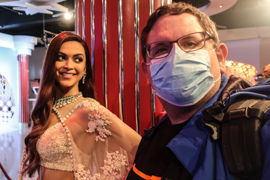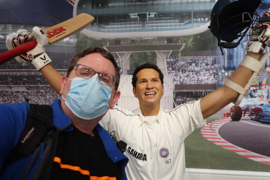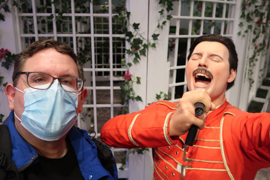 Wax Museums
Here are all other postings about wax museums:
Travel Postings about London
Here are all travel related postings about London: