Traveling to the Scottish Highlands – a Rock of Ages musical trip in August 2022 lead to a trip quite to the North of the United Kingdom. I saw four shows in Inverness and traveled there from London-Heathrow (LHR) by air (the rail trip to Inverness from there is some eight hours). The airport is run by the Scottish Highlands and Islands Airports Limited, similar to places like Barra (BRR), and thus does not have to operate fully commercial. However, Inverness has become a rather popular tourist destination and hub for Scotland tourists, so that the airport almost doubled their passenger numbers from 2010 to 2019. Here is my review.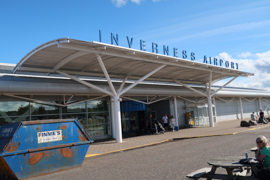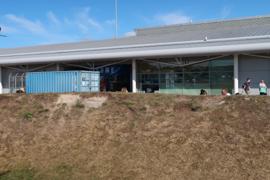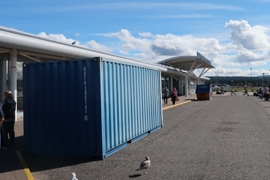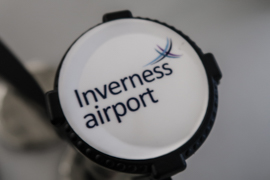 Inverness Airport (INV) – Location & Transport
Invereness Airport is located Northeast of the city. The distance to city center is roughly nine to ten miles. The taxi ride without congestion takes you some 20 minutes or 25 GBP. During the weekend, the travel time may double. Several rental car companies operate an office or offer services at Inverness Airport (INV). In addition, there is a Courtyard Airport Hotel, which may be handy for early departures / late arrivals.
Alternatively to taxi or rental car, there is a bus. Unfortunately, the connections driven by Stagecoach (bus lines 10A, 11, 11A) are not really sufficient. There is no bus connection for early morning flights from the city and in general, the buses are neither linked in frequency nor in capacity to the flight schedule. If there is a group of people waiting for the bus already, you might have to go for the next one (which may mean waiting up to one hour). This is extremely unfortunately as the taxi situation at the airport is limited and you may have to wait quite a while for a driver. Rail tracks of the Aberdeen to Inverness line are right at the airport and could ease transportation. However, with a volume of 900k passengers roughly in 2019, this does not feel economic.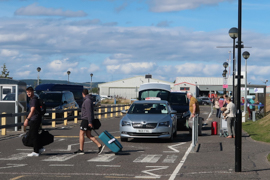 Inverness Airport (INV) – Connections
If you think about the Highlands and Islands Airports, you first think of Loganair. Indeed, the Scottish company runs a couple of connections, including Kirkwall (KOI) on the Orkney Islands or Stornoway (SYY) on the Isle of Lewis. However, they also have a couple of domestic operations like Birmingham (BHX) and Manchester (MAN) as well as a connection to Dublin Airport (DUB). The three other big players at Inverness Airport (INV) are British Airways (daily service to Heathrow), KLM (daily flights to Amsterdam AMS) and especially EasyJet, who connect to multiple British destinations. Due to the rather long runway 5/23 (1,800 meters), the airport can handle rather large planes like Boeing 737's or Airbus 320 class ones.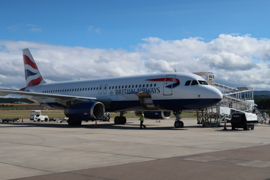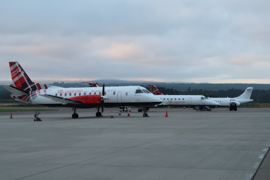 Arriving (Domestic) at Inverness Airport (INV)
I had a flight from Heathrow and thus arrived at Inverness domestically. You unboarded (and on the return: boarded) the plane through ramps without stairs as I for example used also at Long Beach Airport (LGB). I feel they are very handy and significantly ease the boarding process in case of physical limitations. You then had to walk along the in-fact terminal building to its rear, alongside container-alike buildings, which seem to have been added for international arrivals. Finally, there is one luggage belt. As flights feel to be very often handled in parallel, the situation at the belt was so packed that I really felt uncomfortable.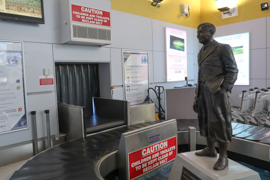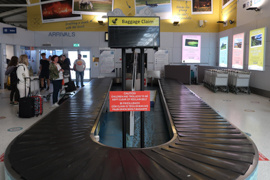 Departing (Domestic) from Inverness Airport (INV)
My flight back to London and then home departed at lovely 7:00 hrs, so that I had been at the airport around 5:00 hrs. The facilities were just about to open. Interestingly, the stores and restaurants landside stayed close at that time, even though there were two major flights in parallel, an EasyJet and a BA one plus a Loganair service to Dublin (DUB). They had a bit of issues at the security check, where the fast track did not work as well.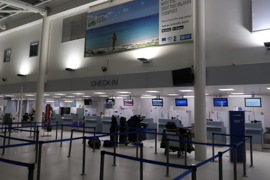 I have been one of the first passengers airside, so that I could take these snaps without too many people around. When I left the airport lounge (see below) some one hour later, this area was packed with people from the three flights.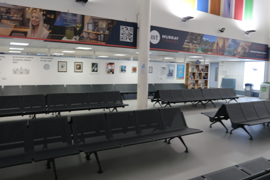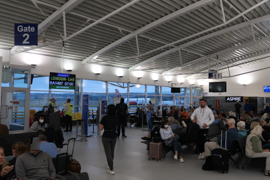 Boarding process was in line with the arrivals procedure: you walked from the terminal across the apron over the ramp to the plane. The views on a sunny Scottish morning were awesome.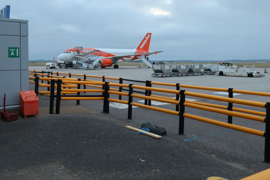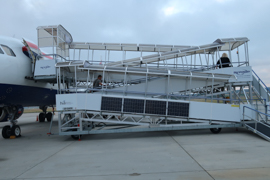 Inverness Airport (INV) – Services
When I entered the airside area, only one bar and restaurant was already open. This one also somehow serviced the Aspire Lounge Inverness Airport (INV), which I will feature in a separate posting. Later, the souvenir store and some other facilities had opened as well. The airport offers free WiFi, but at least in the lounge, I had some struggle with it.
Inverness Airport (INV) – My View
Especially after the Covid-19 depression, Inverness Airport (INV) faces capacity issues. The departure facilities still feel fit for purpose, but neither the arrivals area nor the transport situation is somehow in line with the capacities required. Nonetheless, on a sunny Scottish days, with the scenery around, this place is somehow a beauty.
Aviation in the United Kingdom
Here are all my Airports & Airlines postings related to the United Kingdom:
Flyctory.com and Iceland
Here are all my postings related to Iceland: