Avanti First Class Train Station Lounge London Euston Station
In June 2022, I had the opportunity to have a (for me) rather unique experience as a rail traveler: right before I headed on a First Class rail trip with Avanti West Coast Rail from London Euston Station to Manchester Piccadilly, I had the opportunity to have a look into their lounge. I was especially interested in how the Avanti First Class Train Station Lounge at London Euston Station (which I believe is somehow the full name) would compare to the two rail lounges I reviewed before. They are both driven by German Rail, located at Frankfurt Airport and at Stuttgart Main Station. Here is my review.
Avanti Lounge London Euston – Location and Access
The lounge is located on the upper level of London Euston station, at one side above the waiting area. You can access the lounge via stairs, elevators and escalators. The directions to the lounge are given throughout the airport. However, the signs don't explicitly name Avanti as the operator of the lounge.
As far as I understood, the only way to access the lounge is a first class ticket by the railroad company. Avanti West Coast Rail does offer a frequent traveler program, but even the highest status level does not show lounge access as a perk. In addition, you are not allowed to enter the lounge earlier than one hour before the train ride. This is what I felt to be very bothering – especially if you imagine you return from an event which ended earlier than expected and you cannot work or relax in the lounge. The Avanti Lounge London Euston is also open to certain guests traveling on Great Britain's finest sleeping car train, the Caledonian Sleeper.
Weekday operation times at Euston are 6:45 to 23:00 hrs on weedays, 6:45 to 21:30 hrs Saturdays and 8:00 to 23:00 hrs on Sundays.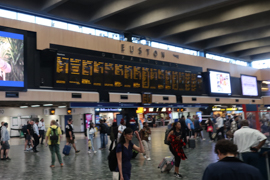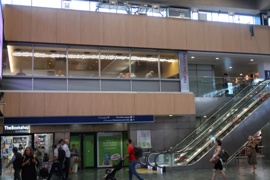 Avanti Lounge London Euston – Atmosphere
The Avanti West Coast First Class Rail Lounge offers quite a couple of different seating opportunities. You see cozy relax seats as well as bistro-alike seating in the pictures below. However, one issue is the lack of power plugs on many seats. In addition, I feel that there is no real concept behind the architecture of the lounge (in vast contrast to the clearly designed new German Rail Lounges). It rather felt to me as if they collected different kinds of seating and relaxing opportunities over time.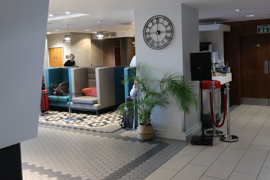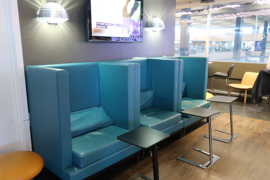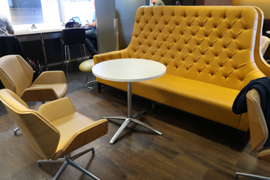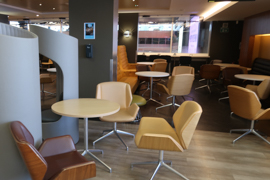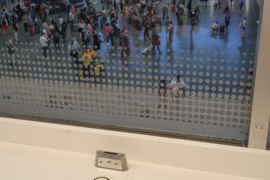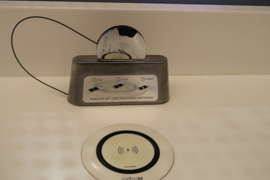 There is a separate – and a bit of hidden – restricted area for Caledonian Sleeper passengers. This is a bit of weird, as the lounge was rather full during my visit and this area was empty – at most being used twice a day, at the arrival of the train in the morning and before departure in the evening. The area also featured proper work desks, which made it even more confusing.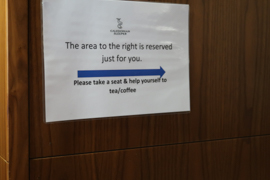 Avanti Lounge London Euston – Food & Drink
The Avanti Lounge does offer a selection of drinks and snacks. Alcoholic drinks (including beer and wine) are charged. Single shots or beer or cider are in the range of four to five pound. I had a morning breakfast service and had the option of some pastries. The more, I was rather surprised when I saw the Euston Station Food Menu on the Avanti website. I have neither seen that menu somewhere in the lounge nor one of the "fancy" dishes listed there for breakfast, e.g. Salmon and cream cheese on rye bread. Euston Station feels to be some sort of "Flagship" lounge for the company – they offer a wider range of items there.
Avanti Lounge London Euston – Services
One of the most surprising features of the Avanti First Class Lounge at London Euston is that the bathroom is also having showers. I guess this is in order to accommodate the Caledonian Sleeper passengers. I finally decided not to use the WiFi, as Avanti requests to hand over much more personal data than I feel would be sensible for a business lounge. The staff was overall friendly. However, they did not introduce me to the services of the lounge properly (see above).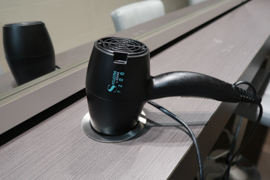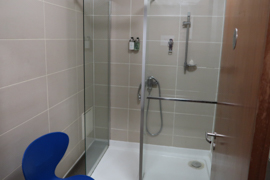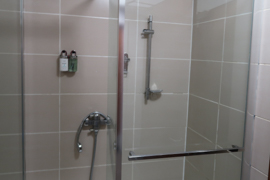 Avanti Lounge London Euston – My View
I struggle with that lounge. It felt chaotic, not really having a concept. I also don't like that there is no chance to quality as frequent traveler and than access is limited to one hour before departure (which in fact at most means 50 minutes of staying there before you walk to the platforms). In theory, they have a comparably nice range of items to drink and a limited, but nice selection items – however, you need to know that before or guess. A place with much more potential for good than it actually feels like when you are there.
Travel Postings about London
Here are all travel related postings about London:
Lounge Reviews on Flyctory.com
Here are all Lounge Reviews on Flyctory.com: