It may be heartbraking for some Scottish aviation lovers: though the largest city in Scotland is Glasgow, capital Edinburgh has the major airport. The two major travel hubs are just separated by some fifty miles and are driven by the same company, AGS Airports. Here is a review of Glasgow Airport.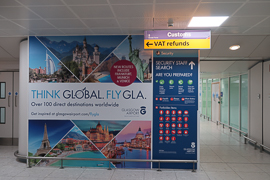 Glasgow Airport – Connections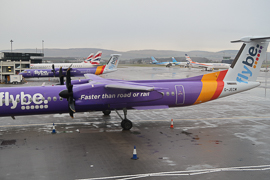 Glasgow is growing as a travel hub to Scotland. There are connections to all over Europe. However, there are some interesting intercontinental connections like services to Canada (Toronto, Halifax). There are also some holiday charter airlines, which serve popular sunny destinations. Emirates connects to Dubai. A very important role in British air traffic are also the Loganair connections to the Scottish islands. For example, the quite well-known connection to sand runway island airport Barra is departing from Glasgow.
Glasgow Airport offers a destinations map on their website.
Glasgow Airport – Location & Transport
Glasgow Airport is located quite close to the city, some eight miles West of city center.
The most prominent way for travellers getting into Glasgow City Center is likely the express bus, which is 8 GBP for an adult single (12 GBP return). It does several city center stops. The service is quite reliable. However, I twice had traffic situations in Glasgow, where the bus was blocked or had to divert due to parades or odd traffic situations in the city center. In that case, you may have to go for a taxi, which should not exceed 20 GBP. The rental car center is closeby.
Glasgow Airport – Arriving in Glasgow
There is no real plus nor a minus when you arrive at Glasgow Airport. The place gets its job done – it is neither fancy nor annoying. The international arrivals area has a quite nice seating area with some snack opportunities around. The domestic one features a Tesco Supermarket and is significantly more buzy.
Glasgow Airport – Departing in Glasgow
There are two Terminals, 1 and 2, in Glasgow. However, Terminal 2 is just something like a huge container used for the check-in of low-costers like Ryanair or Jet2.com. Most airlines, including Lufthansa, British Airways and Scotland's very own Loganair use Terminal 1. The landside part is quite nice. There is some entertainment for kids and some nice shops and restaurant. Security is (like in most UK airports) quite efficient.
Airside, you cross the mandatory duty-free shop visit first. After that, you follow a couple of shops before you reach some sort of plaza with some more money-spending opportunities. From there, you may head to different gate areas. The airside opportunities may not be extremely special or overwhelming, but they feature a nice variety and selection of goods and food.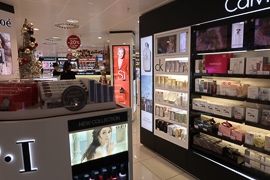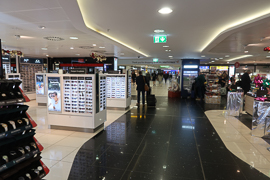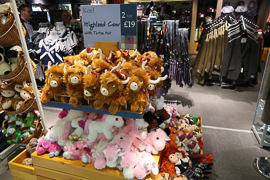 Glasgow Airport – British Airways Gallery Lounge
The most eye-catching feature of the British Airways Lounge in Glasgow is that you can look into it from outside, just as there are windows from the main walkway. The lounge itself is very nice and cozy. Especially the small bar area is nice. The whole lounge offers a nice view on the apron. You should not expect a fancy buffet like in Heathrow, but there is some nice food and drinks in a nice atmosphere, so I highly appreciated to use it.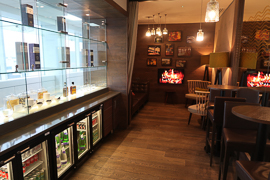 Glasgow Airport – My View
Glasgow Airport is a convenient travel hub for the city and the area. I always felt quite comfortable with the easy connections. There are only two things which may be quite bothering: the dependency on the Glasgow city traffic on the Express bus may be very uncomfortable. The rental car return signposting is also challenging. Secondly, the airport is just nothing special – typical UK architecture. But at least, Glasgow has a nice variety of shops and services, short routes through the airport and relaxed and friendly people – which leads to a much better rating e.g. compared to Manchester.
Other Glasgow Articles