Wow, it's already half a dozen of episodes. This time, I start my Food I Had Onboard posting with two flights in December 2022, followed by my first flights in 2023. Hope you enjoy my thoughts about munching above the clouds and on rail.
8th December 2022, Lufthansa LH 1454, Frankfurt (FRA) – Tirana (TIA), Business Class
There was quite a depressed mood on board this Airbus 320neo, as the flight was a deportation one for an Albanian family. The crew felt impacted by that as well, but did a really lovely job with me being the only passenger in the business class cabin. The main was a cold shrimp salad served with a wam bread roll (which was reasonable). The dessert was some sort of cream – I hoped it to be some Christmas-alike – but that was definitely not the case. Tasing Heimat now comes without a city branding (which has typically been ridiculous anyway…).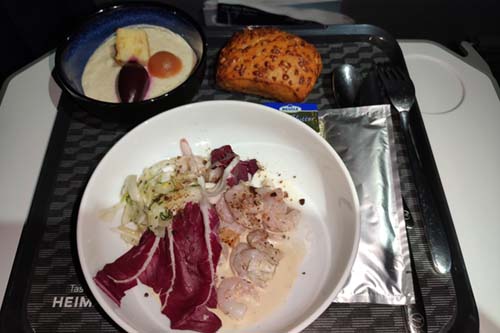 10th December 2022, Lufthansa LH 1425, Tirana (TIA) – Frankfurt (FRA), Business Class
The flight back later was rather mixed as well. The plane had a more than one hour delay, which did not bother me too much, as I planned to stay in Frankfurt anyway. I did not like the crew as much as the lovely outbound staff. The food was weird – a tiny slice of salmon (I initially did not get that it is in fact a seafood dish) and two dry cold omelettes slices were the main ingredients of that dish. Not my day – butter was missing on the plate as well. Oh and there was no Lufthansa apple as well, in contrast to the flight two days before (I tend to forget to mention it). Sitting in the first row was nice – apart from that, there were not too many reasons to overwhelmingly enjoy the flight.
19th January 2023, British Airways BA 935, Dusseldorf (DUS) – London (LHR), Business Class
For the first flight of 2023, I was expecting nothing but the choice between the Full English Breakfast and the vegetarian one. The classic has been available on my flight to Heathrow, but the vegetarian option surprisingly was "something like Eggs Benedict", as the flight attendant named it. Finally, the dish were two hard poached eggs with some Balkan Region style sauce, which was actually quite nice. Service on the first flight was kind as well – the Italian (?) origin crew just was rather loud when they chatted in the galley, while I was longing for a post-breakfast nap.
19th January 2023, British Airways BA 1344, London (LHR) – Jersey (JER), Business Class
A short stay on Jersey this time – I am always amazed how professional and efficient the crew is working on this 30 minute hopper from Heathrow. I even had the option of three dishes in Club Europe / Business Class. I finally favored the smoked salmon over a ham dish (which I finally had on the return) and a Mediterranean style vegetarian salad. The salmon was really nice, coming with the warmed up soft bread and a lovely three layer desert. Kudos to the crew, who did an amazing job.
19th January 2023, British Airways BA 1349, Jersey (JER) – London (LHR), Business Class
I could definitely just copy and paste my thoughts about the crew for the return flight. They did a great job again. This time I went for the ham dish – I chose it by the "I don't know that word, so I have to try this food" method. Maybe you can help me. Again, great work in the cabin and a lovely Do & Co desert – regarding the short flight time, these services have been close to perfection.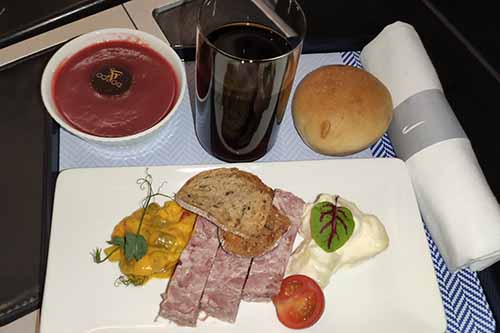 21st January 2023, British Airways BA 666, London (LHR) – Marrakech (RAK), Business Class
Three choices on the morning flight to Morocco: I went for the mushroom omelette (which actually turned out to be a spinach and mushroom omelette). The other choices were a cold cuts platter and the classic Full English. Regarding it was a three hour flight, the choice was just okay… You more or less have the same service on a one hour one. The drink refill became slow quite quickly and the crew rather felt to care about themselves. I also don't like when flight attendants handle two mobile phones in parallel during landing… It is simply one of the most risky parts of a flight. At least, there were pillows and blankets and 80 Tier Points in the account.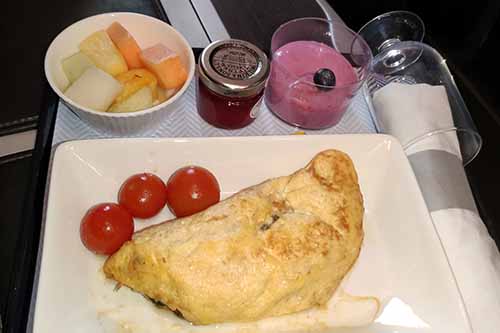 21st January 2023, British Airways BA 669, Marrakech (RAK) – London (LHR), Business Class
After that average experience, I was not expecting too much for the return from Marrakech Airport (RAK). The initial experience was definitely better: there was a printed menu, a pre-dinner drink with nuts and the crew felt nicer as well. Unfortunately, one of the main dishes, roast beef with potato salad, was not available and they had salmon instead (yeah, the Jersey trip one…). The starter was a Canneliini bean salad, which was okay. I went for an Sri Lankan aubergine curry, which strongly reminded me of a Sri Lankan milk rice, which I had a few years ago in SriLankan Airways business class… Damn, this curry was hot.. I loved it. Alternative would have been a cottage pie. Dessert was a panna cotta and some cheese with crisps, both served on the tray from the galley. However, cleaning the table and the additional drink service was a bit of lame.
22nd January 2023, British Airways BA 938, London (LHR) – Dusseldorf (DUS), Business Class
To make it short: the last flight of this long travel weekend was the worst British Airways performance I experienced on that trip. One of the flight attendants in the Airbus A320neo which had eight or nine packed rows of business class, was obviously in training or had low experience. The (male) team leader first felt very explanative to her (not to call it mansplaining) the flight got some one hour delay on the Heathrow ground due to fog and low temperatures in Heathrow. Food was served around 10:45 London time, I went for the cold cut platter instead of the mushroom omelette (see above) or the Full English Breakfast. I did not feel like these one any more at German lunch time.
The young crew member served the food holding her British Airways mobile phone all the time. The crew also did not offer bread in the first rows. It is fine to learn and to improve – but serving the passengers is just their secondary skill. How should I believe that this lady is able to do her main job, i.e. assisting me in case of an emergency? The dish was okay, no real highlight – overall happy to get this one hour net flight time operation done quickly.
2nd February 2023, British Airways BA 3270 (by BA Cityflyer), Dusseldorf (DUS) – London City (LCY), Business
Rock of Ages time again. Heading to Peterborough finally, I flew into London City Airport (LCY) – and had a really nice breakfast service. Good food (there was a veggie option as well), a great crew and the massive legroom seat 2C in Business Class. Flying to London in the very early morning with some nice perks and good food.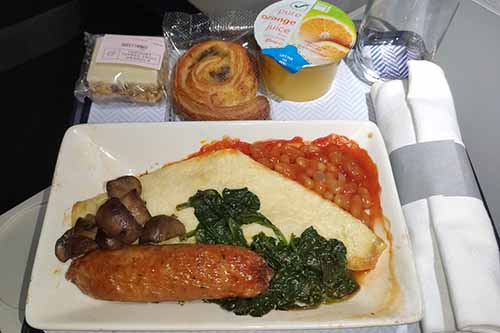 5th February 2023, British Airways BA 3277 (by BA Cityflyer), London City (LCY) – Dusseldorf (DUS), Business
On the late afternoon return back to Dusseldorf Airport (DUS). There were three options, of which I went for the halloumi salad. The meal was actually much better than I expected – I rather went for it as I did not feel too much for the other two options. Service has been okay as well – the people Sunday afternoon flight business class on that feel to know each other quite well, though. One flight attendant even brought a gift for one passenger from the galley.
9th February 2023, British Airways BA 941, Dusseldorf (DUS) – London (LHR), Business
First leg of my Weird Al Yankovic tour-chasing… and the very first flight is delayed by more than an hour. What could make me more happy than some great sandwiches, and a scone (not in the picture) with clotted cream and strawberry preserve? Very kind and caring service and great food lead to a lovely afternoon experience.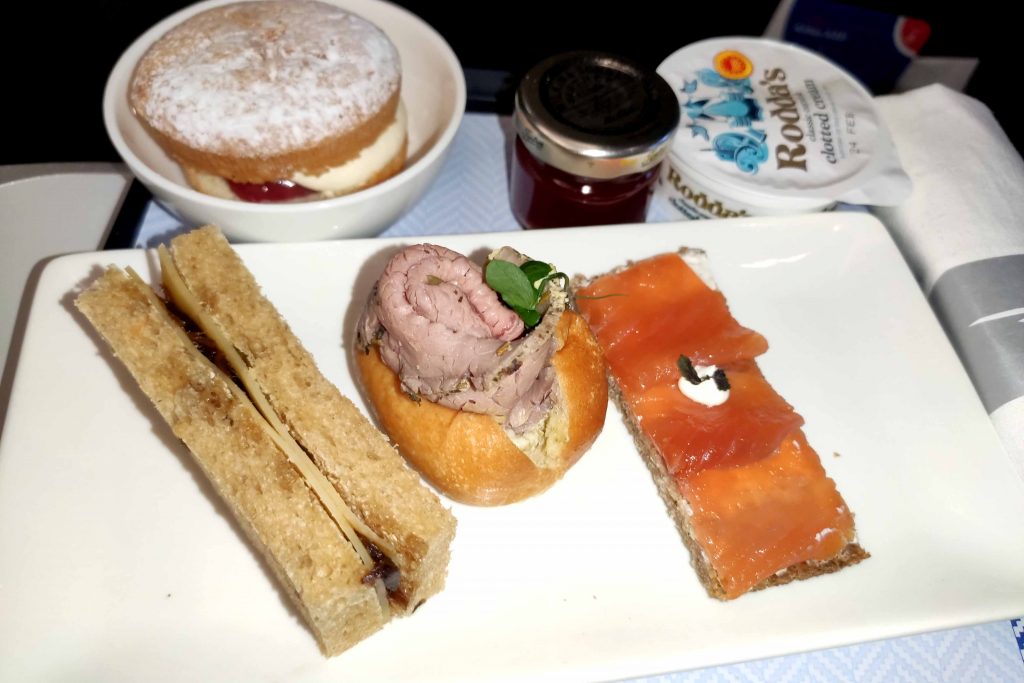 9th February 2023, British Airways BA 824, London (LHR) – Dublin (DUB), Business
I would have managed to make my connection – but British Airways had re-booked me already. Thus, I got an unexpectedly late flight to the Irish capital. The options were a beef and a quinoa salad. I went for the beef one, which came with a horseradish sauce and a chocolate-coffee-something desert. Overall, another really nice bite, the crew felt a bit too motivated here and there, but overall lead to a nice experience.
11th February 2023, British Airways BA 827, Dublin (DUB) – London (LHR), Business
After the first show of the Weird Al show, I had to head from Dublin to Glasgow – and haven't been as smart as the band and took the ferry. This flight to Heathrow was really weird regarding the service. The carrot-miso-salad thing was delicious, the chocolate mousse was lovely, but the crew was strange.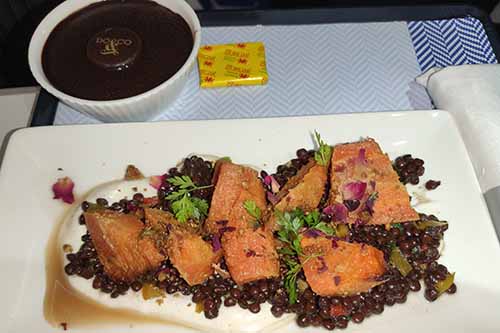 They seemed to have strong personal or professional preferences in the Club Europe cabin. A couple in fourth row received two bottles of champagne without asking and had food first. Afterwards, the head of cabin served me and another first row passenger first, followed by second row passengers. This lead to the situation that seat 1A and 1D (myself) were already eating while the young lady on 1C just had a drink. She got her food when I was almost finished. I like to be appreciated as a BA Executive Club Gold member, but doing it this way and having "second class business passengers" was a bit too much to me.
11th February 2023, British Airways BA 1478, London (LHR) – Glasgow (GLA), Business
I was very surprised that this flight happened to feature a menu. The food selection, however, were well-known options, the beef salad and the quinoa salad. The beef salad made it. I liked the crew. As I just felt like going for the champagne this time, I indeed had a happy flight 🙂
13th February 2023, Transpennine Express (Rail), Glasgow Central – Manchester Piccadilly, First Class
Sometimes, British rail companies surprise me. So did Transpennine Express, who brought me from Glasgow to Manchester. The first class service included some free drinks and this nice breakfast box. There were other options like cookies, cake and similar items. Even though I felt some other issues with the nice Nova 2 train on this trip, I really liked to have that bite.
14th February 2023, Eurowings EW 9341, Manchester -(MAN) – Dusseldorf (DUS), Business
Flying back for Valentine's Day: despite the early 8:00 morning flight from Manchester to Dusseldorf and a lot of trouble at the messy Manchester Airport (MAN), I really loved the flight. The seat pitch in Eurowings' Business Class (or BizClass) is just great and the sandwiches they got are just tasty. I had this cheese sandwich with nuts and an apple spritzer- you can choose from their menu whatever you like. Very kind and attentive crew as well.
16th February 2023, British Airways BA 3270 (by BA CityFlyer), Dusseldorf (DUS) – London-City (LCY), Business
Morning flight to London CIty (LCY) – thus, I did not expect too many surprises on this leg. Nonetheless, it has finally been indeed a surprise tha tthere was no choice in breakfast, the crew just offered the meat version, and did not have any vegetarian option. In general, they weren't as present as some of their colleagues have been in other services. Nonetheless, a really realiable performance by the BA CityFlyer crew in the Embraer E190.
17th February 2023, British Airways BA 3273 (by BA CityFlyer), London-City (LCY) – Dusseldorf (DUS), Business
I knew one of the flight attendants from the outbound already. This time, I felt to have a better business class experience, even though I have to say that it was still not BA Cityflyer at their best. The selection of food was a bit of chaotic, as they catered the plane with other volumes than the crew expected – but overall, I really liked the salmon and cheese platter, so I was quite happy with the selection.
Food I Had Onboard
My bites and drinks on flights and trains are shown in Food I Had Onboard:
British Airways & Iberia
Here are all my postings related to British Airways, Iberia and IAG Airlines: