Gronau in the Münsterland region in Western Germany calls itself the "Music City". The some 50,000 inhabitant town is definitely not the German Nashville, but at least, they are the hometown of one of the biggest German rock musicians, Udo Lindenberg. Lindenberg was born in the city in May 1946 – and he is indeed one of the organisational drivers in the background that his birthplace hosts the rock'n'popmuseum ("Rock and Pop Museum"). On a trip to Northern Germany, I made a stopover.
rock'n'popmuseum Gronau – Location & Admission
The museum is located very centrally, in a quite nice park area. There are a couple of industrial ruins around, which feels a bit strange – but the area around the museum is nicely done. There are sufficient parking lots around, but the train station is also just a short walk away from the museum. Not that surprising, the museum is located at the Udo-Lindenberg-Platz ("Udo Lindenberg Square")
The museum hours are 10:00 to 18:00 hours, Tuesday to Sunday. Any first Friday of the month has prolonged opening times until 22:00 hrs. Adult admission to the museum was 9.50 Euro. You have been asked to buy tickets in advance and to reserve a certain time slot. This may be necessary in peak times, but was rather bothering in our case – especially, as the booking platform was quite error-prone.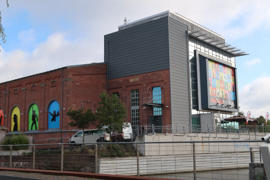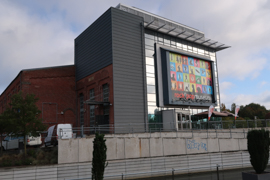 rock'n'popmuseum Gronau – The Visit
After a short introductory movie, the visit is split into different sections, which may feature topics like bands or her fans, a certain artist (like Udo Lindenberg, of course) or certain eras or regions. Thereby, you can walk through the exhibition wearing a headset. Standing in front of the exhibitions, you listen to corresponding music or other kinds of information. Many exhibits are also signed. The museum is typically using German and Dutch language (in fact, the closest major city is the Dutch Enschede). Major signs are also having English explanation. There are also quite many references to music in the Netherlands, which may be quite surprising at first sight.
The headset overall worked well, it was sometimes a bit picky, though so that minor movements may change the stream transmitted. Periodically, all the showcases are turned dark and concert excerpts are shown on major video screen. Especially my wife felt that this was sometimes rather bothering, even though the general idea is nice.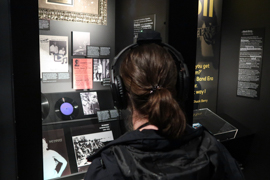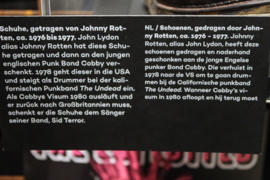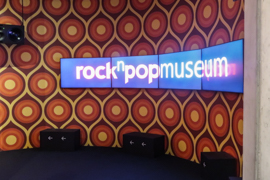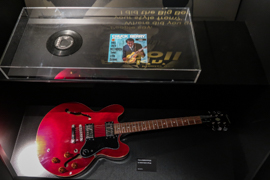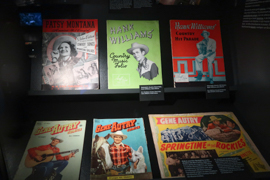 You see that the museum is very well connected in the German and international music scene. The number and quality of exhibits is impressive. There are a lot of original memorabilia, signed records and publications, original instruments and stage costumes.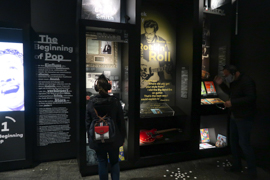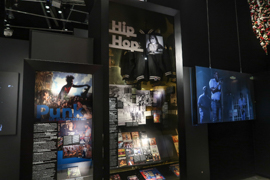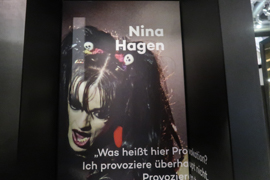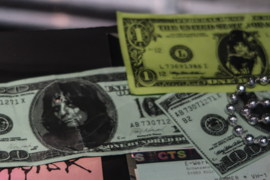 I also liked that the museum tries to illustrate how music is recorded and how PA technique is used to alter the sound of the instruments and artists. I felt that this part of the exhibition was very interesting and also lead to some more interaction. Towards the end of the museum visit on the main floor, there is also a lot of information about German rock and pop music. Thereby, the museum is trying to showcase a wide range of artists and styles, featuring German Schlager top act Helene Fisher as well as the Metal Queen Doro Pesch.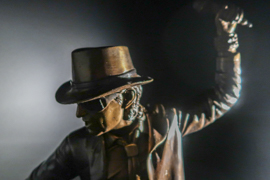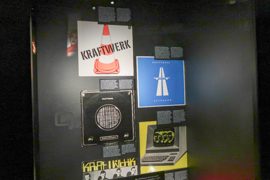 You spent a vast majority of your visit (we stayed there roughly two hours) on the main floor / ground floor. However, there are some exhibits on basement level as well – you can even record your own karaoke there. On the upper gallery, you don't just have a nice view of the museum (which is, however, really dark), but also see some more showcases. I also loved that touchscreens allow you to explore the chart-topping songs of each year on a timeline.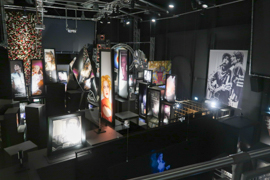 rock'n'popmuseum Gronau – Services
The lobby area of the museum features a nice cafe. You may even have a bite with Udo Lindenberg or Robbie Williams – at least they have some carton figures there. The bar area is also used as a small souvenir shop.
The staff was overall very nice. During our visit in October, however, the staff was quite ignorant on some Covid-19 measures. Especially wearing masks felt to be too bothersome for some team members. I would in generally say that the museum is having a rather tough task (just by its architecture) to be a safe place in these pandemic times. The rock'n'popmuseum is also organizing concerts at their basement stage.
rock'n'popmuseum Gronau – My View
Covid-19 finally spoils my review of the rock'n'popmuseum in Gronau. The staff behavior was partially unacceptable and the museum as such is comparably narrow so that they just don't have the most preferable conditions for pandemic-compliant visits. Apart from that, I love how the place is showcasing so much information. The way they present music and commentary via the headphones is innovative and excellent for a place like that – even though there seems to be a need for technical adjustments. There are so many exhibits, but still, the museum feels compact, even though it covers hip hop as well as country, schlager, folk and metal. Lovely place!
Musical History
These are all articles, in which I dealt with events and places influencing musical history:
Covid-19 Postings on Flyctory.com
Here are all postings related to the 2020 Covid-19 crisis: