The Hofbräuhaus is one of the maybe most well-known and iconic places in Munich, Germany. Even if you don't care about the live music in the heart of the Bavarian capital, the place is more than a solid option for food and a beer. Due to my Bavarian heart (half of my family comes from there), I was just too curious how the Hofbräuhaus outlet in Pittsburgh will be like – here are some impressions of my visit of the most Bavarian place in my hockey home town.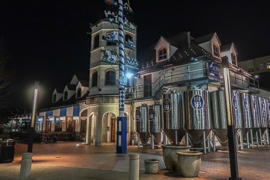 Hofbräuhaus Pittsburgh – Location
Hofbräuhaus Pittsburgh is located in the South Side Works area. The restaurant is directly at Monongahela River. There are a lot of parking facilities at South Side Works, which features a couple of stores, entertainment and restaurants.
Hofbräuhaus Pittsburgh is open every day. The typical opening times are 11:00 to 23:00 hours. On Thursdays and Fridays, service runs until 1:00 in the morning, on Saturdays until 2:00. On Sundays, you can have a beer and a bite from noon onwards.
Hofbräuhaus Pittsburgh – Atmosphere & Service
If you look at the pictures, the atmosphere inside Hofbräuhaus is not bad at all. There is a bar area, which also hosts the brewery, the people typically sit on long tables and banks, which is quite authentic. There is also a stage, on which live music seems to be performed – unfortunately, I did not invest too much time into finding out when in fact the bands are playing.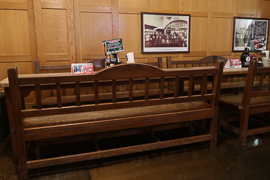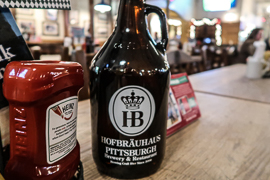 The most obvious difference to the "real" Hofbräuhaus is the music, though (at least when no band is playing). You rather have a dance and party music, there is very rarely authentic Bavarian music in the playlist. The place definitely tries to hire staff which give you the German feeling. The dresses look really nice (I could not take a picture due to the people's privacy), but finally, you should not try to speak German or pronounce items you want to order too German. Better give it a German accent. The service was very efficient and friendly, though.
Hofbräuhaus Pittsburgh – Food & Drink
When it comes to the food and drink you can consume there, I should of course start with the beers. They have quite a wide selection of brewed stuff, from authentic Munich imports to local brews and stuff you would never drink in a brewery pub in Germany. Whether the local brews are good, I unfortunately cannot telll you – I was going there by car did not want to risk any drunken driving at all. On the non-alcoholic drink side, I missed a Spezi very much – the mixture of German orange lemonade and Coke is likely one of the most characteristic Bavarian (and German) drinks – they even feature it explicitly at World of Coca Cola.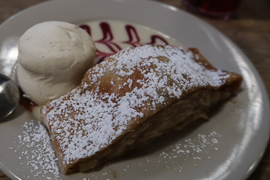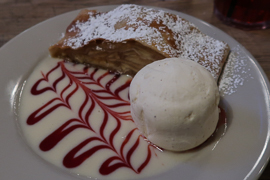 Food was excellent. I started with Käsespätzle, which are German style noodles with cheese and roasted onion. No exactly as you would get it at the Platztl Square in Munich, but a quite decent interpretation of that dish. The size was also very good and the corresponding side salad was nice as well. I just could not resist the apple strudel with ice cream, which was a lovely treat. Overall, the bill was very fine, less than forty Euro including drinks.
Hofbräuhaus Pittsburgh – Shopping
Of course when you happen to eat there, you also want to show your friends that you have been at this magical place – thus, it is not too surprising that you can grab some souvenirs in the store close to the entrance. There is not just beer and Bavariab beer mugs, but also shirts and even typical German food in the store. Though I did not feel like buying something, I felt that the shop is quite nice.
Hofbräuhaus Pittsburgh – My View
Yeah, it is not Munich – but it is not too bad either. The music was what bothered me most, but apart from that, Hofbräuhaus felt like a small, not always fully authentic trip to Bavaria. As a majority of the visitors likely will never make it to the real Munich beer headquarter, it is just a nice place to illustrate Bavarian (not: German!) eating and drinking. Prost!
Flyctory.com on Eating & Drinking
Flyctory.com is not a culinary blog. Nevertheless, here are all posts dealing with Eating and Drinking:
Flyctory.com in Pittsburgh
Here are all other postings by Flyctory.com related to Greater Pittsburgh: