As staying at the Foxwood Casinos in Mashantucket, Conneticut, was more on the pricey side, I I chose a hotel very closeby for my Weird Al Yankovic New England trip in 2019. The Hilton Garden Inn in Preston has been built in short distance so that it was the ideal stay for my trip. After I had very positive recent stays in Hilton Garden Inn Hotels in Tupelo and Dublin, I was looking forward to stay again in this Hilton brand.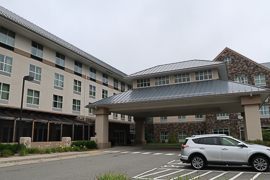 HGI Preston Casino Area – Location
The hotel is located at Route 2 at the Southern edge of Preston. The next major city is Norwich, RI.
The key purpose of the hotel is providing accommodation for Foxwoods Casino customers. There are just very limited other attraction around. While the rates were absolutely fine during the week, the weekend rate increase significantly due to the higher demand of casino stays.
HGI Preston Casino Area – Rooms
My three night stay from Thursday to Saturday in July 2019 was 488 USD, semi-flex (i.e. refundable until a couple of days before arrival). I thereby booked a King Bed room. The room was absolutely sufficiently spacious. It featured a microwave and a fridge, a nice work desk and a spacious bed. The bath was absolutely sufficient and spacious as well. The key amenities were provided.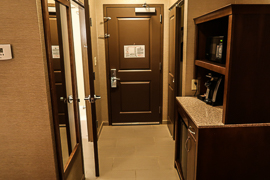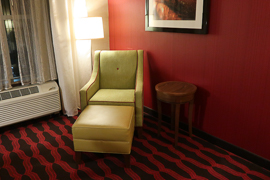 HGI Preston Casino Area – Breakfast / Food
In line with other Hilton Garden Inn stays I had before, the breakfast was served as a combination of a buffet and egg dishes as well as French toast made fresh to order. There was a nice selection of fruit, bread and the waffle iron. The breakfast staff was very kind. However, they sometimes felt to be understaffed – as soon as more people were having breakfast, there were delays even though the guys did a really good job. The quality of food to order was really nice, so that this is just a minor critics on the hotel's service. The breakfast area is used as restaurant as well. Next to it, there is the cozy-looking hotel bar.
HGI Preston Casino Area – Services
The welcome at check-in was very kind. Overall, the staff was very good, housekeeping also left no reason for any critics. Especially in order to be able to work on the website, I was very happy about sufficiently fast and reliable WiFi. The parking lot is huge, so that I even easily found a goof lot after two late arrivals. The Business Center located next to the reception felt very nice to me as well.
The hotel also features an indoor pool. The gym is quite nice and looked quite modern to me.
HGI Preston Casino Area – My View
I am more and more becoming a Hilton Garden Inn junkie. All stays I recently had were really nice. HGI Preston Casino Area was no exception here and provided a really good stay. The only slight weakness was the reliability of breakfast service. It is definitely a nice place and great choice if you want to hang out at Foxwoods or do other things in the area.
Hilton Hotels – More Reviews
Here are all my reviews of Hilton Hotels:
USA – All Postings
Here are all postings which deal with the USA: