If you are tired of seeing all the stars at the Walk of Fame in Hollywood (which I do quite quickly), you finally might end up in some of the side attractions of this part of Los Angeles. One of the traditional sights, not too far from key attractions (and also just a short walk from my beloved Bourbon Room) is the Guinness World Records Museum Hollywood. Digging into some superlatives and learn about some records in the heart of entertainment? Here is my review.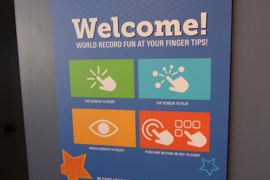 Guinness World Records Museum – Location & Admission
The Guinness World Records Museum is located right at the Hollywood Blvd. The key attractions like the Chinese Theater are just a short walk away. The metro station Hollywood / Highland is just across the street. There are of course various opportunities to park if you arrive by car as well.
Similar to the Hollywood Wax Museum, the admission is done in a way that you will practically always visit the Guinness World Records in conjunction with its sister wax museum and the Ripley's Believe It or Not – single adult admission is 25.99 USD, while all three attractions together are 35.99 USD. At my time of visit, the museum was open from 11:00 to 21:00hrs Sunday to Thursday and 10:00 to 22:00 hrs on Fridays and Saturdays.
Guinness World Records Museum – The Visit
The museum visit is divided into different sections, split by topics. In general, I really loved the presentation, as there are plenty of interactive exhibits as well, so that you for example can compare your fast-drumming skills with the one of official record holders. Other topics like human records or streaks in entertainment are just presented on posters. The museum has a traditional touch as such – which is not all bad.
Unfortunately, there is quite some information which is simply wrong. I don't want to go there with kids and they finally believe that the Golden Gate Bridge is the longest one in the world – if the in fact record holder is some 60 times longer. Especially in that area of architecture and human design records, there are a few unnecessary faults. Things like this, which would be so easy to correct, just unnecessarily take a lot of credibility from the place.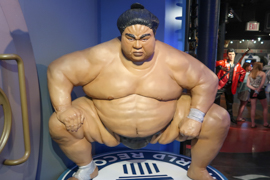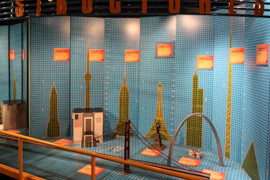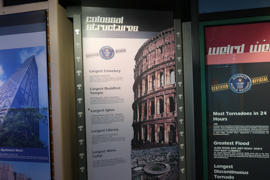 This is really bad, as the place might not be the fanciest one out there – but at least due to its presentation and the interactive characteristics, it is a lot of fun. There is a lot of distraction at Hollywood Boulevard indeed – but this space offers some special opportunities – and maybe it is just a bit more fun to play the basketball arcade if you compete against a world compete than if you compete across the street against a friend at Dave & Buster's.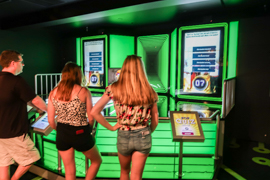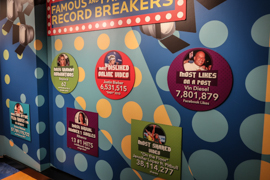 #
Guinness World Records Museum – My View
Regarding the three attractions which have been combined in the VIP ticket, I had the most entertaining time at the Guinness World Records Museum indeed. On the other hand, I feel that a place like this needs to be precise. If the wax museum gives the wrong birthdate of a celebrity, this may be unfortunate, but finally I do not care too much. The Guinness World Records Museum is however not only entertaining, but intends to be educative by its nature. Thus, it is bad luck if they do mistakes. If you just like to enjoy yourself and compete against some world records, you will have fun, indeed.
Flyctory.com in Greater Los Angeles
Here are all Flyctory.com postings related to Greater Los Angeles:
More About Lauren Jenkins
Here are all other Flyctory.com postings related to the US country artist Lauren Jenkins: