Orlando is one of the biggest entertainment cities in the United States. You likely think of Disney, Universal Studios or Sea World when it comes to the Florida city. However, there a quite a few other amusement parks in town and the region. On one of my previous trips there, I had a look into the interesting Holy Land Experience, for example. In October 2022, an online deal turned it into an easy decision to try out another one, Fun Spot America Orlando. Here is my review.
Fun Spot America Orlando – Location & Admission
The park is located on the Northern part of International Drive. There a a lot of other entertainment places around. For example, Lost Caverns Adventure Golf is just some two blocks away. There are also quite a bunch of hotels and restaurants. The two most popular attraction close to Fun Spots America Orlando however, are the almost adjacent Orlando International Premium Outlets – and Universal Orlando, which is more or less just across the Interstate I-4. You may use the International Drive buses – but if you are by car, parking at Fun Spot America is free.
The opening times of the park differ by season. A typical opening period is 10:00 to midnight. Less popular days opening times are at 14:00 typically – check their website beforehand. Admission to the park is generally free. Apart from several deals, the typical Single Day Fun Pass is 64.95 USD at the gates, 5 USD less if you buy online. It includes all rides but the Skycoaster giant swing, which is 10 USD per ride extra. However, you may also pay any ride individually. Arcade games are not included in the wristband as well. However, you can take your wristband of that day and go to the sister park, Fun Spot America Kissimmee, which is roughly 13 miles away. For a 10 USD upgrade (plus tax), you can use the wristband in the other park as well (which I did).
Fun Spot America Orlando – The Rides
Fun Spot America concentrates on typical fun fair rides. This definitely does not mean that the park is somehow boring – they do have a nice selection of family-friendly and thrill rides. A nice effect of the wristband system is that you can go in and out. For example, I first explored the park, then went back to the car, just in order to grab my camera and take the snaps you see below. Despite my body size does not allow to ride the majority of roller coasters, I had a lovely time. A key reason for that is that the park drives four karting tracks. Unfortunately, you have to say that even though there were no weather issues or similar, quite some rides were not open on the time I visited the park. I guess that they open with higher visitor numbers in the evening hours.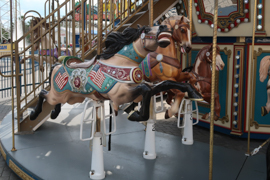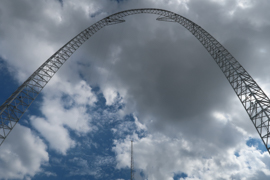 The range of rides is really nice. Apart from free parking, the key advantage of Fun Spot America compared to the two big players in Orlando is simply that the atmosphere is relaxed. I did not have a queue longer than 20 minutes (at karting). I could ride most of the other attractions even with the next rotation. I also loved the rather classic attractions like the Tea Cups.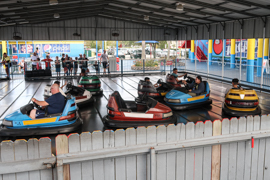 Another really nice attraction is the Ferris Wheel (included in your wristband), which even gives you some really nice views of neighboring Universal.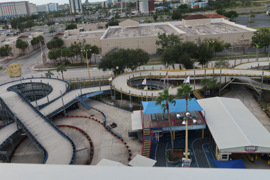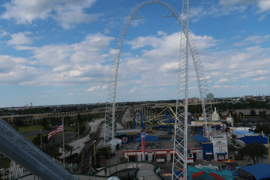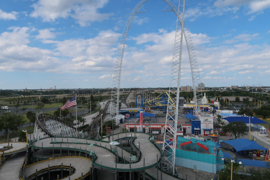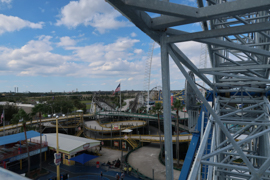 Fun Spot America Orlando – Arcades
Apart from some outdoor fun fair games (some were closed during my visit, though), there is a nice indoor arcade in the middle of the park. Naturally, these games are not part of your wristband,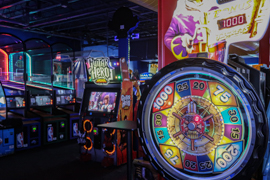 Fun Spot America Orlando – Services and Food
There are some snack spots and even water dispensers at the park. From funnel cake to burgers – the range of items is again rather on a fun fair-alike character.
Fun Spot America Orlando – My View
You don't meet Mickey here, you can't have a drink at the Cantina or feel like Homer when you visit Moe's Tavern before you head to Harry Potter. Fun Spot America is not as posh as the globally known peers in Orlando. However, this park has a huge asset: a relaxed atmosphere. You don't need to think about which fast pass you have to buy or pay more than 50 USD for a parking lot close to the entrance. This park is made to hang out and have a good time – and I feel in that regard, Fun Spot America Orlando really does a good job. On top of that, you pay significantly less. There are also good rides for the young ones as well as for thrill seekers.
Amusement Parks – More Postings
Here are all postings about Amusement Parks:
Travel – USA with Kids
Here are all my travel postings related to the USA marked as Travel with Kids: