The city of Tarpon Springs on the Nothern edge of the Tampa Bay area is famous for sponge fishing. Gamers and arcade enthusiasts, however, do their pilgrimage to Replay Amusement Museum, which hosts old pinball as well as video game arcade machines. During my August 2019 trip to this area of Florida, I had the opportunity to spent some time in this place. Here is my review.
Replay Amusement Museum – Location & Admission
Replay Amusement Museum is located in the historic city center. The sponge fishing facilities are about a mile North of this area. There is a some curbside parking and other parking lots around.
The daily admission for adults is 14 USD. You receive a wristband, which allows to go in and out over the day. The museum does not have any facilities like a cafe – there are some limited opportunities for a souvenir. The museum website gives a full list of games in display, in case you look for something specific.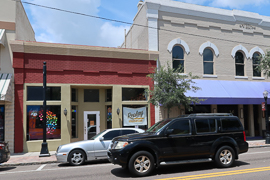 Replay Amusement Museum – Video Games
The museum owns some 40 video game arcades. There are not too many modern ones, but a lot of gems in the history of gaming. For example, you may play Asteroids, Paperboy, Donkey Kong Galaga or Street Fighter II. There is also a Dr. Mario machine. I spent a lot of time at Super Off Road and the Neo Geo Full Size machine. But there are also some curiosities like Ice Cold Beer, Burger TIme or Toobin'. Most amazing to me, the 1983 joystick smasher Track & Field was still working (as practically all machines in exhibition).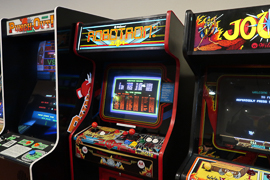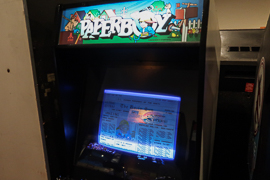 Replay Amusement Museum – Pinball
Unequivocally, the heart of the exhibition, though, is the collection of pinball machines. There are really historic machines like Paul Bunyan, which is dated as of 1968. There are also a couple of machines of the 2010s. The most fascinating piece is likely the Atari Hercules. The 1979 pinball machines is considered to be the largest-ever production pinball machine. For example, instead of ordinary pinball sizes, the machine uses pool balls. The playing field is some 1.7 square meters large. Overall, the museum owns some 60 pinball machines.
Replay Amusement Museum – My View
Congrats, Replay Museum – you really did a great job. So many arcades machine, so many memories. I just loved to be at this place. Bad luck when you have so many places on your list on a single day – I just would have loved to stay longer. Definitely, this place is a Top Pick! recommendation – the only thing was the way some people allowed their kids to treat the machines. Hey this is also part of cultural history. Don't be respectless to them!
Tampa Bay Postings
Here are all pictures of Tampa Bay and surroundings:
Gaming & Arcades on Flyctory.com
Video Games and Arcades used to be my passion – and I still like them. Here are all related postings: