Even though it nominally was the lowest standard hotel of my short trip, I was really looking forward to the one-night stay at the Hampton Inn Linden in late October 2022. I have had several stays at this place in the past and somehow liked its profile so far all the time: not the most ideal location to any Greater New York City locations, but with some nice transport options, close to Newark Airport (EWR) – and finally, a much better price than if you opt for the Manhattan or Hoboken locations. The hotel recently rebranded to Hampton Inn @Aviation Plaza due to a nearby general aviation airport. Let's see how my experience has been at this stay.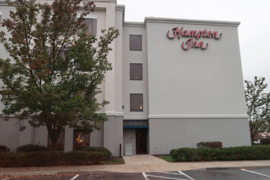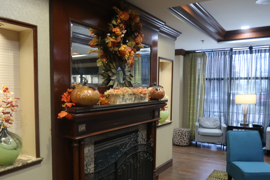 Hampton Inn Linden – Location
Linden is a town in New Jersey, some seven miles South of Newark Airport. The Hilton franchise is located right at the US-9, which you reach from the New Jersey Turnpike from New York or Jersey City. The driving time to Hoboken or similar destinations differs between 25 and 60 minutes, depending on the traffic situation. Thus, the hotel is a nice budget choice if you want to explore Newark, Jersey City or Staten Island. Vice versa, if you are aiming for Broadway shows or want to explore Manhattan, Brooklyn or the Bronx, it is not a sensible option.
The hotel is located close to a general aviation airport, Linden Airport. It is also in the edge of a shopping plaza named Aviation Plaza, which is very convenient. There is quite a wide range of basic restaurants, a Target store and an IMAX cinema. I also used the Hampton Inn @Aviation Plaza in order to visit the very popular The Mills at Jersey Gardens outlet shopping mall.
Hampton Inn Linden – Room
My wife and I stayed at the Hampton Inn Linden for one night. We opted for the maximum comfort the Hampton is offering and went for a Whirlpool Room, which was 135.10 USD, including tax, at a semi-flex rate. Breakfast is included in Hampton Inn stays anyways. The room was quite large, which was very handy for our stay (as it was the last night before heading back home, so that we had to re-pack our suitcases etc.). The large whirlpool close to the bed was very handy. The room also featured a work desk and a large bed as well as a fridge (with freezer) and a microwave oven. The room had some spots of usage, but the hotel underwent some renovation during our stay.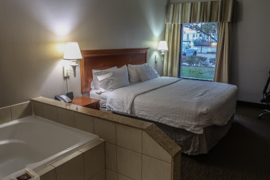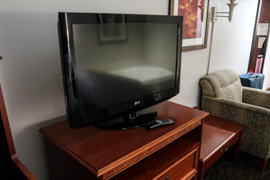 The bathroom had a typical Hampton style. We especially liked the large space next to the sink for our toiletries. To my surprise, the shower came with a typical North American bathtub. The bathroom was absolutely clean.
Hampton Inn Linden – Breakfast
The Hampton Inn in Linden features a rather large breakfast room. Our breakfast experience was quite fine and just within expectation – which also means that it also did not exceed them. You had bread, waffles, juice and warm dishes.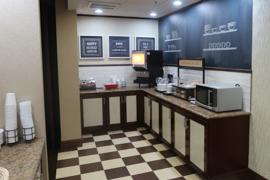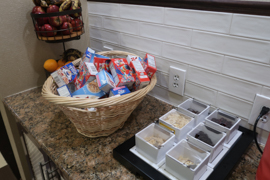 Hampton Inn Linden – Service
The hotel features a nice gym. There is also a pool, but I did not make it to do some proper snaps of it. I really liked the hospitality and friendliness of the staff. The WiFi in the hotel worked really well. The hotel has a large parking lot, so that it is very relaxed to stay there.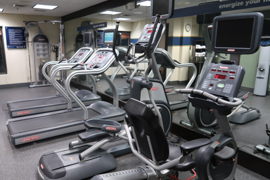 Hampton Inn Linden – My View
I haven't stayed at the Hampton Inn @Aviation Plaza Linden for a few years – but I really liked the night I had in October 2022. It is a good, cheap place if you want to travel in the area (without entering Central New York City). The Target, a near Aldi or the IMAX also give you some very helpful services in close distance. I will definitely come back to this place in case of similar travel plans.
Travel Postings – New York
Here are all my Travel postings related to New York (city):
Hilton Hotels in the USA
Here are all my hotel reviews of Hilton Hotels in the USA: