Nowadays, you should definitely do one thing before you head to New York City as a tourist and explore the "Big Apple": check out the hotel prices. The US-American inflation and the typically rather ridiculous exchange rates to other major currencies lead to the situation that hotels feel like the new luxury and the flight ticket is a rather subordinate part of your travel costs. Boarding the Pennsylvanian Train the day after landing at JFK Airport, I needed a well-connected, but affordable stay. I finally ended up in Flushing in Queens. Here is my review of the Asiatic Hotel New York.
Asiatic Hotel Flushing – Location
The Asiatic hotel is located at the 37th Ave in Flushing. I love the borough, as I stayed there for several US Open Tennis trips. It is safe, the Asian-origin population guarantee affordable and rather healthy nutrition. The connections are not bad as well. From the Asiatic Hotel, it is just three blocks down to the Subway terminus Flushing – Main St., from where Line 7 (including Express services) directly take you to Times Square. Right next to it is the Long Island Railroad station, which offers two services per hour in each direction typically. You may head to Penn Station or to Grand Central.
As said, there are a lot of restaurants and shops around. Furthermore, the borough has been significantly upgraded during the last years. There is also small shopping mall, which features some helpful stores like a major Target. I took an Uber ride from JFK Airport. The fare depends on the traffic, but the distance is roughly 12 miles.
Asiatic Hotel Flushing – Room
I had a one night stay at the Asiatic Holel Flushing. The rate I paid in late October 2023 was subject to a one-day cancellation and costed 174.53 USD. Breakfast is generally included in the stay. As expected, the room was rather basic, but it was clean and surprisingly large. You could have easily traveled with more luggage. The room featured what you need as a traveler – maybe apart from a fridge and a microwave oven. The work desk was nice and fit for purpose. The bed was very good as well. I missed a small lamp next to the bed – you had to switch on the full room light if you headed to the loo at night. No issue for solo traveler, but if you are traveling together, this might not be too nice.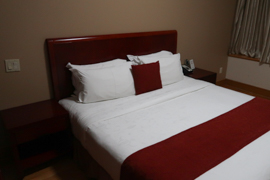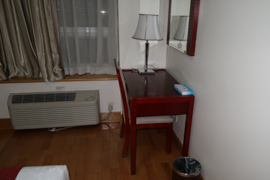 The bathroom with a typical North American bathtub also got its job done nicely. The hotel even provided some basic amenities like toothbrush kits. The bathroom was clean as well. There were a few minor, but visible maintenance issues, e.g. a broken door insulation or marks on the blinds. Overall, the sixth level room was absolutely fine – and even somehow had a view of Flushing. Despite being located in a rather smaller street, the room was a bit of noisy, esp. in regards of traffic.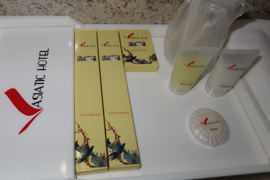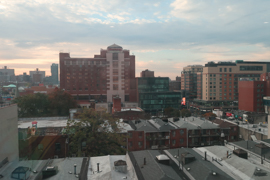 Asiatic Hotel Flushing – Breakfast
The Asiatic Hotel is a basic hotel – and it is providing basic breakfast. Due to the Asian influence in the area, there were some (for Europeans) rather unusual dishes like dumplings and steamed bread rolls. However, there were also some bagels, oatmeal and other dishes. The breakfast area is located right at the hotel entrance and felt a bit of packed, During my visit, breakfast times were 7:00 to 10:00.
Asiatic Hotel Flushing – Service
The staff was friendly – with an Asian touch of neutrality. They provided me with all information I needed. I also liked that the lobby had some basic vending machine. There is no gym or similar. However, the WiFi was working much better than I expected, also compared to other reviews I read.
Asiatic Hotel Flushing – My View
Welcome to New York City in 2023. That's simply what you get for 174 US-Dollar when you want to visit the city. I can't blame the hotel for these local prices. They do an absolutely nice jobs. The hotel has strengths and weaknesses. However, the location is good, Flushing is peaceful and the traffic connections are nice. I would definitely book Flushing again – and maybe also take the Asiatic Hotel, if available.
Hotels (New York City)
Here are all my hotel reviews related to New York City:
Pictured Stories (USA)
Here are all my Pictured Stories related to the USA: