Starting a short trip to New York in style: Majorly due to the great location next to Carnegie Hall, my wife and I had our first two nights at a rather posh option of the Hilton Hotel franchise: the Conrad New York Midtown is at least definitely one of the most expansive options you can take in Manhattan – let's see if it was also a good option.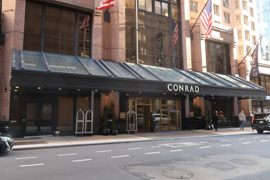 Conrad New York Midtown – Location
The Conrad New York Midtown is located on 54th Street, close to 7th Avenue. 7th Avenue station serving subway lines B, D and E is just a block away. The location is generally quite ideal if you want to be in the entertaining part of the city – Times Square and Broadway, but also the Museum of Modern Art, Top of the Rocks, Radio City Music Hall, Carnegie Hall, Central Park and many other key touristic attractions are in walking distance.
The area is actually quite nice, there are very posh dining options, but also rather simple ones. The area features a couple of other accommodation places. For example, my wife an I also stayed at the Hilton Garden Inn New York/Central Park South-Midtown, which is about a three minutes walk away. I highly recommend not to opt for this place (and many others in Manhattan) if you are travelling in by car: the valet parking fee is 75 USD and does not include in/out privileges (which means: you have to pay several times if you have to recall/park your car several times a day).
Conrad New York Midtown – Room
My wife and I spent two nights at the Conrad in late October 2022. We opted for a one bedroom suite with a King Bed for two nights, Friday to Sunday. I used Hilton points for the stay. At the time of booking, this room would have been about 700 USD per night – pre-tax! There might have been an upgrade, as we received a room in the 27th floor. The room was a real beauty with a large living area right when entering the room. The room had some nice options to relax and work. The power outlets were a bit hidden, e.g. behind the curtains. The living area also featured a large TV and a cupboard which featured coffee / tea making facilities and the minibar.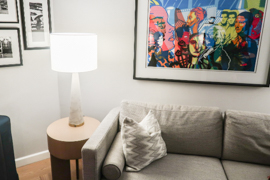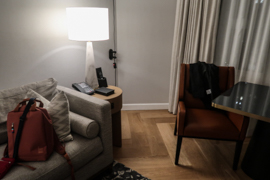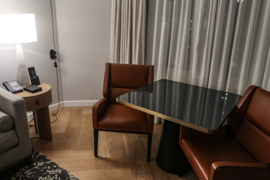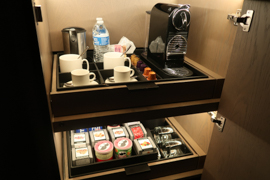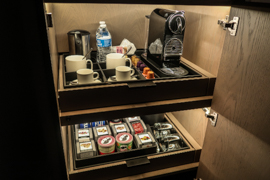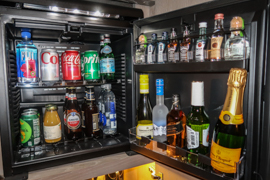 Compared to the living space, the sleeping area might feel slightly compact, but it was overall really nice. The bed was very good, the sleeping area came with an additional TV. You could separate both sections by sliding doors – which was very handy for us as I wanted to work while Sarah was already / still sleeping. The walkable wardrobe connected the sleeping room to the bathroom, which was nice and large and featured some really lovely amenities as well. However, there was just a shower, not a bathtub. The power outlet for the hairdryer was broken and replaced by a power chord, which was initially a bit of confusing.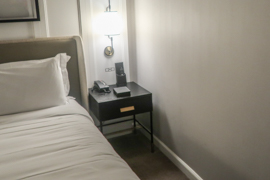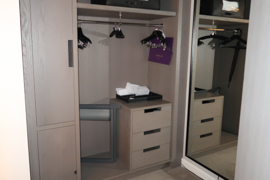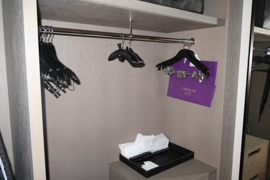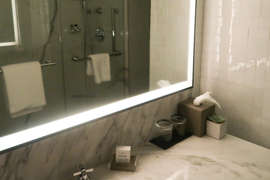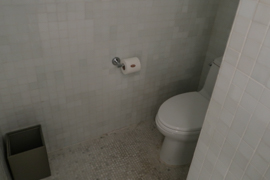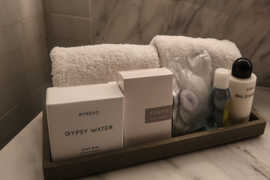 Even though we loved the suite in general, there were some strange housekeeping issues. In a room booked for two people, why is there just one bathrobe? And why don't they correct it? In addition, one of the bags of slippers was empty, which you should recognize easily if you checked it before. In addition, on the day of arrival (we entered the room around 18:30 hrs), the turn-down service stepped into the room around 21:30 hrs, which I feel to be very late – even if you are just in the city which never sleeps. Furthermore, the Privacy sign for the door was missing (the picture shows the room across the aisle).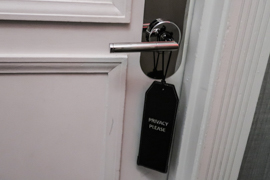 Conrad New York Midtown – Breakfast
As a Hilton Diamond member, you receive a credit of 25 USD per day and guest. For this amount of money, you are able to have the continental breakfast. The full breakfast with eggs and other warm dishes is 50 USD, including drinks. Yeah, it is a Conrad, but I feel that this is quite aggressive pricing. The quality of breakfast items was really nice, though – there was also some variety. The range of items, however, was not overwhelming – don't compare it to a Dubai hotel, for example. The full American breakfast also includes the option to have a selection from items made to order. For example, I can pancakes and a bowl of berries. The service on the first day felt a bit of slow and distanced, the second day was much better, though.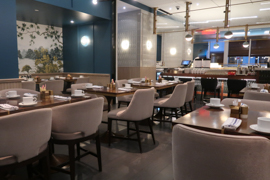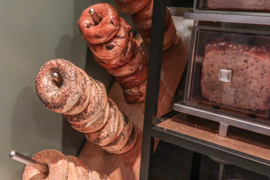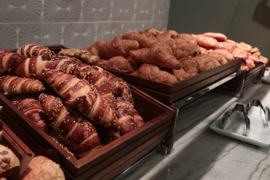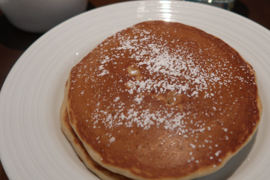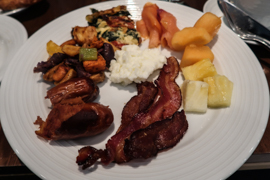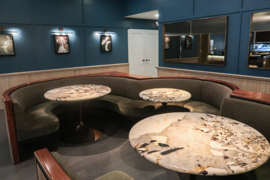 Conrad New York Midtown – Service
We arrived at the hotel around noon. Obviously, the rooms were not ready yet, but the receptionist was very welcoming. At the in-fact check-in later, her colleague has been significantly more distanced. Nonetheless, I felt that the staff in the hotel was fine – you do have some more friendly contacts to employees in significantly lower classed places, though. The hotel does not have a pool or similar facilities, but a really nice gym. There is also no executive lounge. I had some struggle with the WiFi speed here and there.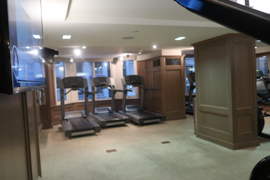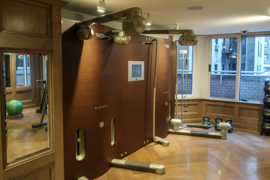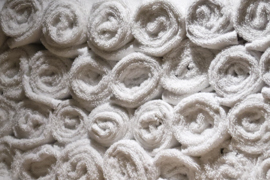 Conrad New York Midtown – My View
First of all: having so much space in the heart of Manhattan is amazing luxury. Typically, you have rather tiny rooms in this area, so that even a King Suite was a treat already. On the other hand, this level of comfort is also reflected in the price. If you don't book this place by points as I did, you need to have a use case, a reason why you spend so much money for an overnight. The Conrad gives you a couple of good arguments to do so – but they also surprisingly failed in some housekeeping issues, for example. You pay perfect money, but you don't get a perfect stay. That's definitely an issue, which prevents a higher rating.
Luxury Hotels
Here are all my postings related to Luxury Hotels:
With Gallery (2022)
Here are all my postings with a major size picture gallery, which I published in 2022: