I have to admit that American Airlines Admiral Club Lounges are not really my favorite place. Some are functional, some are nice, but they are just cheap waiting rooms with low service compared to the posh alternatives of other airlines. However, American Airlines is starting to add improved airport lounges in their key hubs. Apart from other places, New York's JFK Airport hosts one of these "Flagship Lounges" in Terminal 8. I had a visit there on the final day of my Weird Al & Grass Court Tennis trip 2019, flying back to Luxembourg Airport via Heathrow Terminal 3. Here is my review.
With the Re-Branding at JFK Terminal 8, the Flagship Lounge has been turned into the Greenwich Lounge, operated by British Airways and American Airlines. I haven't visited the lounge since then, but reports state that the lounge is 
AA Flagship Lounge – Location & Access
American Airlines is operating from Terminal 8 at John F. Kennedy Airport. The flagship lounge is right after security – you may either take a short walk upstairs or opt for an elevator. If you are having a sufficient status, you may be pampered with posh check-in services in the Flagship check-in area.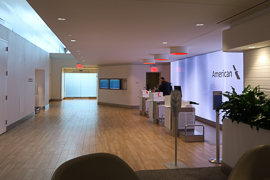 Apart from American Airlines, there are five more oneworld alliance airlines operating from T8: Cathay Pacific, Finnair, LATAM Royal Jordanian and Qatar Airways. American Airlines Business and First passengers as well as customers of the corresponding classes of these airlines are entitled to access the lounge. In addition, the lounge is open to oneworld Emerald and Sapphire members with any oneworld ticket.
AA Flagship Lounge – Areas
Right at the reception area, when you enter the lounge, you can choose between two sections of the lounge. The larger area is when you head left, the right wing, which you reach when you head straight on. The entrance hallway to the left hand side wing is impressive, with a view of Manhattan on your right hand side.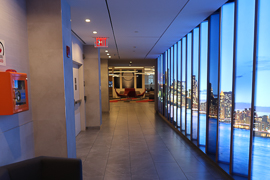 This part of the lounge more or less offers everything you need. There are more cozy seats towards the windows if you want to relax. You have a very nice view about what is going on from there. The center area is designed more restaurant-alike and also hosts a wine bar. If you want to work, the work desk cabins are a very handy choice and give you quite some privacy.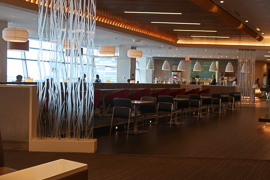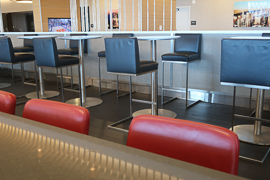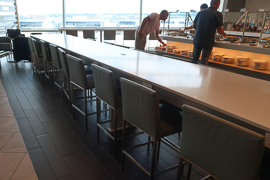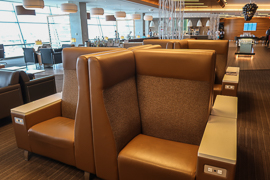 The right hand side of the lounge is more posh, though. I feels a bit more exclusive. In times with low passenger traffic, this part of the lounge is unfortunately closed. The additional services it offers is a cocktail and snack area and a nice bar. There are also some plants around in the main area, which make the space very cozy.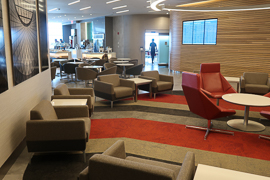 AA Flagship Lounge – Food & Drink
Food in Admirals Club Lounge is typically a mess: some cheese cubes, soup, some raw vegetables and dips and some snacks – that's more or less it. The Flagship Lounge concept offers much more: I had the selection of a couple of warm dishes, salads, different kinds of breads and desert. There was also quite a variety of spirits and the Coca Cola "All you can mix" machine for sodas.
There is a separate dining area for First Class Passengers, which I unfortunately could not enter.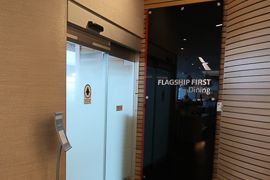 AA Flagship Lounge – Other Services
The lounge Wifi was very good. The staff is quite attentive – but I have to saw that I have not been in the lounge at peak times. The sanitary equipment feels to be nice. Of course, there are showers avaiable as well.
AA Flagship Lounge – My View
The American Airlines Flagship Lounges add a massive values to your American Airlines or oneworld status, compared to the Admirals Clubs available to far. I really love to work and relax in these places. The food is nice and it is really a good time spending there. Nevertheless, there are still better places – in Germany, for example, I favor the Air Canada Maple Leaf Lounge and the Panorama Lounge in Frankfurt. To be fair, these are also significantly smaller. Thus, I feel that the Flagship Lounge at JFK is still a Top Pick! But also regarding all the people served in this place, the Flagship Lounge at JFK is really enjoyable!
Flyctory.com about Business Class & More
Here are all articles related to Business Class and First Class travel:
Aviation on Flyctory.com
Here are all postings about Airports & Airlines: