While most of the trip to Nashville was accompanied by magical places of music history, the first highlights of the day were on my aviation hobby side. I had my first flight from Washington Reagan airport (which I originally hoped to fly to as well). I was also looking forward to fly into Chattanooga, as I visited this nice place in 2018 following the Weird Al Yankovic Tour (Day 2 episode of my trip report). The day was about to end at the birthplace of Elvis, so that there was a lot of excitement guaranteed. The day felt like the first "real" day of my trip.
No-breakfast morning
I cannot really state that I love the hotel I selected for Washington D.C. The only real good thing about the Doubletree Crystal City was the breakfast on the first morning. As they start serving the morning dish just at 7:00 on weekends, I could not take one and headed fed with a banana to Reagan Airport. Checking in there is quite funny, because some of the check-in counters are outside the building, just at curbside where the shuttles arrive. I was a bit confused that American Airlines reseated me from 1F to 8F. 8F was in fact a seat in the fourth row. An equipment change from a CRJ 200 to a CRJ 700 meant that the first three rows were "proper" Business Class seats. Before taking off to Chattanooga, I enjoyed Reagan Airport and the Admirals Club (American Airlines Lounge), solving some flyctory.com technical problems instead of producting contents. Here is a flight review.
The flight, which started from an apron position, was rather quick, but bumpy. I had some time to work on some postings before the short hopper was over. Nice cabin, though – had a really huge seat pitch and a double seat on my own.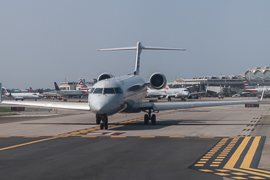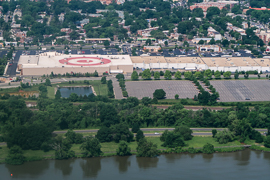 Grabbing a rental car at Hertz was quite effective. I was a bit surprised that the Buick Encore I got is "Full Size" category. Does not really fit two suitcases in the trunk – but at least, it has Sirius XM radio – so I did not complain and enjoyed the pleasure of switching between "Ozzy's Boneyard" and "The Highway".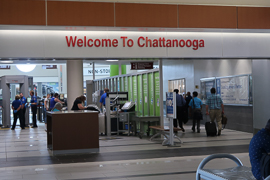 Back in Choo-Choo Town
I was looking forward to be back in Chattanooga. Some one year ago, I had quite a lot of fun at the Weird Al concert there. My friend Jeremy had his 300th (!!!) Weird Al Yankovic concert one year ago in Chattanooga and had some time after the show together. I did not see too much of the city, though, at my last time there. At least I saw the famous choo-choo train. Thus, I had quite a long list of open items starting from the "classic" Tennessee Aquarium and the Incline Railway until more special places like the Towing Museum. I just wanted to do what I felt like most. Thus, I went for the Incline first. The railway is incredible, especially, the last bit before the hill station is incredibly steep. The view from uphill was amazing.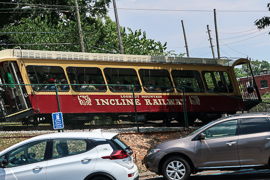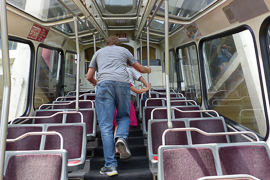 Back at the lower station, I went around the mountain scenic drives and finally decided for the International Towing & Recovery Museum (also because I could not find one other place). Of course, the museum is a bit nerdy, but I liked it definitely.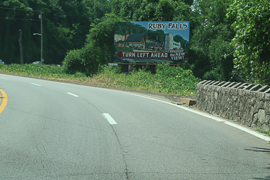 After that, I started my roadtrip. Roughly 270 miles ahead.
Tennessee – Georgia – Alabama – Mississippi
My destination of the day was Tupelo, Mississippi. There are different routes to the city. The fastest is likely via Birmingham, Alabama, home of the World Games 2021. As I will likely see the area as part of the floorball family in two years anyway, I went for the shorter route via Huntsville, AL. I left Tupelo in Western direction. I-24 makes a short dip into Georgia. I bought water and food in Kimball, TN, where the route headed South. I made a short visit in South Pittsburg (no typo, no "H"). I just had to visit this place. They even have a sports team called "Pirates". Right behind South Pittsburgh I crossed the Alabama State line (first time in this state for me), which also meant that the clock turned back by one hour. The State Line Flea Market told me that tehre were better times, though.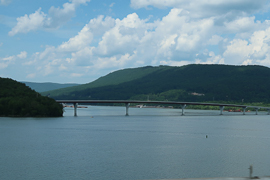 US-72 headed on South West. I concentrated on getting closer to Tupelo. I felt a bit sad when I saw the Space Shuttle and the Rockets at Huntsville, AB. I would have loved to visit the U.S. Space & Rocket Center, but parts of the tours are only accessible with a US passport.
I did make a break shortly thereafter, at the lovely Decatur Rhodes Ferry Park. It is part of the Trail of Tears, which reminds of the hunt on the Cherokee Native Americans. Nice views, sad history.
Elvis' Birthplace
There were still some 120 miles left. I felt more and more tired so that I tried to make it to Tupelo, where I arrived around 19:30. I was very happy that the welcoming at Hilton Garden Inn was much better than in Doubletree Crystal City in Washington before.
I should have taken a bite on the trip likely – the options around the hotel were a bit limited at about 20:30. I went for the nearby fast food option, which I better not mention… I would call it the Cockroach Inn – at least, these locals were quicker than the burger staff. The city looked nice though. Some reminders of Elvis already – made me look forward to the next day.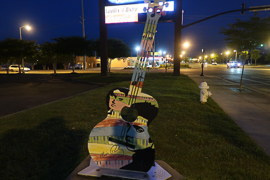 A Musical Trip to CMA Fest 2019 – Day by Day
Here are the links to the daily postings (link will be added once posting is published):
Day 3, 2nd June 2019: Chattanooga and Tupelo
Aviation on Flyctory.com
Here are all postings about Airports & Airlines:
Trip Reports
Here are all (other) Trip Report postings: