The Presidents Hall of Fame is having quite some fame, even though it is not located very close to the typical tourist routes around Orlando. During my October 2022 trip to Florida, I had the opportunity to finally have a visit to this place. Here is my review.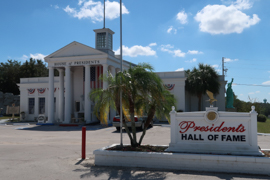 Presidents Hall of Fame – Location & Admission
The Presidents Hall of Fame is located in Clermont in Florida, which is Northwest of the Disney Parks. From Universal Studios, for example, it is roughly an half an hour (25 miles) drive. The Presidents Hall of Fame has a prominent neighboring attraction, the Florida Citrus Tower. In practice, you have to go there by car. There is sufficient parking space. The area is rather commercial, with some stores and services around. The nearby lakes are also worth a visit.
The museum is opening daily from 10:00 to 16:00 hrs. On Sunday, doors open at noon. During my visit, adult admission is 15 USD. You may re-use your admission ticket for other visits in up to one year.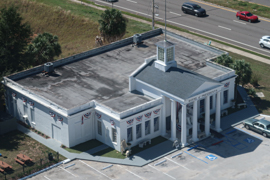 Presidents Hall of Fame – The Visit
So, what is the Presidents Hall of Fame exactly? Indeed, it has been founded by one of the Citrus Tower owners, Jack Toole, in the mid-1960's. The House of Presidents has been a wax museum, featuring life size figures in authentic settings of all U.S. Presidents, Washington to Johnson, as the advertisement of these days literally states. Nowadays, you of course find all the presidents after Johnson as well – and a lot of memorabilia from and about them. Apart from the striking architecture of the exhibition, this is definitely a key reason to visit it. There are also dioramas and other displays, which for example illustrate the construction of the White House. The more you are interested in US-American history, the more you will enjoy strolling through the exhibition.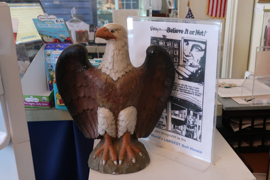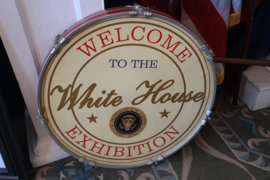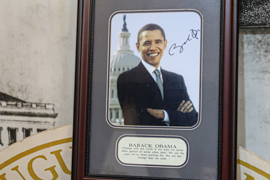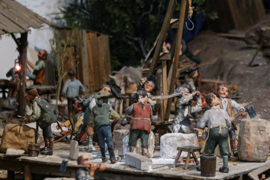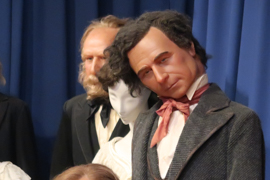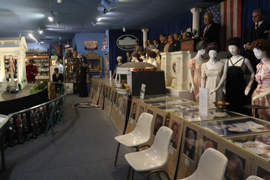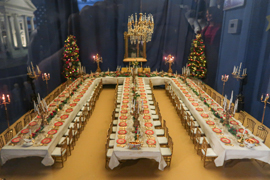 The pictures are a bit of sorted by topic. Most of the presidential exhibits as such are rather at the outer side of the room, while the inner part is a huge scale model of the White House itself. This one is really interesting, as you can explore a lot of the (known) rooms of the building. What I also liked is comparing this model with some Oval Office models related to specific presidents. For many presidents, the Presidents Hall of Fame is also illustrating how the leader of the United States requested to change the layout of the famous room according to their needs and desires.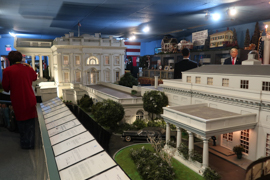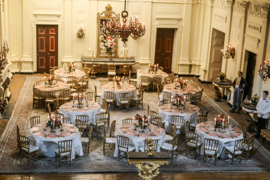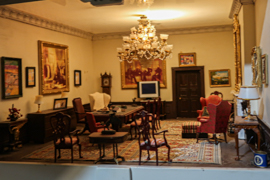 Presidents Hall of Fame – Services
While the museum itself is already an amazing collection of different presidential memorabilia, the souvenir store is definitely also upgrading your experience. There is a lot of typical touristic items, but also a massive number of kitsch in stock, so that this part of your visit definitely adds some good feelings – even if you have to swipe your credit card again before you leave.
Apart from the architecture itself and the certain level of fame in the Florida tourist attraction scene, there is an eye-catcher right next to the building. If you are too lazy to drive to South Dakota to visit Mount Rushmore, you can also have a selfie with the forefathers of the United States just a short drive away from Disney World.
Presidents Hall of Fame – My View
To be straight with you: I expected this place to be somehow a scam, a tourist trap. I have been really wrong. Sometimes, it is really hard to navigate through the museum and all its exhibits, but it is finally an amazing and also educative collection of presidential items. The price is absolutely fine as well. If you want to have some more quiet time while visiting buzzing Orlando, this is a really nice getaway from there.
(Greater) Orlando – Postings
Orlando is much more than Disney – here are all postings about the Entertainment Wonderland:
Country Music Interviews on Flyctory.com
Here are all country music related postings in my Spotlight interview section: