Is there is a place with feels more "mandatory" to be a Flyctory.com contents than the Country Music Hall of Fame in Nashville? With traveling and music being two of the three main pillars of the website and country music being in focus as a genre, I naturally travel to Music City from time – and the place in the heart of the city is somehow the shrine of the genre. Time to finally introduce it to you – here is my review.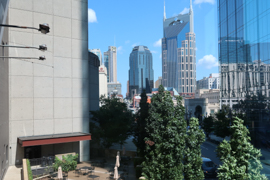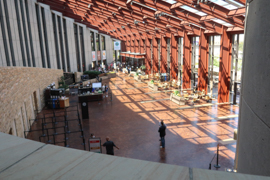 Country Music Hall of Fame – Location & Admission
The Country Music Hall of Fame is located right in the heart of town. The Bridgestone Arena is across the street and many other attractions are a short and easy walk away, even after some drinks. As Nashville is about bars and nightlife as well, there is practically no other option than going to Downtown Nashville than by car. This may either be an Uber or a rental car. Nashville is a town of parking scam. This unfortunately includes the overpriced official garage shared with the Hilton Nashville Downtown. I recommend the LIbrary Garage or parking deals you find on SpotHero and similar services.
The Country Music Hall of Fame is opening from 9:00 to 17:00 hrs daily. The nominal adult admission is 27.95 USD, you either have to walk in or buy a timed ticket. Even if you explore Nashville with one of the tourist pass offers, you may have to reserve a time slot typically. A very common choice is that people combine the visit with an RCA Studio B visit or the Hatch Studio Print Tour. Both visits are driven by the Hall of Fame and are also having a fixed time slot. The audio guide for the museum is an additional 5 USD. It is worth it especially at your first visit, but also prolongs the time you need for the museum – I would then at least suggest to block 2:30 hours in your diary.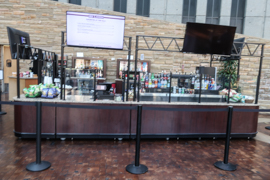 Country Music Hall of Fame – The Visit
The museum's main exhibition space is split into two levels. You start on the upper level. The museum is typically leading you through different topics. This also leads very roughly to a visit in chronological order. Hall of Fame member and important people of the genre are shown explicitly on information boards. Typically the same case also features one or a few original items by that artist.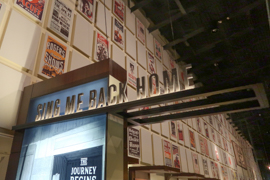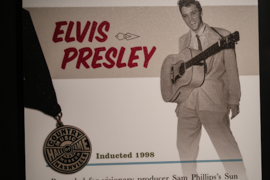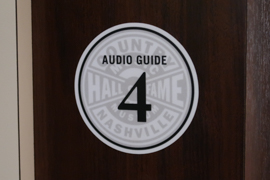 As you see on the pictures below, the range of items in display is huge. Of course, there is a certain focus on instruments, stage outfits and similar items. But there are also very different exhibits. One of the most memorable and catching items is definitely an original car by Elvis Presley (yes, he is a Country Music Hall of Famer as well). The upper level also features an area dedicated to music instruments, majorly guitars.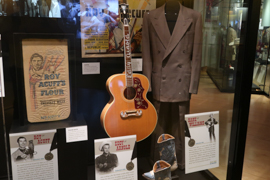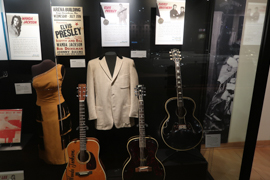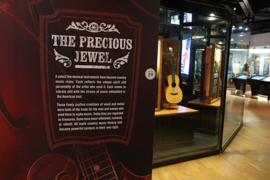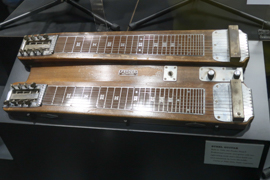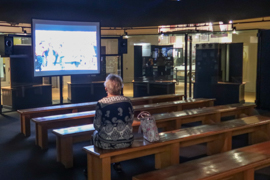 This area also features the first wall of golden and platinum records as well as interactive screens which illustrate the importance of country music in culture. Around that area, there is a small "cinema"-alike area to watch movie and documentary excerpts. From there, you head downstairs. to the lower floor. Due to all the additional golden and platinum records on the wall, this is one of the most interesting parts of your visit. It is simply fun to have a look and spot some of the recordings of your favorite artists.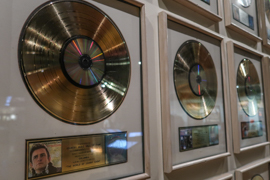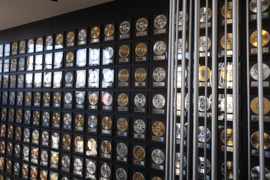 Lower Floor
Even though there were some renovations and preparation for new exhibits during my visit, the lower level generally features more modern country music times (which, I would say, starts some time in the later 1980's). On this floor, you also get introduced to rather recent country music stars like Keith Urban, Darius Rucker, but also Kelsea Ballerini or Taylor Swift (they have a replica of the side of her tour bus there, a bit too much. Especially if you don't have the audio guide, you also will feel that this part of the museum as such is more modern. It offers more interactive displays and even features like recording your own country song.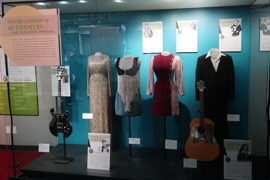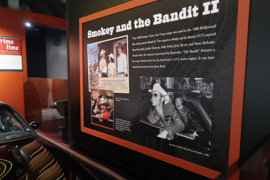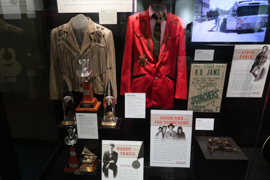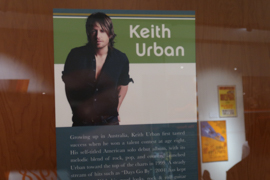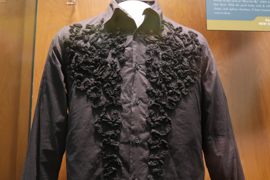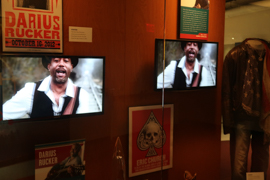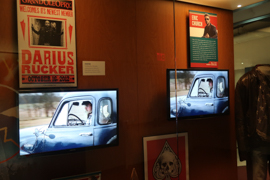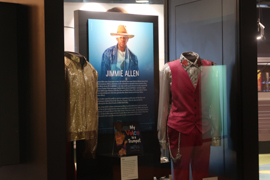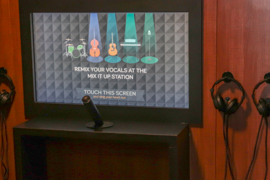 Temporary Exhibitions
A key part of visiting the Country Music Hall of Fame and Museum are always the temporary exhibitions. There are several spots in the building which are designed to give a special and additional spotlight on certain artists. The highlight during my visit in August 2022 was definitely the showcase for Chris Stapleton. This temporary exhibition has also been a great showcase about the vast archives of the museum and their potential to set up versatile, entertaining and interesting displays.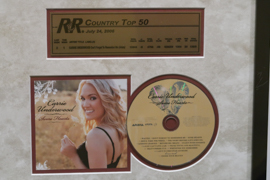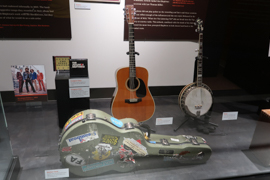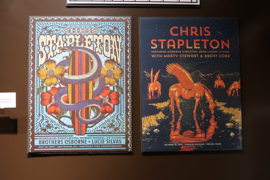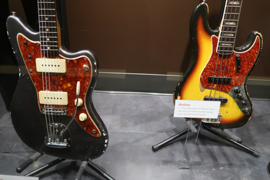 Two other sections of the museum focused on Martina McBride and Bill Anderson. Both places were a nice treat for fans and gave interesting insights to people who are not that much into these to artists. Especially the Bill Anderson story felt very fascinating for me. Right when you changed from the upper to the lower exhibition level, the Country Music Hall of Fame and Museum also gave some additional space to Florida Georgia Line and their story.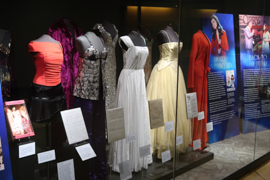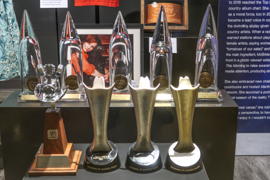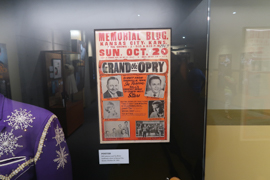 Hall of Fame
Last, but not least, you visit the Hall of Fame. First of all, there are showcases introducing you to the latest inductees. The spire on the top of the ceiling, right above the wooden circle and the words Will The Circle Be Unbroken lead to a very intense atmosphere of the circular hall. The Hall of Fame members are honored with signs around the wall. That's the last part of your visit before stairs with the decorating "creek" next to the stairs guides you down to the lobby.
Country Music Hall of Fame – Services
There are two major souvenir shops at lower level. The prices are rather aggressive, though. This also is correct for the official parking garage across the street, I recommend to look for other options (see above). The museum building also features a venue for shows and some minor businesses like a nice Mexican snack restaurant.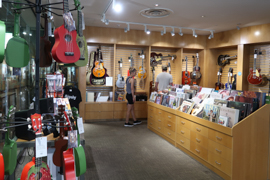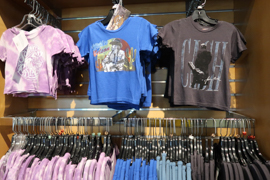 Country Music Hall of Fame – My View
If you are into music, you visit Nashville one day. And then you have to visit the Country Music Hall of Fame and Museum. I did so twice and it won't be my last one. The place is large and also impressive. And you always learn something new. First of all, as there are always some updates and quite a lot of space for temporary exhibitions. If you are around, you have to put it on your bucket list.
Museums (Country Music)
Here are all my museum reviews somehow related to country music:
Elvis Presley
Here are all postings related to Elvis Presley: