Even though the TV series The Dukes of Hazzard just has been aired in the United States between 1979 and 1985, it still has a massive fan base. Wikipedia states that it is the most popular 1970's TV show apart from Dallas. The high popularity is also illustrated by the fact that there are three Cooter's Places in the country, all three driven by Ben Lewis Jones, better known as Cooter Davenport. One of these places is located in Nashville. I just had to have a look into the combination of museum and souvenir store on the ninth day of my Pittsburgh Penguins Trip in March 2022.
Cooter's Place Nashville – Location & Admission
Cooter's Place Nashville is located in Music Valley, North of the Grand Ole Opry (I visited a show the same day) and the Opry Mills. The museum is neighboring the Willie Nelson and Friends Museum and Nashville Souvenirs. There are also bars and hotels around the Cooter's, which is just a short drive away from Briley Parkway. I stayed close to this place, at the Comfort Inn Nashville – Opryland Area.
Cooter's Place Nashville is open daily, from 9:00 to 19:00 hrs. Admission to Cooter's Place is free, it finances from the opportunity of taking pictures inside the cars and selling merchandise (see below).
Cooter's Place Nashville – The Museum
Even though Cooter's Place Nashville is not overwhelmingly large, it is a shrine for fans of the TV series. There are a lot of cabinets full of pictures, original movie equipment or merchandise like board games. There are even scale models of the fictional scenery in Harrzard County, Georgia. Even though I have been there at a Friday at noon, the place was really packed with fascinated fans of the series (and a German travel blogger) of all ages.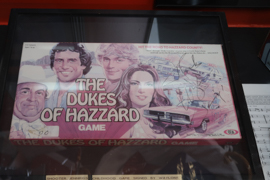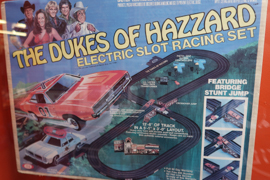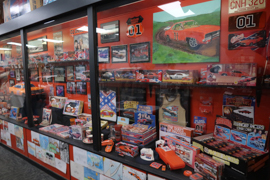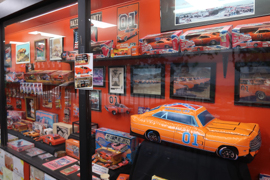 Cooter's Place Nashville – Shopping & Service
As said, the place is living from selling merchandise. Not only the orange logo stuff is available, you also find memorabilia from other TV series. Of course, The Dukes of Hazzard is in the main focus – and these few pictures below cannot tell you the complete list of items you may find there.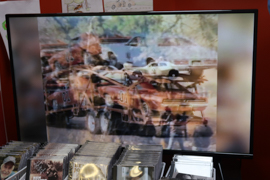 As you see, you are free to take pictures within the premises. However, if you want to have a picture sitting inside a car, it will be roughly 10 USD for a single picture, regardless of the car. The museum features four cars, the orange General Lee (which is a replica, as far as I understand), the tow truck Wrecker, Daisy's Jeep and Rosco's patrol car. If you want to have a snap (taken with your own camera) of all four cars, you practically get one shot for free.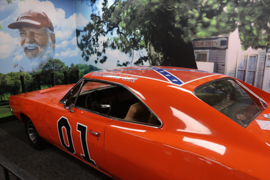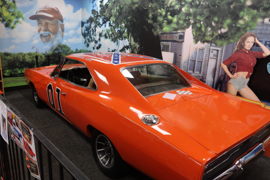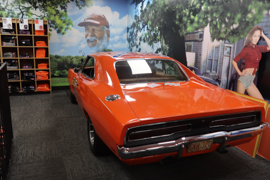 Cooter's Place Nashville – My View
I love weird places (which I tag Flyctory Obscura in here). Cooter's Place Nashville definitely belongs to the list of these places. Nonetheless, it is just cool – and especially as you are able to look at the four cars (without sitting inside), you really get a great value for free. Even though I am not too much into the Dukes family, I enjoyed my time there. If it suits to your Nashville schedule, I definitely recommend to give it a try.
Postings about Shopping
Here are all postings related to Shopping:
Flyctory Obscura
Flyctory Obscura-tagged reviews represent weird, unique, entertaining places of all kind: