During my October 2022 trip tour-chasing Weird Al Yankovic in Florida, I also had a night in Daytona. As I wanted to tour the famous Daytona Speedway, I looked for an accommodation in that area and finally went for the Hampton Inn Daytona Speedway-Airport. Here is the review of my night at the Hilton Group outlet.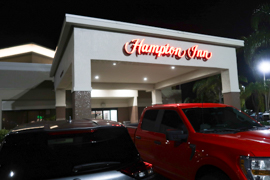 Hampton Daytona Speedway-Airport – Location
The hotel is located right East of Daytona Speedway and at the end of runway 34 of Daytona Beach International Airport (DAB). The area is rather commercial, there are other hotels and some restaurants around. Closer towards the I-95, there are also quite some shopping opportunities. The area also features malls, a smaller amusement parks, an Odeon and similar facilities. There is also a bus connection (bus line 60), but you likely come by car to visit this hotel anyway.
Hampton Daytona Speedway-Airport – Room
I had a King Bed room in October 2022. The Monday to Tuesday stay rate, including taxes (breakfast is always included at Hampton) was 112.46 USD. The rate cam with a five day cancellation period. The hotel room was fine, I got a typical Hampton studio style room with a work desk located within a cupboard – which may be a bit of narrow, but overall very convenient. The room also featured a fridge and a microwave oven.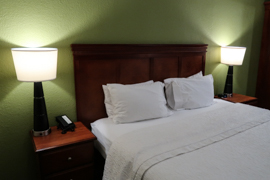 The bathroom of my room was comparably compact, but overall fine. While the room had a bit of a nicer touch, the bathroom was just fine. The cleanliness of the hotel was fine.
Hampton Daytona Speedway-Airport – Breakfast
Like all Hampton Hotels, this place also offered complimentary breakfast. The selection was rather characteristic for a basic Hampton stay. The staff, however, was really friendly and outstanding. Thus, I really enjoyed the Daytona way to start the day.
Hampton Daytona Speedway-Airport – Service
The gym was closed during my stay. However, the pool area of the hotel is really nice and is also a bit larger compared to other locations. WiFi and staff in the hotel was good. There is no airport shuttle or similar service. However, I guess that the service would not be used too frequently anyway.
Hampton Daytona Speedway-Airport – My View
The Hampton Daytona Speedway-Airport has overall been a nice stay. The breakfast staff was what I remember most positive. In most other points, the hotel did a nice performance without being overwhelmingly brilliant. The location is really good in case of a racing or music event, though.
Hilton Hotels in the USA
Here are all my hotel reviews of Hilton Hotels in the USA:
Sports 2023