Manhattan is somehow the ultimate and maybe best known skyline in the world. Not too surprisingly that all around New York City, there are several observation decks and platforms. Manhattan itself also features some rather new viewing platforms. One of them is Edge NYC, which my wife and I visited during our stay in the city in late October 2022. Here are my thoughts about it.
Edge NYC – Location & Admission
Edge NYC is the highest open sky viewing platform in New York City. It is located in the Hudson Yards, a commercial and residential building rather close to the Hudson River, near the 33rd Street and 10th Avenue. You enter the attraction through the very modern shopping mall in the lower floors of the building. The next subway station is 34th Str Hudson Yards, which is served by subway line 7.
As for most of these kinds of attractions, there are several kinds of ticket. Online tickets start at 38 USD, walk-in 40 USD. This leads to a lowest price, including tax, of currently some 41.40 USD. Depending on the popularity of the (fixed) time slot you chose, prices can rise. Of course, there are several upgrades like a glass of champagne.We used the New York Sightseeing Pass, which has the nice perk that you get a time slot of your choice / the next available one when you walk in. At the time of writing, the platform is opening daily, 10:00 to 22:00 hrs.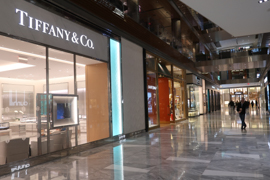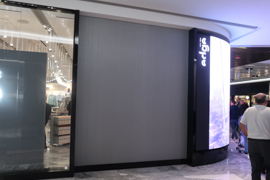 Edge NYC – The Visit
As this is the case for all New York City viewing decks, you first have to pass an airport alike security control (water is allowed, though, of course). Then you go through some exhibition about the building, but also about city planning in general. This one has two key advantages: it is very modern – and it is rather short. Even when these kinds of shows are good, they are finally just not the reason why you are around. Elevators then take you up to the platform, which has a height of 330 meters above ground. Edge NYC opened in March 2020, but had to close due to Covid-19 very soon thereafter.
The iconic architecture of the platform is its biggest plus – and disadvantage in one. On the one hand, it is a cool place and a unique way to explore New York City and surroundings. You indeed feel more free than in other places. However, on the other hand, you just have a very partial view of the city. The glass floor in the middle of the triangular platform is definitely a nice feature. However, depending on the time of day and the sun intensity, you just have a rather limited view of what is happening below.  Especially the stairs to the cafe level were crowded during our visit.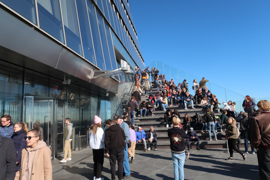 Views from Edge NYC
Here are some views from Edge NYC. As you see, we had lovely weather during our visit. Edge is great to explore Jersey City from above as well. Financial district and Southern Manhattan are quite far away, though. You can only guess about more distanced sights like the Statue of Liberty.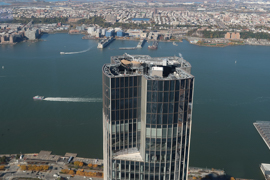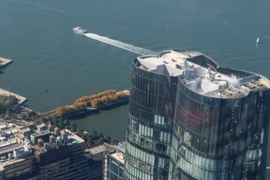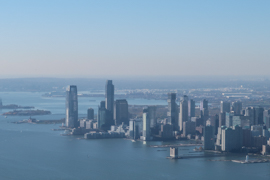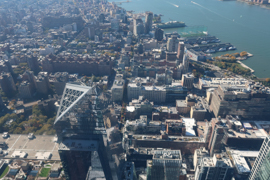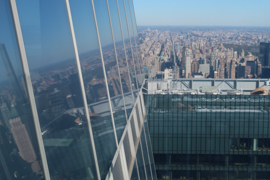 Edge NYC – Services
There are three kinds of additional services once you are more than 300 meters above the ground. First of all, having a bubbly one is one of the most popular activities while visiting Edge NYC (apart from tormenting other visitors, because you are such an important Insta star and need to take photos from the best spot for ages). There is also a cafe on a higher level you can reach by stair or elevator. Of course, there are souvenir stores on observation deck level and at the entrance in the shopping mall. Fearless visitors add almost 200 USD to their bill and go for the City Climb. In a secured way, you walk up the building (outside) some additional 30 meters.. and definitely have something very special you can tell your beloved ones when you are at home.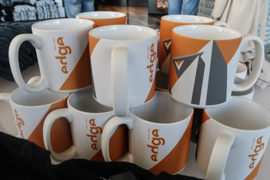 Edge NYC – My View
The two key reasons to visit Edge NYC are the iconic design of the platform and the posh shopping mall. In peak times, it may also be slightly less crowded than the "classics" Empire State Building and Top of the Rocks. It is a nice place with good views of Jersey City and the West shore of Manhattan. Other directions are a bit more limited.
Views from Above (USA)
Ferris Wheels, observation decks and more- related to the USA:
Postings with Tour Dates in 2022
Here are all postings including Tour Dates I posted in 2022: