Tupelo, birth town of Elvis Presley. I felt very flattered that I would make it back to the city during my August 2022 trip. In contrast to my visit on the 3rd and 4th day during my trip to the CMA Fest 2019, I approached Tupelo by air – and, to be honest, stayed around the airport. Flying with Contour Airlines in the Embraer 135, I had a some two hours to explore Tupelo Regional Airport (TUP). More than enough for an airport review.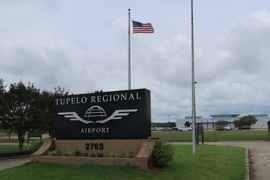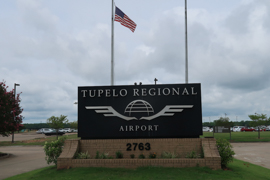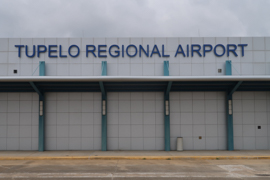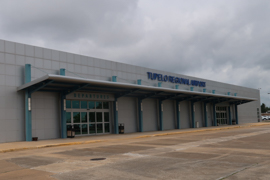 Tupelo Airport (TUP) – Location & Transport
Tupelo Airport is located West of the city centre and a couple of miles away from the famous Elvis Birthplace Memorial. The area is commercial, there are majorly aviation-related industries around (see below).
There is no public transport to Tupelo Airport (TUP). However, Hertz and Budget do have rental car facilities at this place, which are of course organized on demand by local rental car providers. In addition, the airport features a large parking lot, which offers free parking.
Tupelo Airport (TUP) – Connections
The list of commercial connections to and from Tupelo is short – there is just one. Similar to Altoona (AOO), Lancaster (LNC) or Marion (MWA), to which I introduced you in other postings, the airports are part of the Essential Air Service program, which should connect regions with a low density of aviation services to national and international air travel. This role is currently taken over by Contour Airlines, who typically connect Tupelo with Nashville Airport (BNA) twice a day.
Arriving at Tupelo Airport (TUP)
I was quite surprised that you in fact have a ramp to leave (and to board) the aircraft at Tupelo. From there, it is just a few steps into the terminal building, where the hold luggage was already ready to be collected by the passengers. That's finally the big advantage of these regional airports – they are extremely fast and efficient.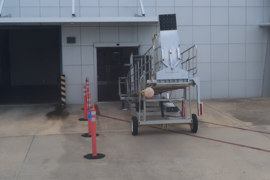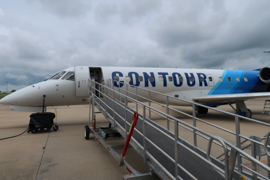 Departing from Tupelo Airport (TUP)
The departure procedures from Tupelo were very efficient. One rationale for that was that they in fact drive a TSA Pre service, which I can use due to my Global Entry status.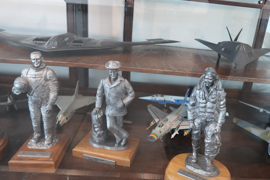 I also loved the amazing airside waiting area – ain't this almost winter garden-alike design beautiful? There is one gate and one toilet (for all, including mobility impaired) – that's all you need, ain't it? In case of rain, they even provide parasols for the short walk.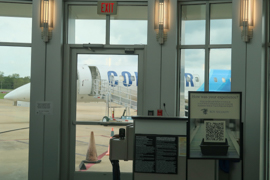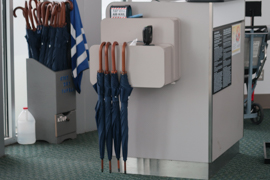 Tupelo Airport (TUP) – Scraping Facilities
The Tupelo Airport (TUP) grounds are a very interesting place for aviation enthusiasts. Planes are stored and scraped at the airport at nearby facilities. Unfortunately, it was hard to take pictures of some really interesting ones, e.g. an old TAM airplane (I just could spot the wings). I was rather surprised that come C-Class Bombardier were about to be scraped at Tupelo. The majority of planes being very present from the public part of the facilties were Southwest Airlines Boeing 737s, though.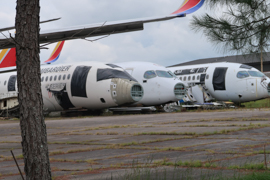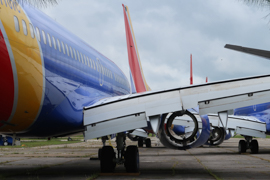 Tupelo Airport (TUP) – Services
The staff was very lovely and helpful. I was a bit of afraid as me taking pictures inside and outside the airport attracted the local police – but the officer was really kind as well. The airport features free WiFi, which is maybe the coolest one I ever had while visiting an airport at all: the network is secured by a passwort but the network name is something like TRA free WiFi password is xxxxxxxx. I just had to smile when I connected to it. There is no bar or cafe in or around the airport building. However, you can buy a drink or a snack landside at a vending machine. The airport provides a free water dispenser airside. The airport also had a shelf with some books on it. Nice service!
Tupelo Airport (TUP) – My View
The best Essential Service Airport I visited yet is still Marion in Illinois – but Tupelo is indeed a good one. The airport is efficient, the people are amazing – and if you have some time before or after your flight, you can even see people killing my best friends (aka scraping planes *smile*). A very nice regional hub, which is also offering an easy opportunity to visit all the interesting music history sights in and around the city.
Flyctory.com about US Aviation
Here are all Airports & Airlines postings related to the USA:
Flyctory.com about Memphis
Here are all postings related to Memphis