The very first night of my Pittsburgh Penguins trip in March 2022 lead me to New York City. Finally, my beloved Pittsburgh Penguins did not play at UBS Arena – but as I still had the flights booked and the New York Islanders did have a match, a needed a well-located, not too expansive stay somewhere in Queens. The connections of Adria Hotel & Conference Center in Queens were excellent, to JFK Airport and the ice hockey stadium as well as to LaGuardia Airport, from where I flew on to Pittsburgh the following day. Here is my review.
Adria Hotel & Conference Center – Location
The hotel is located in Bayside, right at the Northern Blvd. and very close to the Cross Island Parkway. There are a couple of other hotels and simple restaurants around, while most of the area around is residential. The distance to UBS Arena is roughly five miles, a drive to Times Square would be about 15 miles. There is a Best Western Hotel next door, which is driven by the same management.
There is a Q12 bus stop right in front of the hotel, which directly connects to Flushing Main St and thus to the New York Subway system. The Long Island Rail Road station Bayside is about a kilometer walking distance away. If you arrive by car, you can use the parking deck for free. The access is from the side of the hotel at a residential road.
Adria Hotel & Conference Center – Room
I booked a Deluxe Room for one night in March 2022 in the Adria Hotel & Conference Center. The flexible rate was 126.40 USD. I did not expect too much comfort for that money, as New York is a rather expansive place for overnights. The more, I was really surprised about the nice size and the "cosiness" of the hotel room. IT offered quite nice space, had a good, large bed and a nice work desk. I had no issue to put both of my large suitcases to the room.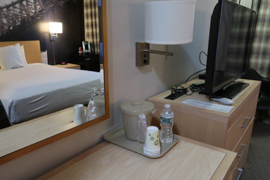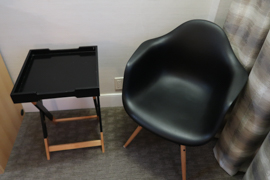 The bathroom with combined bathtub and shower has been compact, but really nice as well. Like the whole hotel room, the sanitary area was spotlessly clean. Most amenities were given by dispensers.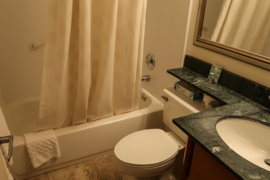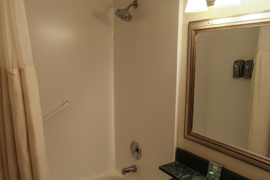 Adria Hotel & Conference Center – Breakfast
Breakfast at the Adria Hotel has been served in the conference area. You cannot say that this place is a beauty, but it was very functional at least. The selection of items was more than I expected. There were hot dishes as well as a nice selection of bread, pastries and fruit. Thus, I had a really nice start into the new day.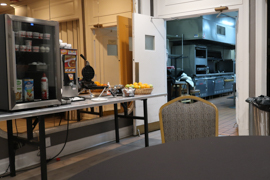 Adria Hotel & Conference Center – Service
The staff in the hotel was really kind and helpful. I also had no issues to use the WiFi, even for the traffic intensive work on Friday mornings, when new music is released. The hotel offers "access to a gym". My guess is that it is offered by the Best Western Hotel.
Adria Hotel & Conference Center – My View
The Adria Hotel in Bayside / Queens gave a really good start of my March 2022 trip. The location is very good and they offered all you need for a budget stay in New York City. If you want to travel to Manhattan frequently, this place is too remote, for for parts of Queens or to explore places rather East on Long Island, it is a really nice travel hub.
Travel Postings – New York
Here are all my Travel postings related to New York (city):
2022 Country Music Reviews
Here are all my Media Reviews as of 2022 related to Country Music: