I am really curious about Alternate Essential Air Service (AEAS) flights within the USA. They typically connect "less developed" areas (in regards of air traffic and infrastructure) to one or two major airports, so that you can easily connect on to other domestic or even international destinations. During my stay in Nashville in August 2022, I had the opportunity to check one of the operators of these EAS flights, Contour Airlines. With their Embraer 135, I had the opportunity to fly to Tupelo Airport (TUP) and back. Here is my review.
Contour Airlines – Network and Fleet
Contour Airlines is a regional airline, which is owned by the Contour Aviation company. They operate since 2016 and majorly work on AEAS flights, but also do have some other connection. Apart from Tupelo (TUP) in Mississippi and Nashville Airport (BNA), where my flight departed, there are quite a number of other airports all over the US which are connected by the carrier. For example, they service Crescent City (CEC) in California, Altoona (AOO) in Philadelphia or Paducah (PAH) in Kentucky at the time of writing. Since August 2023, they also operate from Marion (MWA) in Southern Illinois, from where I had Cape Air flights. Currently, they biggest hub is Charlotte (CLT), from which Contour drives seven destinations. There are four connections from Nashville. In addition to my one, there is Greenville MS (GLH), Greenville/Spartanburgh SC (GSP) and Indianapolis (IND).
Contour used to have Jetstream planes, but nowadays full operate on an Embraer 135/145 fleet. Their current fleet size serving the 17 destinations is 13.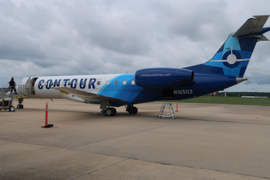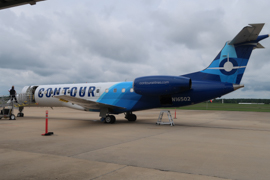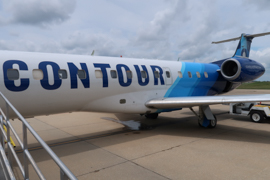 Contour Airlines – My Flights
I had a direct turnaround from Nashville to Tupelo and back on 4th August 2022. Departure in Nashville was at 11:00, with a scheduled landing at noon. The crew had a 1:45 hours rest before we headed back to Tennessee – which gave me the opportunity to explore the airport and the adjacent scraping facility. The return ticket was 112 USD.
Contour Airlines – At The Airport
Contour is currently operating from Nashville (BNA)'s North Terminal. A very handy feature is that they support TSApre, so that you have the easier hand luggage security in case you are enrolled. The staff was very friendly at both airports. The BNA staff could not issue my direct turnaround boarding pass – but this was finally not too much of an issue, there was plenty of time. In general, flying with these smaller airlines is generally really nice as you have a more personal touch.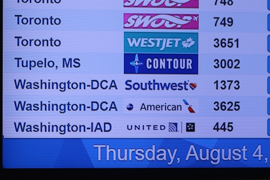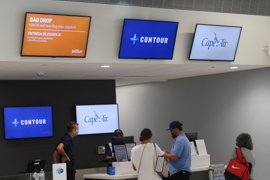 Contour Airlines – Embraer 135 Cabin
The E-135 by Contour Airlines has a total capacity of 30 seats. There are ten rows with a 1-2 configuration, which means that the left side of the cabin (in direction of flight) has solo seats and the right side twin seats. The seat pitch is amazing, the airline states it to be with 36 inch (91cm). Just to give you a flavor: some airlines have less distance than that in intercontinental jets – at Premium Economy cabins. If you go for the first row, you have even more space. Overhead bins are just located on the right side of the cabin. overall, the seats are a bit tradiional, but really nice and comfy. A bathroom is located in the rear of the cabin.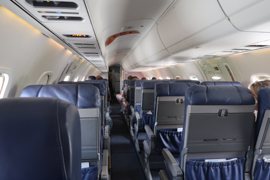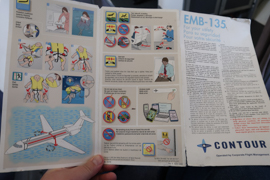 Contour Airlines – Inflight Experience
As I stated in the fifth episode of my Food I Had Onboard, Contour is even offering you a drink and a snack during the flight. I loved the very personal service by the flight attendant (Ashley, if I remember correctly). Overall, the inflight experience was very friendly in regards of the crew and very relaxed. Like the ground staff, I absolutely enjoyed the Contour people.
Contour Airlines – Some Views from my Flight
Last, but not least, here are some snaps taken through the window from my Contour Airlines experience. The pictures are in Pictured Story size.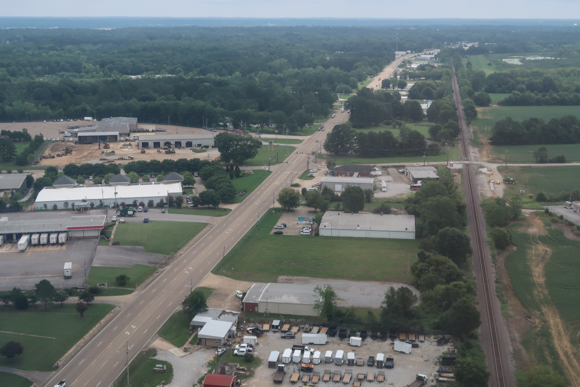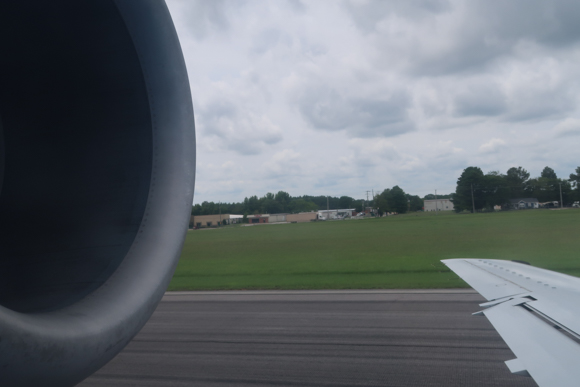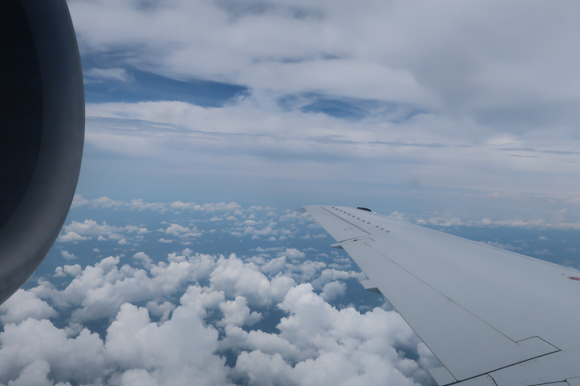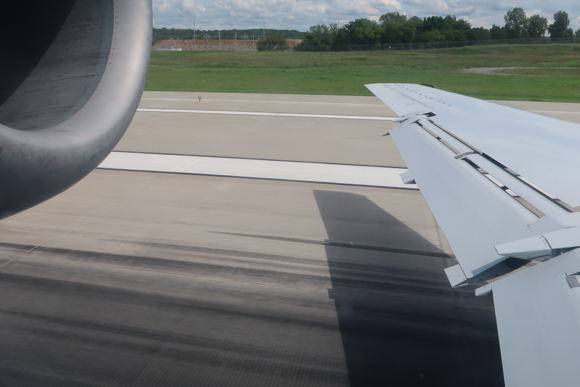 Contour Airlines – My View
Flying with Contour was definitely a great experience. The Embraer machines just have a nice touch and are also more comfortable than the planes used for other AEAS services. The staff on the ground and on board was great – so I just had to love this flight.
Flyctory.com about US Aviation
Here are all Airports & Airlines postings related to the USA:
Postings about Tupelo MS
Elvis' birthplace – here are all my postings about Tupelo in Mississippi: