When did Finnish game designer Jaakko Iisalo and Roivo Entertainment  have a first feeling that their Angry Birds will become a causual gaming empire? The video game is available on several platforms and millions of people shot the different birds through masses of levels to get back their eggs from the evil pigs. My wife and I dealt with the Angry Birds in a very differnt way in late October 2022: we went to an Angry Birds-themed mini golf course in East Rutherford, just outside of Manhattan. Here is my review.
Angry Birds Mini Golf – Location & Admission
Angry Birds Mini Golf is located on the ground floor of the American Dream Meadowlands Mall. The mall is located right across the Meadowlands Sports Complex including the MetLife Stadium. There are several parking lots around – the mall parking garage is running on a small fee on some times of operation. The mall also features other attractions like New Jersey Sea Life, the Nickelodeon Universe Theme Park or the Dream Wheel Ferris Wheel. You can easrily reach the mall by the I-95 (New Jersey Turnpike) or by using the Meadowlands Rail Line from New York City.
In line with the mall hours, the mini golf course is opening from 11:00 to 21:00 hrs, Monday to Friday, 11:00 to 22:00 Saturdays and noon to 20:00 hrs on Sundays. If you book your ticket online, an adult game of mini golf is 20 USD pre-tax (21.33 USD post-tax) at a reserved time slot. The walk-in rate is roughly equivalent.
Angry Birds Mini Golf – Atmosphere
Already the pictures below tell you: the artwork of the course is simply beautiful. The Angry Birds protagonists are having a lot of presence. The 18 holes are split into six blogs of three courses each, which represent areas like Bird Island, Avian Academy or Bird Aviation. The scene is of course attracting kids in a lovely way, but are also giving a lot of smiles if you play the course as an adult. The courses use artificial turf, you are thought to start on a plastic tile. Unfortunately despite the mini golf course is rather new, the tee-off is really a mess, as a lot of tiles could either move around a lot or were already very bumpy and broken. The edges of the wholes felt weird as well – if you don't hit the whole straight, the ball will likely not fall into the hole.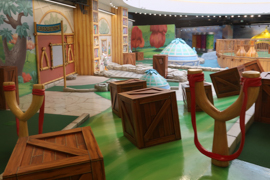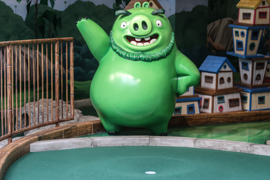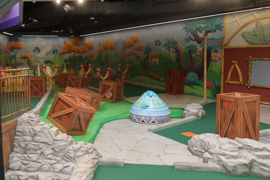 Angry Birds Mini Golf – The Courses
The artificial turf of the mini golf course is rather short, but rough, so that you need comparably much force to move the ball. Most of the holes are rather long, many are wide – here and there, it is unnecessarily difficult to position for the shot as some spots are narrow. Overall, Angry Bird Mini Golf in New Jersey rather feels like an adventure golf course. The first holes are easy with rather simply obstacles. Some holes are slightly hilly, but most of the holes are rather flat and have small walls at the side, which make them easy to play for kids as well.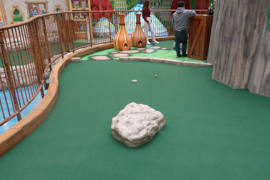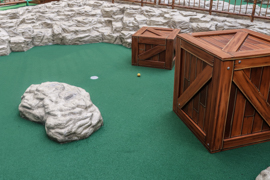 We enjoyed the design, but not the complexity of the first wholes. It in the castle you see below, for example, you can, but don't have to play the ball through the castle – which is a mess, especially as taking the hard way does not really give you any advantage like a good ball position thereafter. Hole #9 with the cockpit is a nice one as the position from which your ball is ejected depends on the power you played the ball before. The second half of the holes are much more challenging and interesting, though. They also work more with uphill and downhill sections.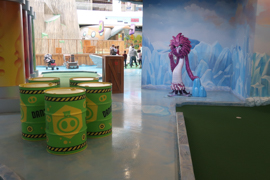 Bird Aviation is the last section of three holes. While #17 is really fun as you are move "inside a plane", hole #18 has been a huge disappointment to us. You have to hit one of the two nostrils of the big, which is a cool idea. If you make it, your ball will be collected like in many golf courses – and you will receive some siren and audio effect. One absolutely poor thing, though, is that your ball is also lost if you don't make it with your first hit. The ball runs down a hill and is collected there. This is absolutely ridiculous. I would even say that in fact, you just have a 17 hole course as the last one is practically either a "Hole in One" or a fail.
Angry Birds Mini Golf – Services
There is – of course – also a souvenir store which you can make use of, regardless if you play a round of mini golf or not. However, I was hoping for some more entertaining merchandise than the ones in offer. If you need a bird or pig plush, though, you will love the store.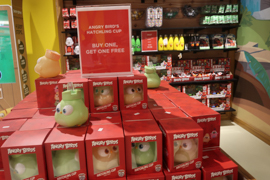 Angry Birds Mini Golf – My View
Of course, you do smile when you play in such a beautiful design. Nonetheless, we were finally disappointed. The last hole is close to a rip-off and also shows that they put design too much above the simple need to play a 18 hole mini golf course. Some of the tee-off areas are too narrow, the tee off plates don't work at all and the first have of your game will be rather easy. Thus, we rather had mixed feelings after our game.
New York on Flyctory.com
Here are all postings about the "Big Apple":
Finland at Flyctory.com
Here are all postings on Flyctory.com about Finland: