One of facts that underline that my March 2022 trip supporting the Pittsburgh Penguins had some organizational challenges is that I was in fact dealing with three different car rental companies. While I had a one-day rental with Budget in New York City, I had a rental with Avis from Nashville Airport (BNA) and a rental with Enterprise from Pittsburgh Airport (PIT). Here are my thoughts about the experience with Enterprise, which I typically not use that often in Europe.
Enterprise Pittsburgh Airport (PIT) – The Rental
Not only that I went for an Enterprise booking, this rental has also my very first experience with booking a rental car via Hotwire. The rationale for that were the extremely high rental car fees in 2022. The downside is that there is a different insurance system for rental car in Europe so that it requires some preparation to ensure that you get the right additional services. Enterprise in the USA is generally renting a car without insurance – you either have them via credit cards or other insurance coverage or add them at the counter. My three day rental in Pittsburgh was Ford Eco Sport Class at a nominal fee of 134.97 USD. Hotwire estimated taxes and fees of 60 USD, so that there was an estimate price at the counter of some 195 USD. I had an additional on top pre-paid cover (Alluanz, 44 USD) I did not have protections against.
Finally, I received an upgrade to a Nissan Rogue and added some coverage at the counter, which were a total of some 50 USD plus tax, so that the total rental fee, including the pre-booked insurance was still about 300 USD.
Enterprise Pittsburgh Airport (PIT) – Location & Office
Pittsburgh Airport (PIT) is currently undergoing a renovation, like many US airports. The rental car desks are located on basement / baggage claim level and are thus easy to access after I grabbed my luggage.
Enterprise Pittsburgh Airport (PIT) – Receiving The Car
I just had a very short wait. The customer manager was very attentive and the process went very smooth, despite some typical challenges like my surname contains a letter which is not known in the US. He was also very friendly in regards of explaining me the different insurance coverage I might need or not. Thus, the whole rental process  just took a few minutes. I received the paperwork by e-mail.
You receive the car in a parking garage right opposite the terminal, which was also very easy and handy.
Enterprise Pittsburgh Airport (PIT) – Returning The Car
The cars are returned to the same place you in fact collected them. Again, the process was very well managed and I had nice experience.
The Car – Nissan Rogue
I originally aimed for a small SUV due to the potential of snowy roads – and in fact, I did have snow on the fourth day of my trip – a good opportunity to take the snaps below. I really liked the car, it felt very safe, also on snowy conditions. The mileage of the car at rental was about 25k miles – but the car felt not that used.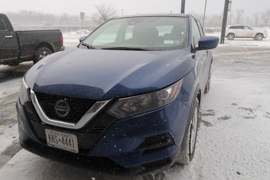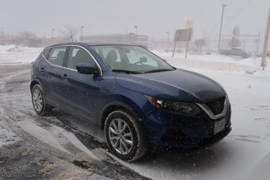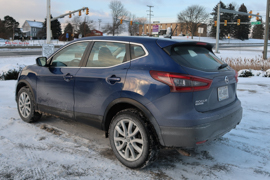 Enterprise Pittsburgh Airport (PIT) – My View
My first Hotwire experience and one of the first rentals with Enterprise have been a good one. The car was fine, I liked the customer service. I felt that overall, it would help to have a better overview about all the different kinds of coverage available on the website already. Despite the really friendly staff, it felt a bit of confusing to me.
Car Rental Reviews
Here are all my car rental reviews so far:
Flyctory.com in Pittsburgh
Here are all other postings by Flyctory.com related to Greater Pittsburgh: