After I introduced you to Fun Spot America Orlando, I of course also need to share my thoughts about the other Fun Spot America park in the region, in Kissimmee. Hope you enjoy you being lead my me into this amusement park in Florida.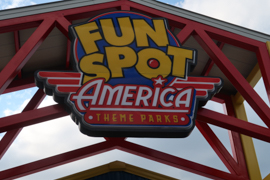 Fun Spot America Kissimmee – Location & Admission
While Fun Spot America Orlando is rather close to Universal, the Kissimmee outlet is rather close to Disney. The park is close to some hotels and restaurants. Public transport is absolutely limited there. A very nice feature of the park is not only that it is next to a lae and even built around it, but also that it is adjacent to the picturesque Old Town. You can move in and out from there. I guess that this is also the key reason, why this park does not have bag checks, in contrast to Orlando.
Ticket pricing works like in Fun Spot America Orlando: you either buy a wristband for 64.99 USD (59.99 USD online), which includes all attractions for one day or pay rides individually by tokens (which rather quickly tends to become the worse option). Most of the days, Fun Spot America Kissimmee rather opens at 14:00 and closes at midnight – I again recommend to check the website beforehand. Like in Orlando, Parking is free. I first visited the Orlando park, before I paid the 10 USD upgrade fee to use my wristband in Kissimee as well.
Fun Spot America Kissimmee – The Rides
The scenery of Fun Spot America Kissimmee feels a bit nicer than the Orlando sister park. One factor for that is that the rides are located around a lake. There are "just" two karting tracks. Overall, the park feels a bit smaller, but is also very relaxed and has a nice focus on typical fairground attractions. I would also say that the park is a bit more family-friendly than the Orlando one, but attractions like Headrush 360 or the rollercoasters also give sufficient fun stuff for thrill ride lovers.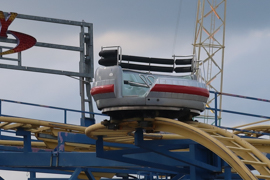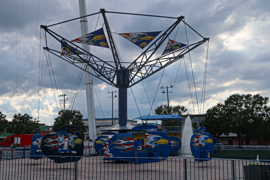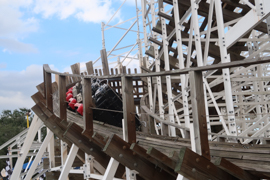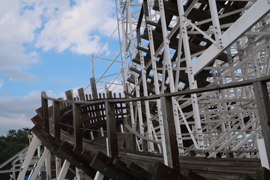 Of course, there are also arcade games at the Kissimmee outlet of Fun Spot America. Like in Orlando, they are not included in the wristband, but you can win prices by playing. The presentation and selection is quite nice.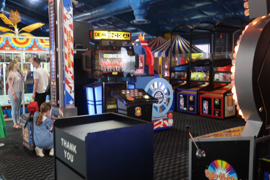 Fun Spot America Kissimmee – Old Town Kissimmee
They key advantage of Fun Spot America Kissimmee compared to the Orlando one, however, is the location next to Old Town Kissimmee. This historic town-alike area is simply a nice place to hang out and to enjoy. As you see in the pictures below, there was a car meeting at this place during my visit – similar events are rather typical. Due to the wristband system and as the park itself does not have any admission (you just cannot have a ride without paying…), you can walk forth and back between Old Town Kissimmee and the amusement park. This is rather handy.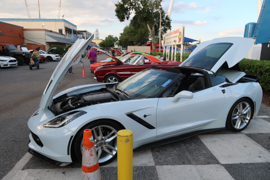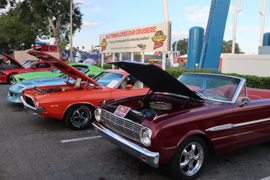 A key feature of Old Town Kissimmee, though, is the Ferris wheel. It is included in your single day wristband and offers cool views of Old Town, the park and Kissimmee itself (you may even spot some parts of Disney's grounds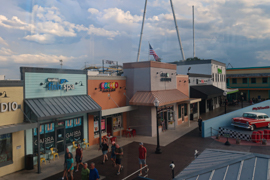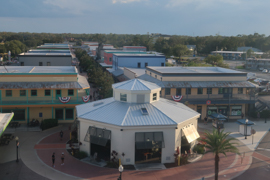 Fun Spot America Kissimmee – Services and Food
Typical diners and fairground food are the key kinds of nutrition available in the theme park. That's fine, that's what you would expect. Interestingly, there is no bag check at the entrances, in contrast to the Orlando park. Generally, I felt to have less interaction with staff than in the Orlando park – but the contact has always been friendly.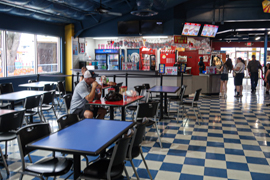 Fun Spot America Kissimmee – My View
Even though the Kissimmee park is slightly smaller, I just give it a tiny better notch than Fun Spot America Orlando – and thus lift it into the Top Pick! ratings. The scenery around the lake is just nicer and Old Town Kissimmee adds a lot of style. There were also at least ess closed attractions during my visit (which may also be as I visited the Orlando place first). Both parks are nice places to hang out, especially if you don't like long waiting queues and thus also accept less fancy rides.
Amusement Parks – More Postings
Here are all postings about Amusement Parks:
(Greater) Orlando – Postings
Orlando is much more than Disney – here are all postings about the Entertainment Wonderland: