It is Atlanta's finest attraction, regarding Tripadvisor. Just across the park from "World of Coca Cola", Georgia Aquarium is home of over 100,000 animals and over 500 species – a massive place about any kind of being living in water and a mekka for animal-lovers. This review has been taken during the final day of my Weird Al Yankovic 2018 Tour trip.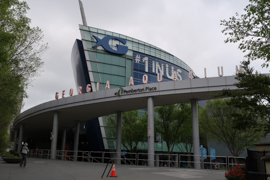 Georgia Aquarium – Location and Admission
Being located right across the Centennial Olympic Park, the Georgia Aquarium is right in the heart of the city centre of Atlanta, with good connections by foot to many other key touristic destinations. If you book in advance and take a fixed time slot of 30minutes to enter the site, the admission is slightly above 30 USD. Parking is possible in the Aquariums garage nextby, for fair 12 USD per day, 9 when you pre-purchase online.
You can upgrade your experience by purchasing flexible (non-timed) tickets,  "Behind the Scenes" access or animal encounters, which range from 65 USD for sea otters or seals up to 350 USD if you feel like (and dare to) diving with whale sharks. The aquarium is opening between 9a.m. and 10a.m., depending on the season (and if you enter before 11a.m., you pay slightly less) and lasting late, even sometimes until 9p.m. Please check the exact schedules of the day, though – I chose a 10a.m. ticket recognizing in the site itself that one of the attractions is opening at 2p.m. – I could not afford to wait for one hour (plus the duration of the stay within the attraction itself…), so I had to skip it. Similarly, you save money if you arrive late in the afternoon – but this may mean you will not see some of the shows any more. There is of course again the opportunity for the CityPass ticket I mentioned in my World of Coca Cola review.
Georgia Aquarium – Different Zones of Exhibition
After passing the entrance area, you are right in the middle of Georgia Aquarium, where more or less all areas can be entered directly. Most of them are on one level, especially all animal exhibits. I started with the "Tropical Diver", which even hosts real human diver in one of the massive exhibits. Others show for example the amazing sea dragons. This is a quite classy aquarium exhibit and also reminds you of other peers like Sea Life centers – and also one of the parts of Georgia Aquarium I liked most.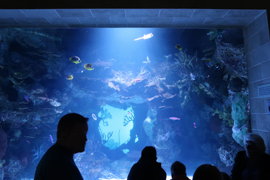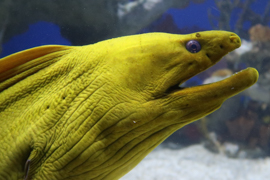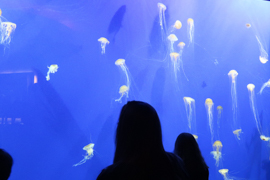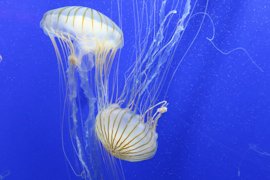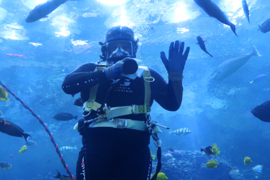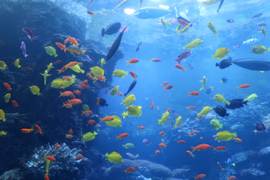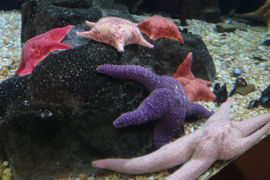 Next I headed right across to "Cold Water Quest", where the most important exhibits are likely the Beluga whales and the penguins. They also host otters there, which have however been very difficult to catch by camera – most of the exhibits do not have really bright light, which is of course fine in an aquarium. The penguin display also allows you to crawl into acrylic tubes, which make you stand more or less right next to the animals – a nice way to explore them if you are not claustrophobic. Some animals I did love as well here were the puffins – they however have the Pacific version in the Aquarium, I rather like the Atlantic ones (I am quite sure that the marketing they do is with Atlantic ones…).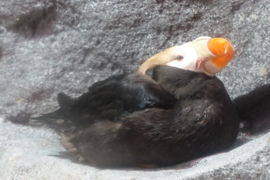 Another quite interesting area is "River Scout", though I have to admit that this might have been the area I passed through most quickly. You can even see reptiles like turtles in here – as well as some more otter species.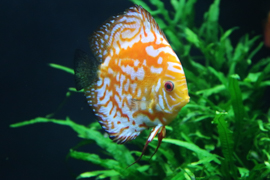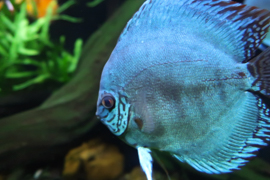 The "Ocean Voyager" however, fascinated me again deeply. It also has one of these glass pipes where you can walk sub-sea and a lot of majestic exhibits. The big aquarium screens are so relaxing and amazing – you just have to sit down and enjoy all the species which come across. To me, this has been one of the hearts of the aquarium visit.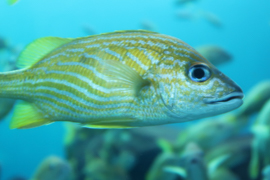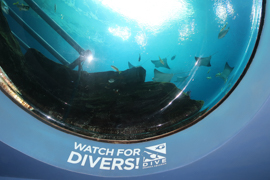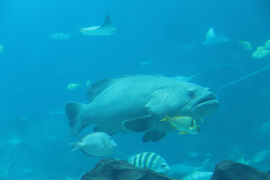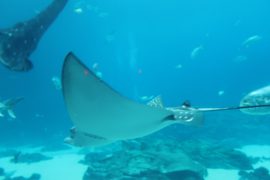 Georgia Aquarium – The Shows
The shows are of course one of the key reasons people visit Georgia Aquarium. I could only visit the most popular one, the dolphin show. Hard to assume how much the capacity of the dolphin show theater is (likely a couple of thousand…), but even on a not-that-much-visited day, the arena was quite full. The show has been nothing special compared to other dolphin shows I saw – neither on the positive nor on the negative side. It has been very entertaining definitely. There is also a sea lion show in Georgia Aquarium.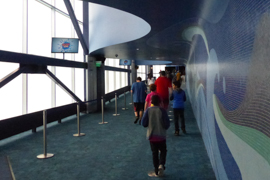 Georgia Aquarium – Other Attractions and Food
Of course, Georgia Aquarium does not allow to let you die in hunger. At one hand of the attraction, there is a self-service restaurant. I did not test it, but the food looked fine and pricing very reasonable.
On the upper level, there is also the chance to have a 4D adventure (which unfortunately just opened at 2p.m. when I visited) and the "Aquanaut Adventure", which unfortunately also did not make it to my visit due to scheduling problem.
Georgia Aquarium – Overall Review
Overall, Georgia Aquarium gives you a great day of aquatic wildlife. Most of the exhibits are fun. It may be a bit pricey if you are not in dolphin shows. In general, you should try to gather as much information on the daily schedule beforehand as possible and plan your day very carefully and in detail so that you do the best out of it. I definitely preferred it compared to "World of Coca Cola" – however, it has not been that outstanding to me compared to other aquariums as I expected it to be, based on its reviews I read before. For the same price, it is also so much better than Sea Life in Orlando.
Flyctory.com about Animal Parks & Zoos
Here are all postings of the Zoos and More category:
Flyctory.com in Atlanta
Here are all postings related to Atlanta GA: