During my trip to Chicago and Indianapolis, I spent the first night as a transfer in Schererville in Northwest Indiana, still in Greater Chicago, but just outside the city. My key reason of choice was getting rid of the Chicago rush hour on the next morning before heading to Indianapolis.
Hampton Inn & Suites Schererville – Location
The hotel is in fact located right at the crossing at US-30 and US-41, which makes it very handy if you just need it for an overnight. Please note that Schererville is Indiana, but they use the same time zone as Chicago. There is a one hour time difference to most parts of the state.
Also regarding the services, the location of the hotel is very convenient. There are a lot of restaurant, stores and services around.
Hampton Inn & Suites Schererville – Room
I had one night, during the week, in Schererville. The King Room I booked was 140 USD. The room I have been assigned was really spacious and clean. It featured a fridge and a microwave oven as well as a King Size bed. Apart from that, there was standard Hampton architecture.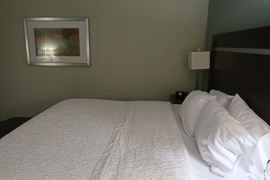 The bathroom with a large shower gave no need for any critics as well. Functional, clean, Hampton style, sufficient amenities – what you book is what you get 🙂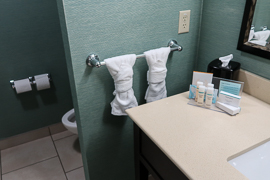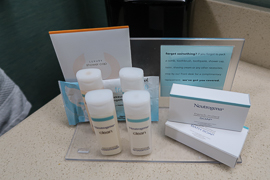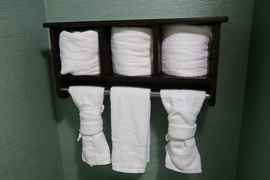 Hampton Inn & Suites Schererville – Food / Breakfast
I really felt guilty that I had to rush through breakfast in the morning (as I wanted to be in Indianapolis at 10:00 hrs for the Indianapolis Speedway VIP Tour and missed that time zone issue I mentioned above), as they did a superb job there. At the beginning of breakfast time, there were a lot of free table in the nice breakfast area, of course. They had lovely fresh fruit, two kinds of waffle dough and even some lovely smoothies on top of the standard Hampton breakfast experience – really liked it.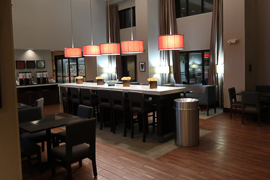 Hampton Inn & Suites Schererville – Services
Check-in and services at the Hampton Inn & Suites in Schererville were very nice and effective. The gym they offer looks very nice as well. The hotel also offers an indoor pool, which looked very nice from outside.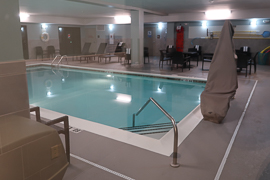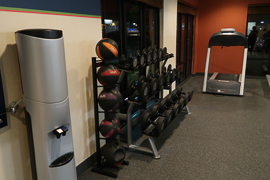 Hampton Inn & Suites Schererville – My View
Hampton Inn & Suites Schererville was just a transfer stop to me – but it was definitely a good one! Nice location, good stuff, good room, nice services and some surprising items on breakfast – finally, I opted for the reliable experience of a Hampton and received more than I expected. The price was maybe slightly above what you would expect in that location – but it was well worth the money. Top Pick!
Hilton Hotels – More Reviews
Here are all my reviews of Hilton Hotels:
USA – All Postings
Here are all postings which deal with the USA: