Music City, Baby! The final airborne transfer within the USA on this Monday. I was so excited to be back at the Cumberland River after more than two and a half years. Even though there are less gigs on Mondays, I was so much looking forward to see the Broadway and all the other lovely places again. No Pittsburgh Penguins match, but a lot of excitement on my Penguins March 2022 trip. Here are the flights of the day:
| Date | Flight | from | to |
| --- | --- | --- | --- |
| 14.03.2022 | AA 4464 | Pittsburgh (PIT) | Charlotte (CLT) |
| 14.03.2022 | AA 1819 | Charlotte (CLT) | Nashville (BNA) |
Last Steps in Hockey Home Town
I majorly worked on Flyctory.com stuff in the evening and the morning (including the Day 04 entry, of course). A bit of limited, but quite nice breakfast at the Hampton Inn Pittsburgh Airport, before I finally handed back the Nissan Rogue to Enterprise at the airport. Nothing special, a typical travel day.
Enjoying the sunny view at Pittsburgh Airport
I had planned to do a couple of airport reviews this trip, but it seems to be that a lot of US airports are currently upgraded (not too surprisingly, they are likely roughly about the same age). Pittsburgh Airport is also receiving some efficiency and make-up. The processing worked smoothly, also due to my Global Entry / TSAPre status, which gives me easier security screening. I went into the American Airlines Admirals Club, which I had visited the last time quite shortly after opening – a really nice place with beautiful views.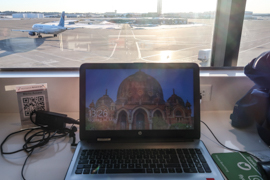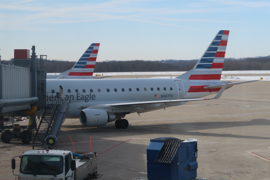 Pittsburgh – Charlotte – Nashville
My ticket to Nashville was a bit weird: while I flew in the plushy first class to the American Airlines hub Charlotte, but my original connection did not seem to have First Class.  Now I was flying in an A321, squeezed in the middle seat of Main Cabin Extra and the guy next to me texting his chick that he hates the "fat dude" next to me. Glad that I have nicer contacts in Music City 🙂
Nashville Airport is somehow magical. There is live music airside at the Tootsie's outlet and a blues band was playing right after I left security. Love it – and that definitely compensates for the construction in the airport. The rental car stuff at Avis went super-smoothly (I was a bit of worried as it has been a travel agency booking). The first car had a missing gas tank cover – they could even give me an appropriate replacement. Having the road trip part of my trip in a GMC Acadia (not yet pictured) now – definitely the car with the weirdest gear shift I ever had…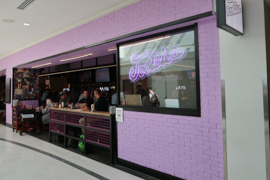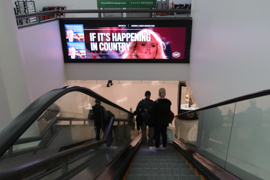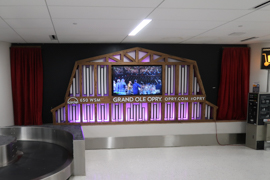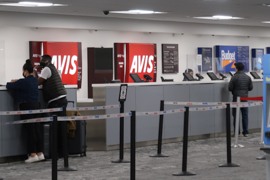 Hilton, Baby!
My hotel for the next two nights: Hilton Nashville Downtown. I have been amazed by the place both times I have been in Music City before – but it is even better from inside. Amazing location. If you ever ask yourself why it may make sense to be loyal to a hotel chain, that King Suite room is the answer (I originally booked the lowest category on points – the cash price at reservation was about 450 USD plus tax, later it was about 300…). No chance to get that without my Hilton Diamond status. The last picture is the view from my room. Bridgestone Arena, Country Music Hall of Fame, Convention Center… That's really the heart of Nashville.
Honoring The Legends
Before I went for exploring country music, I visited two museums. In general, I decided to aim for places on this trip to which I haven't been before. This, for example, leaves a rather low priority on the Country Music Hall of Fame, which should definitely be featured on Flyctory.com one day. I have never been to the Johnny Cash Museum, though. A not that large, but excellent place. Unfortunately, even on a March Monday afternoon, the museum is rather packed with people.
The same building also features the Patsy Cline Museum. I feel, I was about the only person in that museum. One factor why I liked this place more (of course, there are two cash desks and two tickets).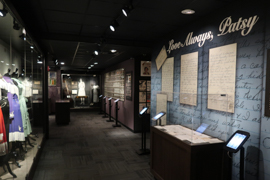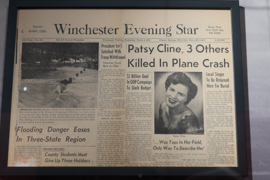 Some Broadway Impressions
I guess that quite many of you have been to Nashville already, so these pictures might bore you. 19C temperature… Hard to imagine that I had a flight delay/cancellation due to icy runway the day before. The city was more crowded than I expected and even on a Monday, there you permanently run into bachelor parties. Many country music artists have their own bar on Broadway, there is live music everywhere. Some less central places may give a better experience, but it is somehow magical out there in Nashville.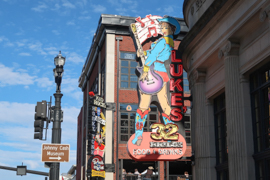 I also went down to Cumberland River Shore (I haven't been aware that there is an Eastbound commuter rail, the Music City Star or WeGo Star, but it also has a really poor frequency). Across the river is Nissan Stadium, Home of the Tennessee TItans. I included some more Broadway pictures below.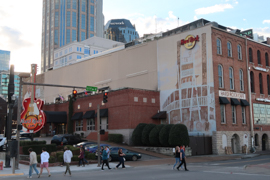 Just enjoying Country Music
I finally decided to walk along the Broadway and just stop by here and there, where the music is good and the food is reasonable. I had a nice time at a very classic place, the Honky Tonk Central, where Crissy Roberts and her band were playing. A typical Broadway act, which is playing a lot of cover songs (which is to me the real downside of the Broadway, I rather love to listen to originals…). The food was actually quite good.
Then I had a look into Ole Red, owned by Blake Shelton, where some of his The Voice team members were playing. Really cool stuff. Another place I spent quite some time and a drink at Miranda Lambert's Casa Rosa. Aly Cutter was performing there with her band project. The Florida artist is already quite a major act, with 2,000 Insta followers. Really fun to listen.
A long Tuesday was ahead of me, so I decided to leave the honky-tonks rather early, at about 21:00hrs. Some places open until 2:00 or 3:00 in the morning. Some final views of Bridgestone Arena, the Hilton Nashville Downtown and the amazing views from my hotel.
Pittsburgh Penguins March 2022 – Day By Day
Here is the overview of my Trip Report:
Day 5, 14.3.2022 – Back To Music City
2022 Country Music Reviews
Here are all my Media Reviews as of 2022 related to Country Music:
Sound of Nashville on Flyctory.com
Here are all postings related to the Sound of Nashville concert series in Germany and the Netherlands: