Traveling through the United States, having the opportunity to try out Essential Air Service connections is also a nice add-on to my travel plans. The flight connections, which are partially state-funded, shall improve the air connection of rather remote locations. The city of Marion in Southern Illinois is one of this areas, which have direct connections to St. Louis (STL) and Nashville (BNA) due to that program. In March 2022 as part of my Pittsburgh Penguins trip, I had the chance to do the Northbound connection as a direct return, which was also my very first experience with the carrier Cape Air. It was also my first experience with a Tecnam PC-2012 Traveler plane.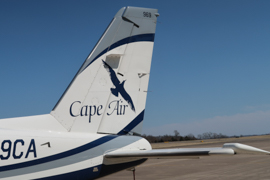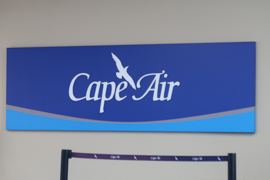 Cape Air – Network
Cape Air is the operating brand of Hyannis Air Service Inc., which is named after one of their hubs, Hyannis on Cape Cod. Apart from destinations in that area, they operate quite a range of regional connections (which are not necessarily connected). The network includes rather exotic destinations like the US Virgin Islands. The key routes are connections in the New England States, though. The Veterans Airport of Southern Illinois (MWA) in Marion has multiple daily connections to St. Louis (STL) and typically one or to daily flights to Nashville (BNA).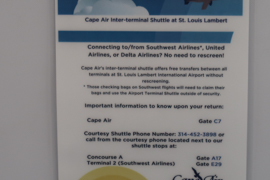 Cape Air code shares with airlines like American, United and Jet Blue. There are interline agreements with these airlines as well, but also Qatar Airways, Hawaiian or the German airline Condor.
Cape Air – Fleet
Currently, Cape Air's fleet mainly consists of two airplane types. They have a huge fleet (Wikipedia states 70 planes) of Cessna 402 planes, which can hold up to nine passengers. They are to be phased out. The Italian Technam P2012 Traveller is the more modern option with roughly 35 planes in fleet and another some 60 ordered. Cape Air is aiming to be the first airline for passengers using electric aircrafts. For that reason, they are also having an order for the Eviation Alice plane, expected to be delivered by Israeli Eviation Aircraft company in 2027.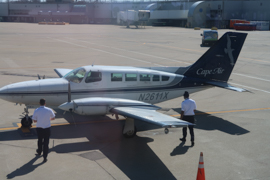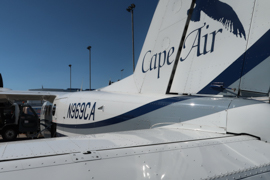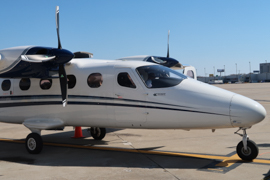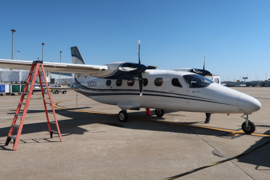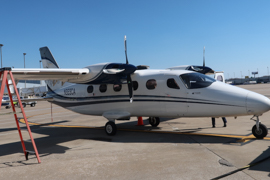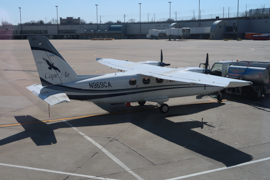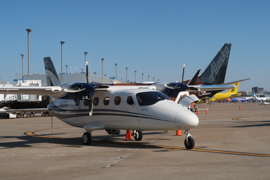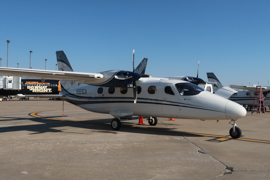 Cape Air – The Flights
My flight took place on 16th March 2022, the seventh day of my trip. Both flights were served by the same plane, a Tecnam P-2012 Traveller registered as N969CA.
| Flight | Dep. | Arr. | from | to |
| --- | --- | --- | --- | --- |
| 9K 1109 | 13:31 | 14:21 | Marion (MWA) | St. Louis (STL) |
| 9K 1109 | 16:37 | 17:25 | St. Louis (STL) | Marion (MWA) |
All flights were on time.
Cape Air – Ground Services
Ground services at Marion (MWA) and St. Louis were very friendly. Cape Air is even able to grant you TSApre access. Cape Air operates a 1+1+1 baggage policy: you are allowrd to have one checked back (50lbs), one gate checked bag and a small personal item on board.
Cape Air Technam Traveller – The Cabin
The Technam Traveller is a comparably convenient plane – especially to the very squeezy atmosphere of a Cessna. The seats are in a 1-1 configuration, which especially means that there is a (narrow) aisle between the seats – which I feel is a massive added comfort. The seats features a three-point fastening, Cape Air also gives you USB ports to charge your battery. The seats were absolutely fine for the short trips you do with Cape Air. I was quite fond about the seat pitch as well, so that the flights were really quite comfortable. The 1-1 configuration also gives you the opportunity to have a view on the instruments and through the front window. There is obviously very limited space for carry-on luggage in the cabin.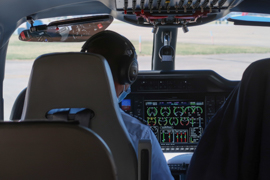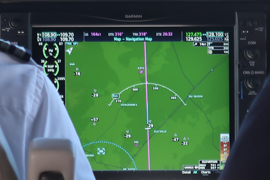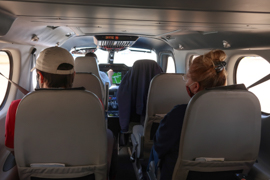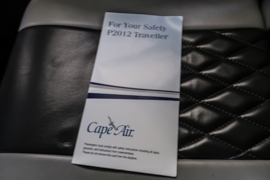 Cape Air – Inflight Pictures
Here are some snaps of the flights to and from St. Louis.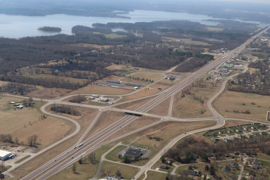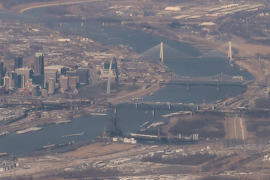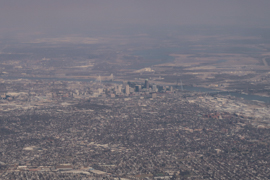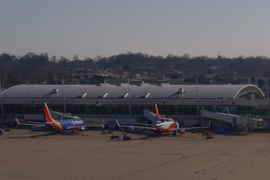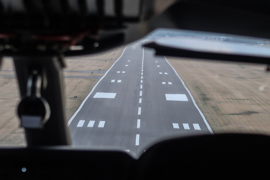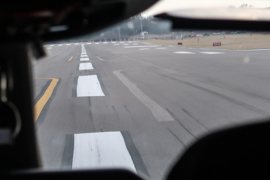 Cape Air – My View
Flying Cape Air was really a fun experience. The Tecnam cabin is a nice configuration regarding the size of the plane. Cape Air does provide nice service, so that I really enjoyed flying with them.
Flyctory.com about US Aviation
Here are all Airports & Airlines postings related to the USA:
St. Louis
Here are all postings related to the US-American city of St. Louis: