After two days of Weird Al Yankovic concerts and a memorable Day 4 with my sports idol Leander Paes and the Tennis Hall of Fame Open, it was time to head home on 21st July 2019. The last stage of my trip report (including the 22nd July 2019, my day of arrival in Luxembourg and my way back home) of this great Weird Al & Grass court tennis trip s about to be written.
Too much Sun in Newport?
I already recognized on the evening before that I somehow did not feel too fit any more. Maybe there was a bit of too much sun on my tennis day of the trip. My day started very slowly and I had to concentrate more.  Before breakfast, I took some pictures of the hotel and met a bunny on the grounds. Also due to the heat warnings, I decided to relax a bit before doing Flyctory.com work and have a straight trip to JFK airport.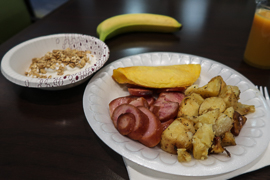 The road conditions were quite fine until the New Haven area, where the traffic became more or more packed. People in the US typically drive with very short distances between the cars – which also means that even a minor deviation in speed may cause the traffic to slow down significantly. I was also nearly involved in a car crash. I had a coffee stop at Dunkin Donuts store close to the Interstate before reaching the New York City area. Of course, the traffic there was more challenging. Nice to see all the route, of which I haven't seen anything due to the terrible weather on the first day. Short before arriving at JFK, I even had a nice view of Citi Field, home of the New York Mets, and the Arthur Ashe Stadium, where I was just about a year ago at the US Open.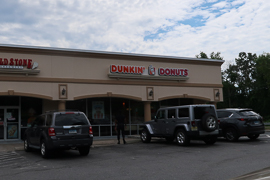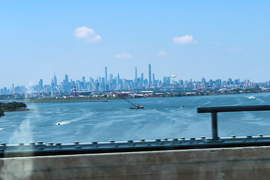 Global Entry or no Global Entry?
After my Global Entry interview on Day 1 of my trip, I have been ensured that the confirmation of TSAPre will be available after 24 hours and the Global Entry confirmation after three days latest. Thus, No confirmation in my profile so far. That was quite confusing – thus, I decided to go to JFK earlier for my enrollment interview to check my status at least. They said it will all be fine – despite the TSApre could not be confirmed at the American Airlines Check-In.
American Airlines This Time
After the outbound flight from Heathrow was quite horrible I felt happy to an American Airlines Premium Economy inbound service. I liked their service in that class in the A330 cabin and also in the B777 one on my return from the CMA Fest Trip 2019 (link to overview posting). This time, AA 100 was serviced with a Boeing B777 again. A very nice add-on in comfort and luxury is being able to visit the American Airlines Flagship lounge in New York JFK due to my BA Gold status. In contrast to the Admirals Club lounge, I really love these American Airlines places.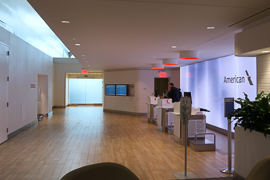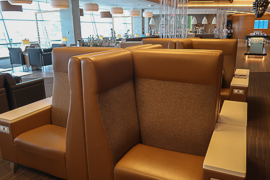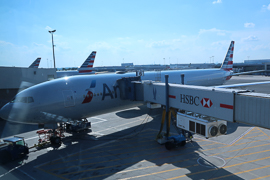 No Transfer in Heathrow
I had quite some sleep during the comparably short flight from JFK to London-Heathrow. A nice goodie: if you fly American, you arrive at Terminal 3 – same terminal as the Luxembourg flights. So I could avoid to spoil time in transfer buses and head straight to the Terminal 3 Lounge of British Airways. Comparably quiet place for a Monday morning, 7:00hrs. The transfer facilities were quite empty. I slept almost all of the flight to Luxembourg.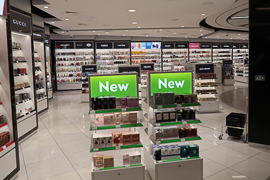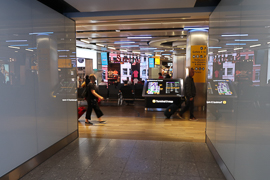 Hermeskeil? Hermeskeil!
The arrival services at Luxembourg Airport were very quick and effective. I just made a quick stop in Luxembourg to fuel up the car. There was also a Dunkin Donuts at the motorway service.
Before heading home, I stopped at Hermeskeil, a small town in the Hunsrück mountains. The Aviation Exhibition Peter Junior is the largest privately owned collection of planes in Europe. The place is even more amazing as there is no airport or airfield in proximity. All the planes (apart from some few helicopters) have been transported on the road. Another highlight of the collection is a version of the Concorde, which has been transformed to a cafe.
After that visit, I headed home. Six great days with Weird Al and Grass Court tennis has come to an end.
Weird Al & Tennis 2019 – Day by Day
Here are the links to the overview posting and daily entries of this trip report:
Days 5 & 6, 21.22.07.2019 – Going home
USA – All Postings
Here are all postings which deal with the USA: