Car Free. Carefree – that's the slogan of one of the latest additions to the US public transport network: The company Brightline (formerly also Virgin Trains USA) is a high speed railroad company operating in Southern Florida. Their current network is only connecting West Palm Beach to Miami via Fort Lauderdale, but an upgrade is expected soon. Thus, I just had to have a look into their service when I visited the state in October 2022. Here is my review.
Remark: In this review, I mix pictures of all three legs of my trips, including mixing pictures of stations and different trains.
Brightline – The Network
Since the beginning of service in 2018, Brightline is operating three stations so far. The core station is MiamiCentral, which is also a bit posher than the other posh station. If you leave Miami Northbound, the next station (some thirty minutes travel time is Fort Lauderdale), followed by the current terminus, West Palm Beach. The whole trip travel time is about 1:10 hrs. This is about the same time you would need to travel station-to-station by car, without congestion (if you don't know the region: this means that the train is faster in general). There are 17 daily round trips on weekdays and some ten on Saturdays and Sundays.
The stations do not match the stations which are used by other rail providers, like Tri-Rail or Amtrak.However, the rail network seems to be (partially) shared with some freight train providers.
(Potential) Future Extentions
The most exciting extention of the network is definitely the prolonging of the network to Orlando. In 2023, Brightline is expected to connect MiamiCentral with Orlando International Airport (MCO). The total traveling time is expected to be three hours. In addition, Brightline is expected to connect to Disney Springs in 2026.
On the currently operational tracks, there are two more stations operating soon, Aventura Station at Aventura Mall and Boca Raton. Other extentions, e.g. to Jacksonville, are under consideration. There is also a Brightline West project connecting Apple Valley in California with Las Vegas.
Brightline – Classes and Tariff
Brightline is offering two classes, SMART (which is a 2nd Class service) and PREMIUM. I had three legs on one day in October. Having booked the train tickets some three weeks in advance, I traveled and paid as follows:
08:20 hrs service from Fort Lauderdale to West Palm Beach, SMART, 10 USD
09:48 hrs service from West Palm Beach to Miami, PREMIUM, 37 USD
16:48 hrs service from Miami to Fort Lauderdale, PREMIUM, 27 USD
Even at the day of travel, the SMART fare for a trip from Miami to Fort Lauderdale did not exceed 25 USD, most premium services for the 30min travel were below 50 USD.
Brightline – The Stations
All three train stations have been built for purpose. The check-in area slightly reminds of airport check-ins. This is also due to the facts that major luggage needs to be checked-in. The stations have a lot of signs and it is really easy to follow the directions. The staff was very friendly and attentive. They also felt to be very curious about what I felt about their product when they found out that I am from Europe.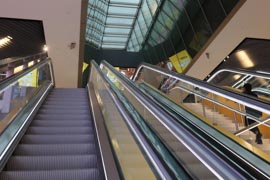 As I had pre-booked my tickets, I could directly head to the turnstiles, where my hand luggage was x-rayed. Again, the staff was amazing. MiamiCentral is significantly larger that the other two locations, but I loved all three stations. Even if you don't travel Premium Class, there is a Smart Lounge, a lovely waiting area for the passengers of that service level. The waiting area were likely the most beautiful one I have seen for that level of service. In general, the design and services don't differ between the stations. Again, the capacity in Miami is just a bit higher.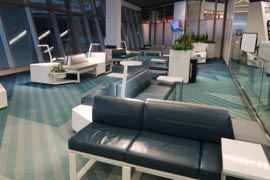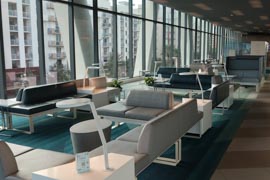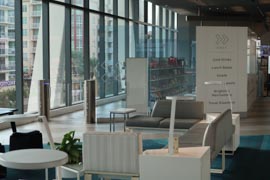 There are large status screens and clear announcements, when Brightline asks you to get to platform level (which is below the station terminal in West Palm Beach and Fort Lauderdale and above in Miami). The platforms are clearly marked, Premium Class coaches always depart from the same section of the train station, which makes it very easy to navigate as a passenger. I did not get what they mean with preferred boarding, though. However, the boarding process was very relaxed at all three trips I took.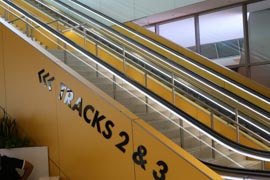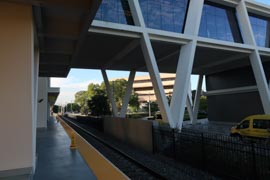 Station Services
All stations have a bistro-alike snack bar, which is also selling small snacks and beverages of all kind. The atmosphere around these places is very modern.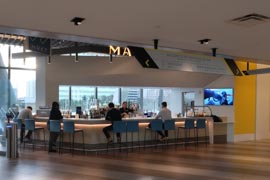 A very interesting feature of the Brightline train stations is a small store, which is working without vending staff: you enter the shop through turnstiles by your credit card, the system is recognizing the items you purchase and you get of of the place again while your credit card is charged. Very nice shopping experience – especially as the store is not only holding snacks and traveling needs, but also some Brightline souvenirs like water bottles or small train models.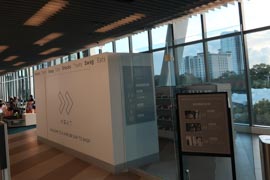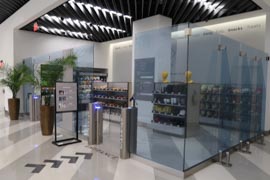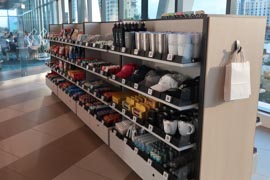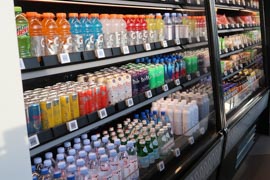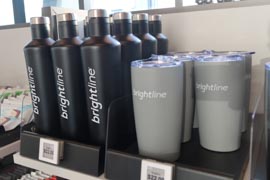 All these services are located after passing the turnstiles, i.e. "airside" in the aviation language. The stations also have sanitary facilities and drinking water services. MiamiCentral also comes with "landside" stores before passing the ticket control.
Premium Lounges
I already introduced you to the Premium Lounge in Miami, which I absolutely loved. Once I posted the review of the Premium Lounge in West Palm Beach, I will post a link here as well:
Brightline – Rolling Stock
Brightline is operating with standard gauge Siemens Charger SCB-40 engines. The 3,000 kW diesel-electric trains currently only operate at a high speed of 79 mph/130 km/h. However, once the extension to Orlando is operating, this less densely populated part will allow speeds up to 125mph / 200 km/h. The
Currently, the trains run with four coaches, one for PREMIUM service and three SMART ones. Up to seven coaches are possible. The Siemens Venture trainsets trains are coming in different colors. Thus, there is a brightblue and a brightpink train, for example (the trains are marketed as such as well).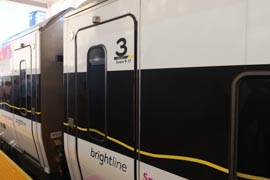 Brightline – Smart / Standard Class
Overall, the interior of the coaches feel very modern – which is quite a contrast to typical US train ride experiences. The Smart / standard / 2nd class configuration is a 2-2 one, i.e. two seats on each side of the aisle. You enter at the end of each coach, the lobby of the car feels very modern and lavish. The seats are have a limited recline and there are power plugs at every seat. Some seats face each other, separated by an expandable table. For the other seats, there is a table with a cup holder in the seat back of the seat in front. The trains also feature luggage racks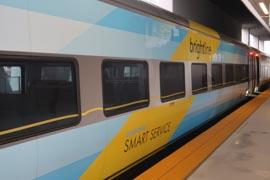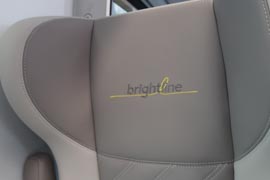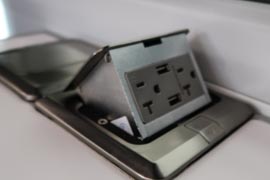 You also have displays, which give you information about the train status, the next stop and some commercial advice. No drink or snack service is included in Smart class. There is a snack cart coming to your seat, however. The service was very friendly.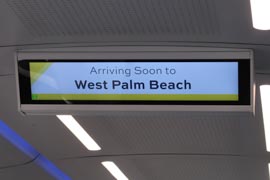 Brightline – Premium Class
While the entrance area of the Premium Class looks rather equivalent to the 2nd class coach, there are two key differences to the cheaper tickets regarding the in-train experience: first of all, the seats are wider and come in a 1-2 configuration. Thus, there are single seats and also one-on-one table seats facing each other. The technical equipment of the seats is in line with Smart class, i.e. there are power plugs, lights etc.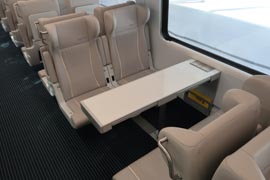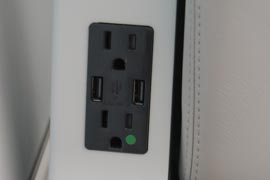 The second key difference is that there is in-train snack service. For each section (i.e. Miami to Fort Lauderdale and Fort Lauder Lauderdale), the staff offered a drink. In addition, there was a snack on each Premium leg, which I will show you in my next Food I had onboard posting. You also received a cold towel.
Brightline – In Train Toilets & Service
It is absolutely worth to mention that all trains at Brightline are wheelchair accessible. Compared to some European peers, the space is really large, which lead to a very welcoming feeling.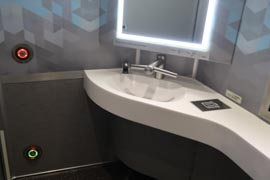 As mentioned before, the staff was great and felt to be very proud of their rail product. However, there was one down side: despite the trains I traveled with were not booked that well, the in-train WiFi was too weak. Brightline needs to improve this, especially when the train will take the full route to Orlando under a higher speed.
Brightline – Ground Transportation
Carefree and car free – that's about the Brightline concept. Hard to believe, but within a file mile range from the respective station, Brightline Premium passengers are brought to the station and (at their destination) brought to their in fact final destination. Therefor, Brightline has a wide range of cars and vehicles. There are also larger shuttles for destinations like ports and airports. You receive a text message with the number of your car sufficiently early before arrival. This even worked with my German mobile and phone number.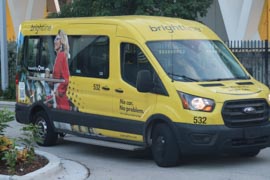 When I arrived at MiamiCentral, the very helpful mobility agents found out that my shuttle will be delayed by some 15 to 20 minutes. Without any request from myself, they gave me an Uber voucher for my onward trip. I felt that this was an exceptional customer attitude and service. Brightline is also offering other mobility solutions, e.g. electronic scooters. Passengers may also pre-book a parking lot at the station or have a monthly subscription for that.
Brightline – My View
If there wasn't the WiFi connection, traveling with Brightline would be close to perfection. Especially the mobility solutions which bring you to the departure station and away from your destination station are awesome and a definite reason to think about their Premium service. I am sure that once the the full route to Orlando is available, Brightline will be an amazing addition to mid-distance traveling within Florida. Their service is exceeding practically all other rail travel experiences I had so far, explicitly including European ones.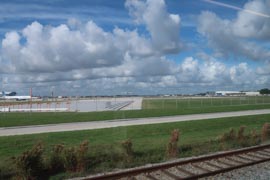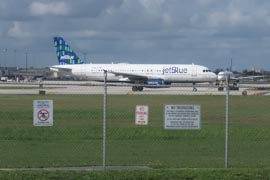 Rail Station Hotel Reviews
Here are hotel reviews of places which are close to a main long-distance rail station:
Other Transport (USA)
Here are all postings about non-aviation transportation related to the USA: