In contrast to the significantly more fancy Flagship Lounges (here is my review of the JFK one), the American Airlines Admirals Club lounges are typically not on top of the list of frequent flyers when you ask them about the nicest airport lounges around. In December 2019, I had the opportunity to visit the Admirals Club in Pittsburgh, which has already received a face-lift during the year. I was really curious about the impact of that restructuring.
Pittsburgh Airport Admirals Club – Location & Access
The terminal with check-in, security and luggage operation is fully separated from the shops and gates at Pittsburgh Airport. They are connected by an automated tram / people mover. Right after you left that vehicle and took the escalator to gate leve, you just cannot miss the additional escalator, which takes you to the lounge.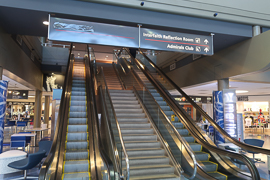 Pittsburgh Airport Admirals Club – Atmosphere & Services
The look of the Admirals Club has been significantly modernized. The concept has a lot of daylight and very different seating areas from long tables, a bar to rather intimate and quiet seating areas. Work desks are right at the window, which leads to a lovely view, but may be bothering if the sun is comparably low.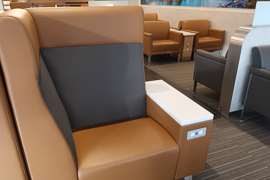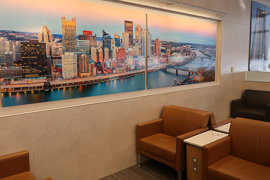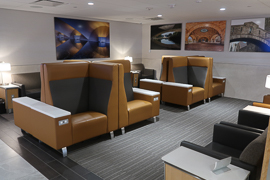 I also liked the design of the bathrooms. Very modern, but still classic and calm design. The room was really clean and had nice amenities as well. Pittsburgh Admirals Club does not feature a shower or a similar facility.
Pittsburgh Airport Admirals Club – Eat & Drink
Finally, you visit an airport lounge to sit down, relax, work and maybe have a drink and grab a bite. Compared to the former Admirals Club concept, where you had a very limited option of quite boring food, the new lounge concept is a real upgrade and treat. I had breakfast in the lounge, which was much better than previous experiences. Still, you won't have a feast at an Admirals Club like you for example have in the Flagship Lounges or as other airlines serve you – but Pittsburgh is just a regional hub for American Airlines, serving a couple of destinations per day, so that I felt that the performance of the lounge was very reasonable.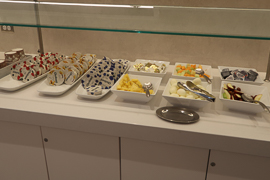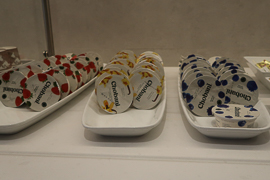 Pittsburgh Airport Admirals Club – My View
Even after the face-lift, Admirals Club Lounges are still not on top of the world of lounges. However, the upgrade was urgently necessary and it was overall very successful. I had a really good time at Pittsburgh before my flight. A very good concept for comparably minor locations.
Lounge Reviews on Flyctory.com
Tired of waiting? Here are all Lounge Reviews on Flyctory.com:
Flyctory.com in Pittsburgh
Here are more postings by Flyctory.com related to Greater Pittsburgh: