When I came back from my West Coast Tour with the Pittsburgh Penguins in early 2020, I hoped that the pandemic will be a matter of a few months and NHL matches with spectators will be possible again soon. Thus, I did not publish the arena reviews of the trip (apart from T-Mobile Arena Las Vegas). Covid-19 has been stronger – and thus I am sharing my experience with you now. Here are my thoughts about the home arena of the Anaheim Ducks, the Honda Center in Anaheim in Greater Los Angeles.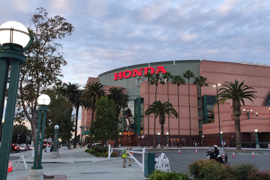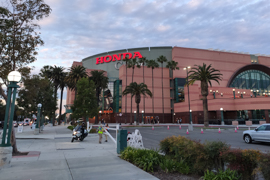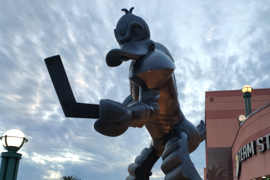 Unfortunately, I have left the memory card of my camera in the hotel room. Thus, all the pictures I took were done by my mobile phone, which leads to decreased picture quality.
Honda Center – Location & Traffic
Even though key Anaheim attractions like Disney are not too far away, Honda Center feels to be more outside the city than it actually is. It is a majorly commercially dominated area with a lot of parking space around. The Angel Stadium is nearby as well.
You will typically go to Honda Center by car, it is located right next to the Orange Freeway. The Santa Ana Freeway is only a short drive away as well. There is, however, also a regional train stop in short walking distance. The area features a few dining services as well, where people gather before the match. Across the street is a quite well reviewed hotel as well.
Honda Center – Arena & Tickets
Honda Center, which was originally named Pond of Anaheim has a capacity for hockey matches of some 17,100 spectators. The matchI watched was not sold out. In contrast to the away game at the Los Angeles Kings in Staples Center, though, tickets were slightly more expansive. Nonetheless, I grabbed a ticket right next to the Penguins bench for some 250 USD including all taxes without major issues. I could grab the ticket at the will-call booth, the processing was very smooth.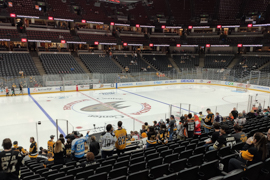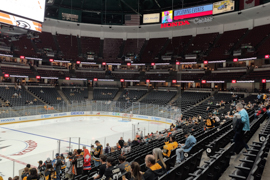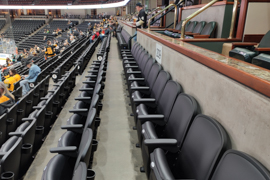 Honda Center is a typical US hockey / multi-purpose arena and is also used for other sports events and concerts. It used to be home of other professional sports teams like the L.A. Clippers / basketball, but currently the Ducks are the only regular host of sports events.
Honda Center – Atmosphere
The crowds at Anaheim are not as powerful and energetic as in some East Coast or Canadian locations, but (despite the Penguins loss) the match was definitely much more enjoyable that the Los Angeles one before. The people feel to identify with their Ducks and cheer for their team. My view was a bit limited due to the players bench – but of course I knew that before (and it came with a lot of pros as well). Even though Honda Center opened in 1993 and is thus definitely not a really modern arena any more, it still feels very comfortable.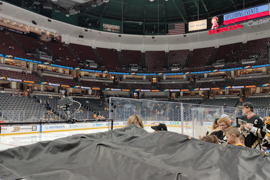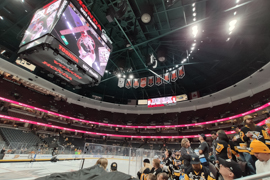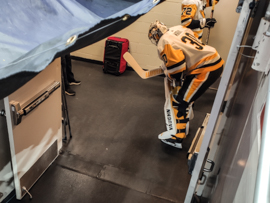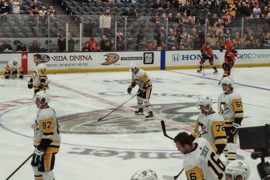 Honda Center – Food
Honda Center offers a sufficient range of options to grab a bite or two before the match. The number of outlets is sufficient and they offer a nice range, from traditional calorie blasters like burgers to healthy options. I really loved the Ducks logo shaped soft pretzel, funny idea. Also during the intermissions, it organization of selling food felt really effective and you even had a chance to grab a standing table somewhere to eat (I am not sufficiently Americanized to eat at my seat…).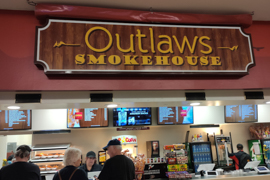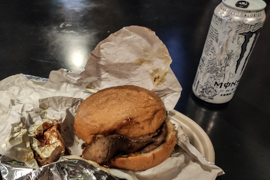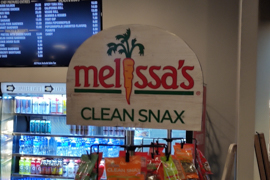 Honda Center – Shopping & Services
There is that Disney history and link in Anaheim – so you just expect that they offer everything you might want to give your credit card a swipe for. The arena features a couple of shopping outlets which allows you to go for all the stuff you never felt before that you have to buy it. Again, everything is nicely presented and comparably relaxed. The staff is great and helpful.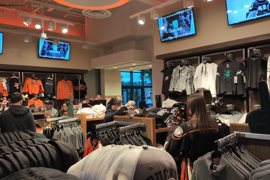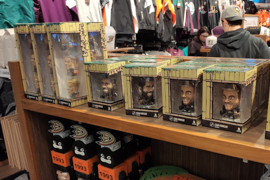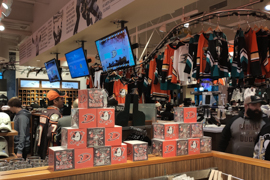 Honda Center – My View
Honda Center was really a nice experience. The people were very kind and the match had a nice atmosphere. The services worked very well and also the walking distance from the parking lots to the arena was fine. Thus, I felt that it was overall a really nice experience and a good option if you want to watch some NHL matches.
Stadiums & Arenas
Here are all reviews and reports about (sports) Stadiums & Arenas:
Greater Los Angeles – Travel Review
Here are all travel related postings featuring the Greater Los Angeles area: