Cooking facilities are much more popular in North American hotels than in European ones. Even quite lousy motel rooms typically come with a fridge and a microwave oven. Thus, it is not that surprising that suite hotels offering proper cooking facilities are quite popular there as well. For our Florida stay in Orlando in December 2018, we chose the Homewood Suites Lake Buena Vista. The Hilton Group Hotel brand offers hotel room comfort compared to a Hampton Inn 0(like the one we stayed in in Tampa before) with a fully equipped kitchen.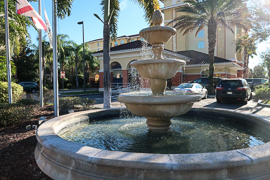 Homewood Suites Lake Buena Vista – Location
Lake Buena Vista is located on the edge of Disney, the hotel is thus more on the Southern edge of Florida's top entertainment destination Orlando. The Orlando Vineyard Premium Outlets are not too far away. The hotel is right next to the I-4 connecting to Tampa and Florida's East Coast. The Southern tip of International Drive is not that far away. It was also very convenient to visit SeaWorld at Christmas time and the new ICON 360 Orlando entertainment area from there. There are a lot of hotels and restaurants around to choose from.
Being close to Disney also means that you may be close to traffic jams, though. Especially in peak times, there is a high chance of slowdowns on the I-4 as well as on the nearby roads. Homewood Suites Lake Buena Vista is a Disney partner hotel, so that you can buy discounted tickets in the lobby. That also implies that there are a lot of families around, of course. The hotel is next to a Hilton Garden Inn. Some facilities, like the pool, are shared between the hotels.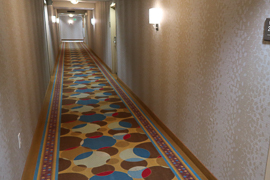 Homewood Suites Lake Buena Vista – Rooms
We spent five nights in Homewood Suites Lake Buena Vista. The room rate (prepaid, non-refundable) was 664 USD including tax. Therefore we got a king bed room, which you can add up for up to four people by using the sleeping sofa. The suite was overall quite spacious. We would have loved to have a bathtub, which is only available in higher room categories. On the negative side, you have to say that though the hotel is quite new, the room looked quite run down here and there. Two cabinet doors in the bathroom were loose as well as one drawer in the kitchen. We felt that the room maintenance should have fixed it before our check-in. However, the complaint was handled quickly and friendly.
Kitchen Area
The kitchen area of the room was really cool. There is a full-size fridge with freezer, a microwave oven and two cooking plates. The microwave oven does not feature a proper oven, neither one is available. Therefore, there is a dishwasher. Dish liquid and tabs are provided. There is sufficient tableware for four persons. Furthermore, there are two pots and a pan including the necessary cutlery like spatulas.
Homewood Suites Lake Buena Vista – Dining
Though the breakfast area is quite spacious, it may be comparably packed during peak times. On weekdays, breakfast is served between 6:30 and 9:30 a.m. At the end of this interval, you really recognize that people are now heading towards the parks. On weekend days, this time slot is moved by half an hour. The breakfast service was quite nice. Compared to the Tampa Hampton Inn stay we had before, we missed yogurts on the first morning. Thereafter, it has been part of the dishes. Compared to the Hampton, there was a wider selection of hot dishes. The hotel staff was very motivated and efficient, but still could not keep up to fill up the items. A lovely feature were the waffle makers, which offered waffles in Disney shapes.
One signature feature the Homewood Suites brand is offering are the Evening Socials. It is a light complementary dinner served with some free soft drinks. The service is available from Mondays to Thursdays, 5 to 7 p.m. The menu is changing. During our stay, Tuesday offered salads, Wednesday Italian inspired sandwiches and there was Vietnamese kitchen on Thursday. Though being quite early in time, this feature is quite popular, which makes it hard to grab food and get saturated.
Homewood Suites Lake Buena Vista – Services
Housekeeping was very accurate and the reception staff very friendly and helpful. Sometimes they were a bit too motivated. One day they took away our shopping plastic bags from the sofar – we wanted to use them for packing. Also the refilling of amenities was not precise, we ended up without shampoo, but multiple conditioners. But overall, the room was cleaned well, they even started the dishwasher daily. There were two problems during our stay, the one about furniture (see above) and a WiFi login failure. Both were handled perfectly. Breakfast staff was motivated but had a tough time in peak times.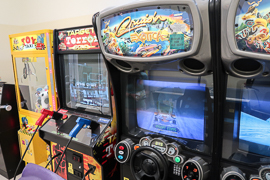 The in-room Wifi connection was absolutely fine for what we used it. The hotel offers several amenities to the guests. There is a nice pool area, which is however much smaller than it looks on the website. There is also a small basketball court and a gaming room nextby. The hotel also features a gym. They feel to be quite small for peak times, though – especially as they are open to guests of two hotels. Parking is complimentary (self parking). There are quite a lot of doors on ground level, which makes it very handy to park your car close to your room and take an elevator.
Homewood Suites Lake Buena Vista – My View
In general, I loved the concept of the suite hotel and the management. The room was definitely nice, though the damages on the furnishing should have been brought up earlier. Especially if you travel with kids and don't want to depend on external catering every day, Homewood Suites Lake Buena Vista may be an option for you. On the other hand, Orlando offers quite nice food for reasonable prices everywhere. I would rather go for another area in Orlando next time. I prefer the SeaWorld area and may also look out for something closer to the new ICON 360 district. But Disney with my favorite Orlando place, Fantasy Fairways, is close-by, as well as the Vineland Premium Outlets are. So, if you get a good deal like It did, this is definitely a good place to stay at.
Hilton Hotels – More Reviews
Here are all my reviews of Hilton Hotels:
(Greater) Orlando – Postings
Orlando is much more than Disney – here are all postings about the Entertainment Wonderland: