Just around all the National Historic sites in Philadelphia, there is a load of additional museums, which are more or less worth visiting. One of these museums, which is located right next to the Benjamin Franklin Museum, is the Science History Institute. It hosts quite a lot of technical devices, majorly with a chemical and medical background. As the exihibition's entrance is free, I just had to have a look inside.
Science History Institute – Location
The Science History Institute is located in the heart of historic Philadelphia.  Most of the sights you may want to see like the Liberty Bell are in close walking distance. The Benjamin Franklin Museum is just a short hop away.
The Institute is a non-profit organisation founded by the University of Philadelphia and the American Chemical Society. The admission to the museum is free.
Science History Institute – The Visit
The key mission of the museum is to promote and preserve the history of Chemistry and related sciences. The exhibition hall has two parts: the major two-storey key exhibition hall and a an adjacent room for special exhibitions.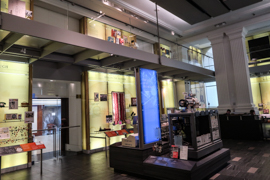 At the walls of the main exhibition hall, there are separate showcases, which deal with different topics like distillation, batteries, colors and similar. One showcase for example showed how wallpapers for kids' rooms have been impregnated with insect repellent to keep away bugs and mosquitoes from the young ones – of course, this has some negative effects on their health as well. The center area is showing some major chemical and medical machines. There are also some interactive screens.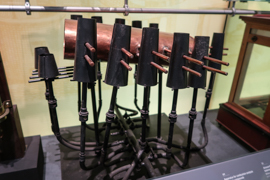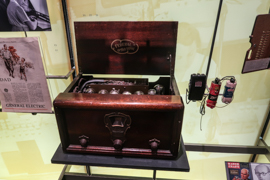 The upper level galleries continues the showcases. There are for example items illustrating the history of chemical literature or historic chemistry sets for kids.
Science History Institute – Special Exhibition
The special exhibition at my time of visit (February 2019) was about Alchemy and how it influenced culture. It was very interesting to see so many paintings about the topic.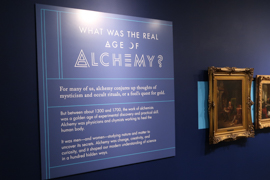 Science History Institute – My View
I just happened to pass by this place and took a spontaneous visit. It was absolutely worth it. The major machines might be a bit less fascinating (as their are not shown in action), but the showcases were very interesting. The alchemy exhibition was very interesting as well. If you are tired of US American history during your visit in Philadelphia, this is definitely a good (and free admission) choice. I recommend it.
Technical Museums – Other Postings
Here are all other Flyctory.com postings dealing with technical museums and exhibitions:
USA – All Postings
Here are all postings which deal with the USA: