Weird Al Yankovic made me travel to a couple of weird US places in my life. Like Poughkeepsie, a place which I did not even know that it exists – until the magical musician opened his 2022 tour there. Thus, on the second night of my April 2022 trip with Weird Al, I saw the first concert of the tour… and slept in the Hampton Inn & Suites Poughkeepsie. Here is my review of this night in this Hilton Hotels location.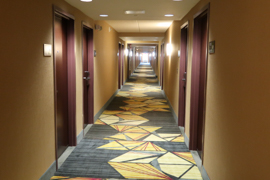 Hampton Inn & Suites Poughkeepsie – Location
The location of the hotel might look a bit of odd at first sight, as it is quite South of the city. However, there is a large IBM and other companies commercial complex near the hotel, so that there are also other peers and restaurants along this part of US-9. Next to the Hampton Inn, there is a Red Roof Plus+ outlet. There no other realistic option than reaching the hotel by car.
Hampton Inn & Suites Poughkeepsie – Room
I booked a two Queen Bed room (aka: the cheapest available) at a semi-flex rate with five nights cancellation period. The price for one night (including breakfast, it is a Hampton…) was 157.13 USD for a Tuesday to Wednesday night in April 2022. The hotel was very kind and upgraded me to the nice and spacious suite you see below. I especially loved the large working desk in front of the two beds, but also the sofa area (even though I typically don't use it that much on these kinds of travel). Another really nice amenity of the room was that this suite came with a US-style kitchenette (which means: microwave and fridge, but looking like a proper kitchen) right at the entrance area. After having the rather small Microtel by Wyndham Long Island City the night before, this place really felt like a treat.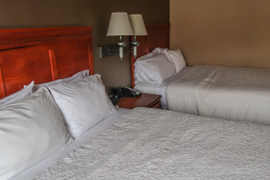 The sink of the room was located in a booth of the room, which also featured the large wardrobe. There was plenty of space for my own toilet items. The shower and toilet were located in a separate room next to it – an absolutely functional design, which worked out rather well. The hotel room was absolutely clean when I checked in.
Hampton Inn & Suites Poughkeepsie – Breakfast
I liked the spacious lobby of the hotel, which also featured the breakfast room. There were no negatives about the breakfast in Poughkeepsie – which feels like a very positive review. The staff was nice and worked well and the breakfast items were nicely presented. And: they had a waffle machine, which is always making me smile in the US morning.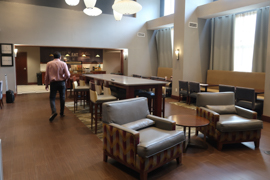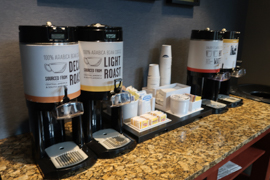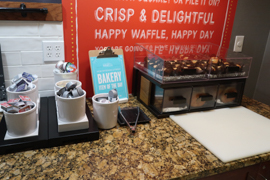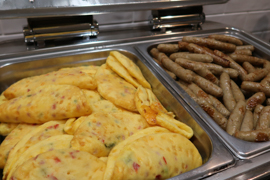 Hampton Inn & Suites Poughkeepsie – Service
The check-in and check-out process worked out rather smoothly. Compared to other Hampton places, the gym area was spacious. The hotel also offers a really nice indoor pool area including a whirlpool. However, time did not allow me to have a closer look during my visit.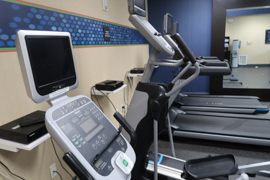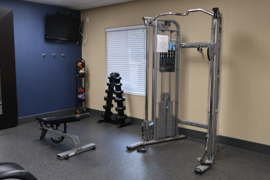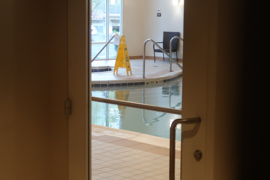 Hampton Inn & Suites Poughkeepsie – My View
A very nice room, very good facilities and friendly processing – finally, the Hampton Inn & Suites Poughkeepsie had all what is needed for a good stay. The pool area felt rather impressive – bad luck that I more or less just slept in these places during my April 2022. This stay is definitely in the Top Pick! ranks.
Hilton Hotels in the USA
Here are all my hotel reviews of Hilton Hotels in the USA:
Flyctory.com about Weird Al Yankovic
Here are all postings related to Weird Al Yankovic: