Four ice hockey matches, Rock of Ages #32 in Hollywood, two new airlines and many more impressions – this trip had a lot to offer. Time to head home – with a bit of risk, as I just had four hours transfer in Los Angeles – on separate tickets. Did I trust American Airlines too much? The Monday morning in California would tell.
| Date | Flight | from | to |
| --- | --- | --- | --- |
| Mo 02.03.2020 | AA 1366 | Las Vegas LAS | Los Angeles LAX |
| Mo 02.03.2020 | NZ 2 | Los Angeles LAX | London LHR (T5) |
| Tu 03.03.2020 | NZ 4203 | London LHR (T5) | Frankfurt FRA |
The American Airlines Admirals Club in Las Vegas
In contrast to the posh "Flagship Lounges" (here is a review of the one in New York JFK), especially the non-refurbished American Airlines Admiral Club lounges are typically not too much of a treat. Nevertheless, they give you a work desk, drinks, some sort of food and the possibility to leave your stuff somewhere if you want to have a short sanitary moment. I first thought that oneworld had a bug when I was looking into their Lounge Finder for Las Vegas in the morning. Result: No American Airlines Lounge (even though they operate quite some flights from there).At least, the Burger King breakfast gave me some food and a table to work on.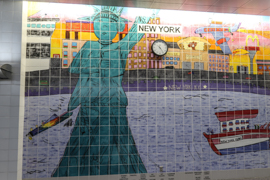 Lovely weather in Las Vegas, by the way (as you can see on some pictures – some views were even better, but I could not take a snap…).
Short Connection in Los Angeles
My flight from Las Vegas was due to arrive in Los Angeles airport at around noon, some four hours before the departure of NZ 2 to London-Heathrow. Should be an easy transfer, but I had to do it landside (i.e. grabbing your luggage, walking to the next terminal, ….). Thus, I was quite happy when the plane from Los Angeles arrived in time after a short flight with an effective airborne time of some 35 minutes.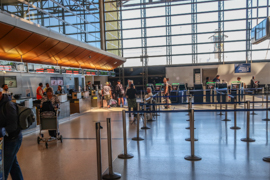 Apart from that it took quite long to wait for the luggage, it was a smooth transfer. Thus, already around 13:00 hrs local time, I was in the Star Alliance Lounge at Tom Bradley International Terminal – and this even though Air New Zealand does not support TSAPre, so that I had to take the ordinary security process. The lounge is a real treat – one of the best ones I know.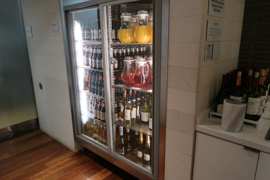 Kiwi-Time, Part 2
I was quite exhausted of the last days, so I cannot tell you too much about the flights. I booked front row Premium Economy for an additional charge, just because I want to be able to sleep and not to be disturbed by anyone when I am flying alone. I first even thought to skip dinner, but then went for the salmon, which was much better than it looked alike. A gin and tonic and some Melatonin later, I more or less slept the whole flight – with a short exception of half an hour, when the breakfast has been served. At least that means that their seats cannot be too bad.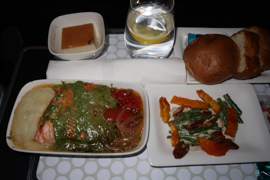 Welcome to Brexitania!
Sorry for that word, but the Brexit is still something which I can hardly accept. We arrived in London in time, security went very smooth – so that maybe some twenty minutes after the doors of the Air New Zealand plane opened, I was already in the Lufthansa Senator Lounge at Heathrow Terminal 5 (even though it is quite a walk). Plane to Frankfurt delayed by more than an hour, equipment change… But, hey, could all be worse…
Home Soil
Finally, I arrived in Frankfurt, 90 minutes too late. Nothing to thrilling, I slept most of the flight anyway. Quite interesting to me: the parking garage at Frankfurt Airport felt much more empty than at my departure seven days ago. Maybe the Corona virus fear is stronger than many believe.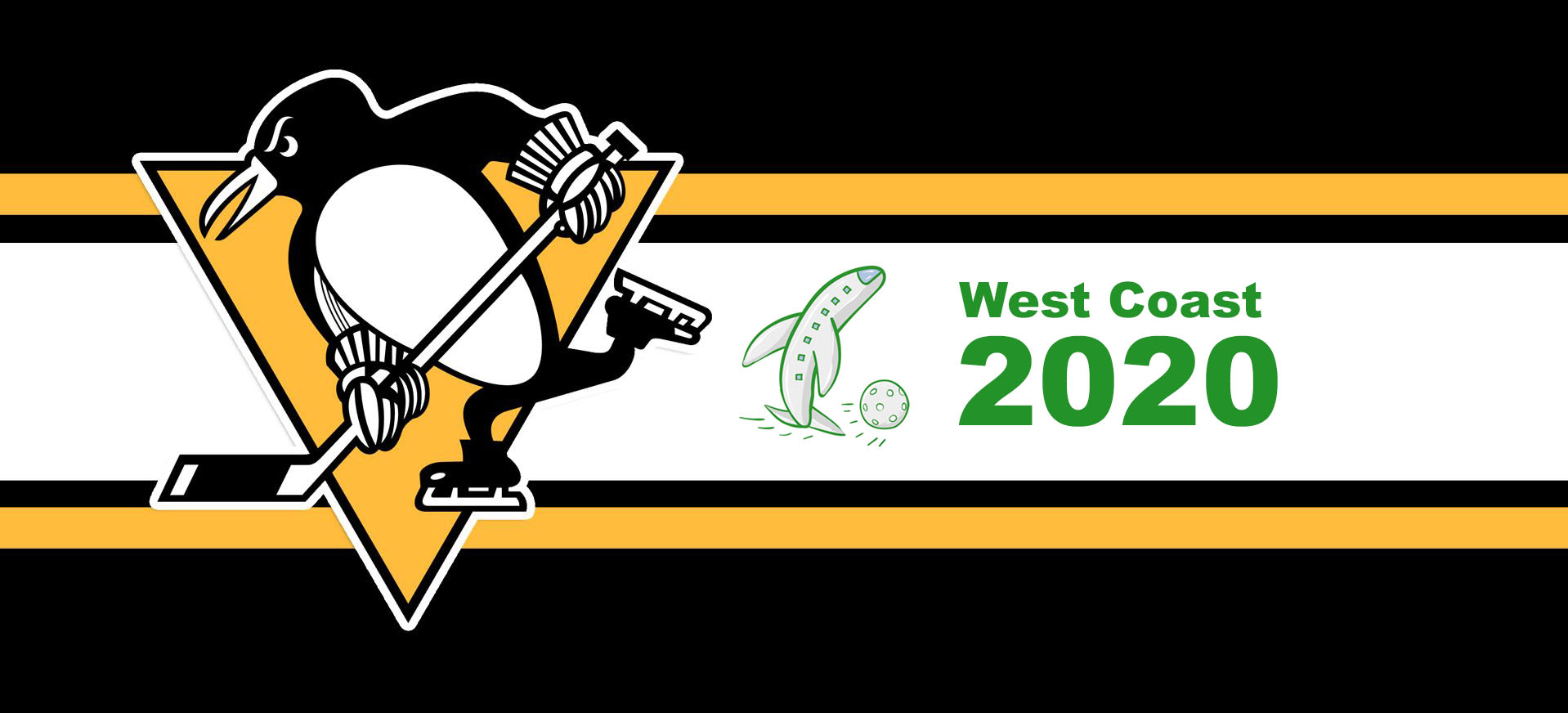 One week with the Penguins – My Final Words
Like I wrote a couple of times, it was one of the toughest trips I did. I completely underestimated it. Yes, and I felt asleep during some of the hockey matches, which I really hated. Being in the hockey arena until late (especially in NHL, where matches do not start at the given match time and take long due to the increased number of breaks) just does not work well with having a flight early the next morning. Oh yes, and the guys lost. Three times. Unexpected, but definitely not undeserved. To complete the list of negative things: having Korbinian Holzer and especially Dominik Kahun traded short before the trip was of course a shocker for me. Good to see Marco Sturm again, though – even though there is no chance to say hello to him, of course.
BUT: overall, it was one of the best trips I ever made! I saw so many different things – obscure ones like the Simpsons House on Day 6 and posh places like the amazing new T-Mobile Arena in Las Vegas. I saw two really good hockey matches (in Anaheim and L.A.). And the San Jose area will definitely make me travel back to the area soon (to be honest, I had a trip booked with some days in the San Francisco Bay during Christmas time anyway). So many amazing new experiences – loved it! I am really thankful for that!
California with the Pittsburgh Penguins – Day by Day
Here is the overview of my daily postings on this trip report.
Day 7/8, 2./3.2020 – Go West – Go East – Go Home!
Airline Postings
Here are all postings related to specific airlines and their flights:
Flyctory.com on Social Media
Flyctory.com is active on the following social media platforms:
Furthermore, you can follow the weekly updated Country Music Playlists on