The final ice hockey match on my February 2020 trip following the Pittsburgh Penguins to their West Coast matches was a game to relax, i.e. without my beloved Pittsburgh Penguins. Instead, the Vegas Golden Knights hosted the Los Angeles Kings in Las Vegas' quite new T-Mobile Arena. I has been my first visit in that venue, so that I was really looking forward to it. Here is my experience about the place, based on the hockey game on 1st March 2020.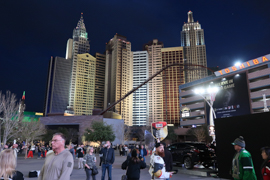 T-Mobile Arena – Location & Traffic
T-Mobile Arena is located right on the Southern tip of the heart of Vegas, the Strip. There are multiple restaurants, but also casinos nearby. You will definitely be able to distract yourself before and after the game. The closest well-known casino is likely the MGM Grand, which also holds 42.5% shares of the place (in line with the participation of Anschütz Group and on top of a 15% participation of Bill Foley).
Unfortunately, I cannot say something about the traffic and parking situation, as I could walk over from the OYO Hotel & Casino Las Vegas (formerly: Hooters Hotel & Casino). I would however expect that compared to other NHL arenas, you may find comparably cheap or even free parking lots in the casinos around.
T-Mobile Arena – Arena & Ticket Situation
T-Mobile Arena has been opened in 2016 with NHL matches started in the 2017-18 season with the introduction of the Golden Knights. By that view, the arena is the youngest of the NHL, together with Little Caesars Arena in Detroit. The ice hockey capacity is 17,500. One thing I recognized during / before my visit is that the arena is opening comparably late before the hockey match. This may be in line with the US spectator expectations, as those tend to arrive rather late to the matches – as I love to walk around a (new) venue and explore it, it lead to some hurry for me.
The first shock, however, is the purchase of tickets itself. I had quite ordinary seats behind the goal, section 20 in row F, which I bought as ordinary tickets (no resale) just when available. The price was 275 USD including all fees, using the mobile app to hold your ticket. The interior of the arena is really nice, though. The modern setup guarantees quite a great view. Sitting in these (comparably) "cheap" seats was very comfortable as well. One hint that this is a modern and thought-through place was also that I found a WiFi router next to my seat. Not too surprisingly, the in-arena internet connection was brilliant to me.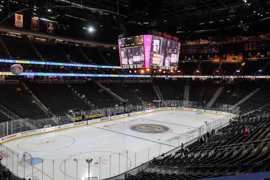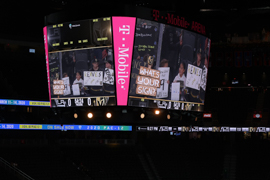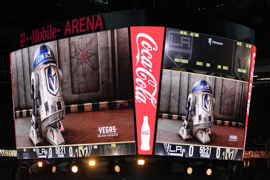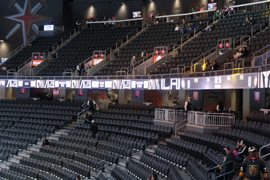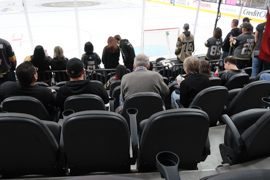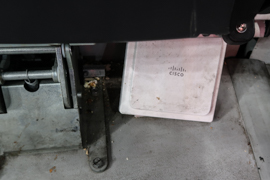 T-Mobile Arena – Atmosphere
The Vegas Golden Knights do quite a lot to have a great experience when you visit their home game. You can meet the cheerleaders, there are DJs and there is even a parade before the match. What is also quite fascinating: you may imagine that the Knights majorly live from tourism – and, yeah, of course, you do spot German, Czech, Finnish and other international jerseys around. But the locals love their hockey club as well and there are quite a bunch of season ticket holders. Overall, this is the only major league club in town – and the audience is quite good, in US relations. Quite some support from the stands during the match as well.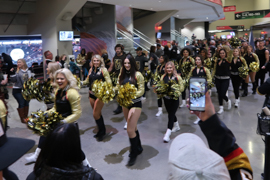 The pre-game show is definitely a lot of fun. There is a fortress in the upper ranks of the arena, which is really cool. It's Vegas style – and the Knights just do not disappoint you.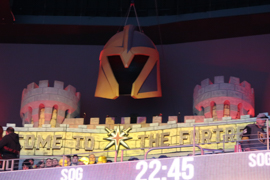 As already said, the locals love their team – and this leads to quite a nice experience. Once you have forgotten about the ticket prices, you really have a great evening at T-Mobile Arena.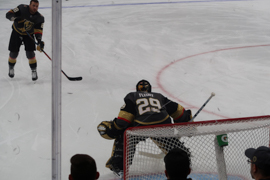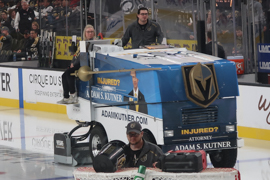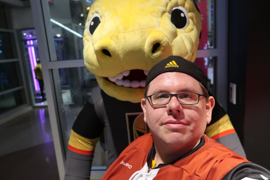 T-Mobile Arena – Food
This Vegas place is a new and modern arena – and one of the areas where you see it best is catering. First of all, there is a nice variety of items – but more than that, the way it is organized is just amazing. There are screens around the concourse, which do not only tell you which kinds of food and drinks are available at which place, but also how long the queues at these locations are. The pricing is slightly higher than in other places, but the quality of the items I tried was really fine. They also tried to install sufficient places where you can stand at tables and enjoy your meals – but finally, these arenas are all made to have your calories while being at your seat.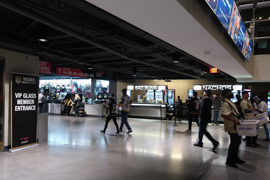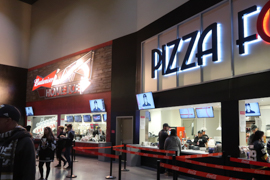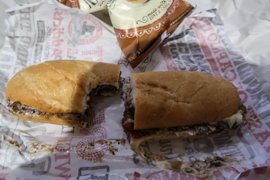 T-Mobile Arena – Shopping & Services
Las Vegas is just the top place to spent money for practically anything – and of course, this is reflected in the Golden Knights Store as well. You ever dreamed of a Marc-Andre Fleury figure in plush? You are free to take him with you (for a nominal fee… I nearly dared to do that). Pucks which look like poker chips are rather expected compared to that. There are of course multiple stores around the concourse – the main one (right behind the entrance) fills quite quickly before a match, so you should hurry.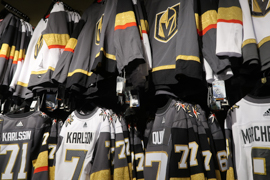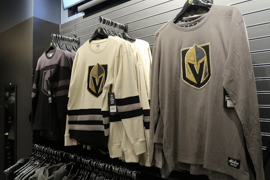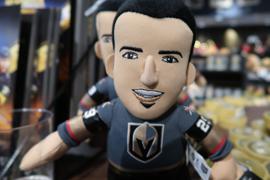 T-Mobile Arena – My View
T-Mobile Arena was impressive and the best arena on my February / March 2020. You see that the planners and architects took advantage of other arenas' experience. You have a great visit and NHL in Las Vegas is just fun. The only real negative point I see is the ridiculous ticket pricing. But you have to be honest, people pay that price, the arena was full (and finally, I paid it as well…). Still not sure if I should have bought the Fleury plush – would have been a unique souvenir from a unique evening – and a Top Pick! experience.
Stadiums & Arenas
Here are all reviews and reports about (sports) Stadiums & Arenas:
Other Top Picks
Here are all other reviews which I rated as excellent and assigned the Top Pick! Award: