Florida is full of amazing water attractions and aquariums. Installing a Sea Life in the limited space of the ICON Park Orlando 360 entertainment district (formerly: ICON 360) thus feels to be tough challenge. As my wife and I are aquarium fans, we could not stand to take the combo ticket offer and adding a visit to Sea Life Orlando and Madame Tussauds to The Wheel at ICON Park. Here is my review of the visit.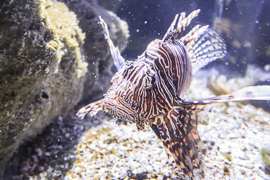 Sea Life Orlando – Location & Admission
The ICON Park Orlandoarea, which also features Sea Life, is located between International Drive and Universal Boulevard. Sea Life is part of the main building of this entertainment district. Parking is free in the adjacent parking garage. The very special Entertainment McDonalds is closeby as well.
The admission pricing is more or less in line with Madame Tussauds: you can reduce the ordinary entrance fee of 28 USD to 25.50 USD by buying online. Other valuable options to save some money is using one of the coupons you find somewhere in your hotel room. We went for 49.95 (plus tax) USD option to see all three major ICON Orlando 360 attractions, Sea Life, Madame Tussauds and The Wheel at ICON Park (formerly: ICON Orlando) ferris wheel.
Sea Life Orlando – The Exhibition
Your visit of Sea Life Orlando starts quite nice with an introduction room and cinema, in which also fish swim around you. I would love to give more details about the exact names of the zones you visit thereafter and especially the water animals in display, but there was neither a map nor the website is really helpful in that regard. Furthermore, the names on the website does does necessarily match the names in the aquarium itself. In the exhibition, there are touchpads which give you more information. You really have to touch these ones, though (which we felt is really silly – a good-old style illuminated display would be the better option.
As the cinema-thing at the beginning is concentrating the people, it was rather crowded at our fist stages. We indeed liked the jellyfish wall. The areas are split by topic. There is Florida coast sealife as well as Atlantic or Pacific ones. As done in many Sea Life outlets, you thereby hit a huge main aquarium at different levels of water and areas on the one hand, but also pass by minor habitats. One signature area deals with the axolotl.
Another attraction, which is highlighted by Sea Life Orlando is the glass tunnel through the largest aquarium. It is great to see the fish and turtles swimming around you. However, the tunnel is rather short compared to similar viewpoints. One of the last areas you visit is Stingray Cove – there is no stingray petting or even feeding though.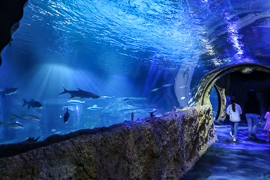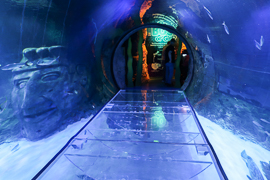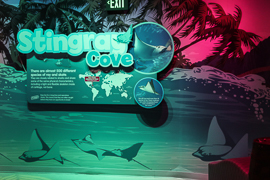 At least, the website is honest about the visting time: they state that in average, you stay about one hour in the attraction. Including the gift shop, we made it in roughly 45 minutes.
Sea Life Orlando – My View
As said above: I do like aquariums – and I even had a Merlin Annual Pass earlier in my life to see all the Sea Life in Germany. This Sea Life outlet is just a huge disappointment. It is fit to space (means: too small) and thus an absolute rip-off regarding the nominal entry fee. For example, my visit to Georgia Aquarium, Atlanta, earlier in 2018 was much more impressive for the same price. Even with the triple ticket we had for The Wheel at ICON Park ferris wheel and the great Madame Tussauds, I felt, you should not invest in the ten dollar difference to see Sea Life as well. In addition, you might visit Sea World when you are around and thereby fulfill your aquatic touristic needs. Orlando is full of interesting sights – and Florida is full of great aquariums. You simply do not need SeaLife Orlando on your tour.
(Greater) Orlando – Postings
Orlando is much more than Disney – here are all postings about the Entertainment Wonderland:
Flyctory.com about Animal Parks & Zoos
Here are all postings of the Zoos and More category: