Just some three years after the complex opened in 2015, the former "I-Drive 360" district next to Orlando International Drive renamed to "ICON 360". A handy area of major attractions, restaurants and entertainment. I visited the area in December 2018. In April 2019, it has been renamed to ICON Park. Here is a review.
This posting has originally been posted as ICON Orlando 360 in January 2019. I allowed for the rebranding in August 2019. I did not change any contents. The pictures may thus reflect the ICON Orlando 360 state.
ICON Park Orlando – Location & Access
ICON Park Orlando is located on the heart of Orlando attractions, between International Drive and Universal Boulevard. There are other major attractions around like the very special McDonald's serving pizza and pasta or Ripley's.
Accessing the area is free. The most likely way to get there is by car, there is a major parking garage which offers free parking. There are also numerous open air parking lots around. Of course, the Orlando International Drive buses also connection to ICON Park Orlando.
ICON Park Orlando – Attractions
Quite a lot of new attractions have recently opened in the former ICON Orlando 360. Thus, ICON Orlando, the large ferris wheel formerly called Orlando Eye, already feels quite old – though it is just three years old as well.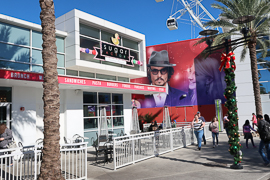 Three Major Ones…
You can access the three key attractions of ICON Park from one major indoor hall, where all three entrance areas are located. In the center of this Terminal Building, there is the entrance to the major ferris wheel "The Wheel At ICON Park" (formerly: ICON Orlando). To your right, you enter Sea Life Orlando, while on the opposite side, a Michael Jackson figure guides you inside Madame Tussauds Orlando. These attractions are having separate flyctory.com postings (linked here when published).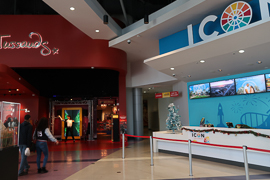 Other Attractions
The most eye-catching attraction apart from The Wheel at ICON Park is definitely the Starflyer. The Starflyer is the world tallest chairoplane / swing ride with a top height of 450 feet / 138 meters. After quite some thinking, I decided to go for the 13 dollar ride incl. tax. Though I am afraid of height, it was somehow amazing. If you love it that much that you want to come back, you pay a reduced rate.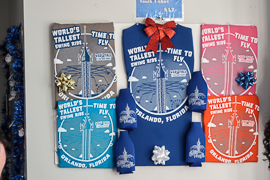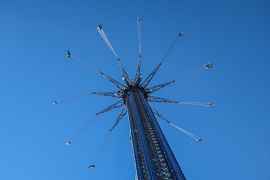 Another attraction which seems to be very popular is SKELETONS – Museum of Osteology, which is holding a selection of skeletons. I might review this one later. There is also a small arcade called Arcade City and the Pearl Express train, which drives you once around the grounds for five dollars.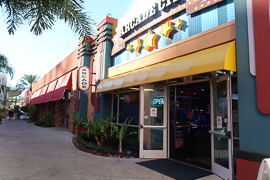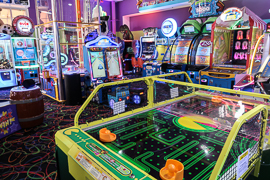 ICON Park Orlando – Dining & Shopping
There are numerous dining options around ICON Orlando 360. Many of them are franchise restaurants, though, like Buffalo Wild Wings or Shake Shack. Nevertheless, there are some nice options, up to ice cream (Ben & Jerry's) and Spanish tapas.
If you want to spent some money without eating, there is also a Walgreens, a souvenir store and some other retailers.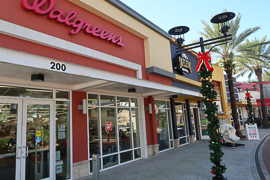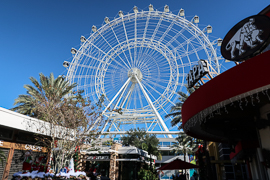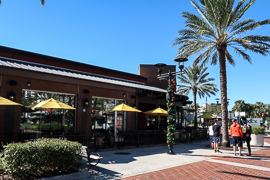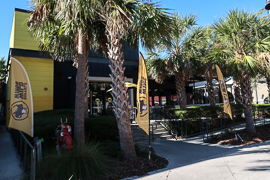 ICON Park Orlando – My View
If you just walk though ICON Park Orlando without visiting one the attractions and maybe grab an ice cream at Ben & Jerry's, you will be done in less than an hour. Nevertheless, I love that place. It is open air, so you can enjoy the sun, but also quiet. No car traffic is allowed so that you can really just enjoy yourself. Some of the attractions are really top notch, like the Starflyer, The Wheel at ICON Park or Madame Tussauds. This also allows you to be at the park for more time. It is also great to go out in the evening – not just to see the lights of Orlando from the top in the dark.
(Greater) Orlando – Postings
Orlando is much more than Disney – here are all postings about the Entertainment Wonderland:
Flyctory.com on Eating & Drinking
Flyctory.com is not a culinary blog. Nevertheless, here are all posts dealing with Eating and Drinking: