After Day 9 featured the last real travel highlights including the Opry show, the last entry of any multi-day trip report is typically a travel entry. Nashville – Washington – Frankfurt – Cologne – home – that's about the the stages to take on Saturday and Sunday on the way back from the United States to Germany on my Pittsburgh Penguins March 2022 trip. This includes three flights, the last one being a Lufthansa Express Rail / high speed train connection:
| Date | Flight | from | to |
| --- | --- | --- | --- |
| 19.03.2022 | LH 9089 | Nashville (BNA) | Washington Dulles (IAD) |
| 19.03.2022 | LH 419 | Washington Dulles (IAD) | Frankfurt (FRA) |
| 20.03.2022 | LH 3532 | Frankfurt (FRA – Rail) | Cologne Rail (QKL) |
Breakfast and Music on the Nashville Morning
I was quite fond of the Comfort Inn Nashville – Opryland Area at check-in – but their breakfast performance was definitely below average. I majorly spent the morning with music reviews, playlist updates, loading pictures into Lightroom etc. before I finally headed to Nashville Airport.
Smooth Rental Car – Terrible Experience thereafter
I typically don't like travel agency rental car bookings. The more, I have to say that the experience with Avis (and Dertour as the German agency) was awesome, also at the rental car return. The staff was a bit of stressed, but things worked out very efficiently.
That would be the perfect timing to close my stories about Nashville Airport. To sum it up, my last hours in Music City and their air travel hub have been a mess. It took the staff at United over half an hour to check me in. They had issues with several passengers, but I have likely been the worst issue (however, there have been discussions among the employees about other issues again and again). One employee slammed by passport against my suitcase in an act of frustration. The terminal experience is terrible. United is in the North Terminal. Apart from the Delta Lounge, all "cool" places like the Tootsie's or the pay-to-enter lounge are in the South Terminal, which are currently not connected airside. I even had to stand to work on the pictures of my Opry posting. Issues with the internet as well.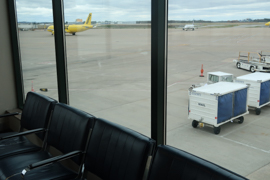 Ready for the First Class Experience
Luckily, I majorly slept on the flight to Washington-Dulles (IAD), so that I wasn't too annoyed by the two girls in front of me, who majorly did not wear a mask during the flight and kicked my feet multiple times. The transfer from the United gate to the Lufthansa Lounge was a mess as well, having the old-fashioned and packed something-like-a-bus transfer first before boarding the more modern tram system. The lounge was quite nice, but unfortunately packed with people. Salmon as dinner – not too bad. The flight boarded through the lounge (i.e. you don't have to go to the gate), which I, of course, enjoyed.
The plane servicing the flight was a Lufthansa Airbus A340-600, D-AIHT. Lufthansa shortly before reactivated a couple of them, so that I could take an upgrade from Premium Economy and could book seat 1A as a Lufthansa Gold / Senator. Some of you might know that this is a First Class seat. Of course, there was "just" Business service in that cabin, but still a nice way to say farewell to the United States, especially after that limited fun experience that day. Will be back in some six weeks for the Weird Al Yankovic Tour 2022.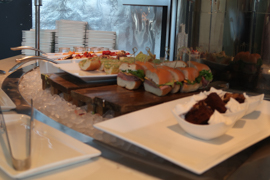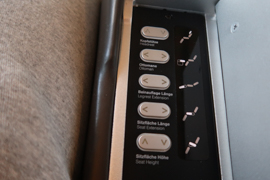 Back Home With Chaos
After a great flight with a superb crew, I arrived slightly too early into the Frankfurt Airport chaos. There was a huge line at immigration / passport control, majorly caused by a high number of non-EU people. Despite the EU line was rather empty, they first sent us down the line… in order to collect all the European Union passengers a couple of minutes later.
The last steps home were finally standing in the Lufthansa Express Rail high-speed rail train. United had messed up my check-in for the train, Lufthansa at the Express Rail Terminal (!) could not help me as well. Surprisingly, the Sunday morning train was rather packed… with me and two suitcases in the train, knowing that there is a reserved seat somewhere. Another time loosing valuable work time. Finally headed back home from Cologne Main Station by taxi.
Some Final Words
What a great eleven day trip. A couple of things were deep fails, including the final United Airlines decision (I will blacklist Star Alliance from Nashville Airport at least until they got the renovation jobs done) and the Altoona disappointment on Day 4. You will find a lot of reviews over the next weeks and months which I started to write already. And a 3-1 match stat for the Penguins. Look forward to see them again (likely, some day in the 2022-23 season). Thanks for all your feedback!
Pittsburgh Penguins March 2022 – Day By Day
Below is the list of all episodes I like to share with you. Once they are available, I will add a link here.
Day 10/11, 19./20.3.2022 – The Final F(l)ights
Flyctory.com about the Pittsburgh Penguins
Here are all postings related to the Pittsburgh Penguins:
Lufthansa Group
Here are all my postings related to the Lufthansa Group: