Waking up in Anaheim, cheering fpr the Penguins in Staples center – that was roughly the plan for Day 2 of my California trip in February 2020. I have been looking forward that much to the first match of my team on this trip, facing the Los Angeles King with former Cologne player Marco Sturm as an assistance coach. In addition, there have been a couple of ideas how to spent the day – a list of sights and events, which are by far too much to visit on this short visit to California anyway. Here is my second day of the trip.
Jetlag and SIM Cards
Most of my US and Canada trips are heading to the East Coast. Pittsburgh, Nashville, New York, Washington, Orlando, Toronto – all these destinations are more or less not too far away from the Atlantic Ocean. The nice side effect of these trip is the six hour time difference to Germany and the easy-to-manage jetlack: you just stay awake until 22:00hrs or so in your new US home for the next days… and typically wake up around 5:00 to 6:00 on the next morning, ready to have a good day. In Anaheim, it worked the same to me: went to bed at ten, woke up at six… East Coast time. 3:00 hrs was just a bit too early, but I just could not sleep any more. Bad luck.
At around 5:00 I gave up and decided to do sensible stuff: in the US, I typically travel with two cell phones, my normal German one and a US one. Luckily, my new phone is able to cope with the US LTE networks – glad to have the AT&T logo together with the much better camera and familiar apps – I guess it will lead to some additional entries on my Instagram feed.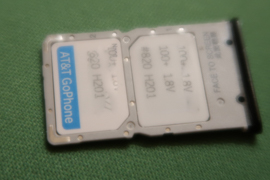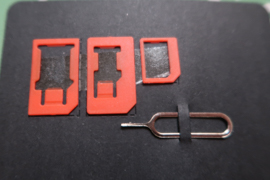 I have nothing to wear!
Traveling to four hockey matches of course leads to some pressure to look good – here is my selection of fashion for this trip (I exclude all Penguins shirts, jackets, hoodies and socks I have with me as well). Even though Tom Kühnhackl is now playing for the Islanders, this will be my standard jersey for the Penguins matches – the Lemieux one is the substitute (yeah, Lemieux as a back-up for Kühnhackl… You won't read that too often, I guess…). My home town hockey team Cologne (who finished the incredible streak of 17 matches lost in a row during my flight to L.A. the day before – congrats) will be represented by a scarf – and likely in the Las Vegas match at the end of the tour.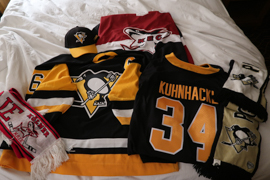 Old Planes and Cars in Santa Ana
My first stop of the day was the Lyon Air Museum, a nice collection of old planes and cars right at Santa Ana's John Wayne Airport. A really interesting place, especially as all the planes are still in general ready to fly. Good start of the day!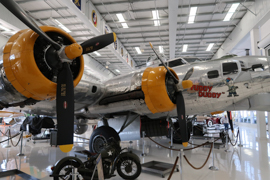 Shopping!
Sometimes, you just have to do shopping in the US, when you are a European traveler. I headed to the Outlets at Orange, quite close to the hotel, to buy some new Reeboks… And finding out there that there is no such store in that outlet. Bought some new ones at addidas now – nice place definitely. I especially loved that barbecue restaurant with all the Western figures on the building. And they have a Dave & Busters, so that I may come back during my trip.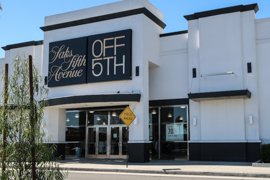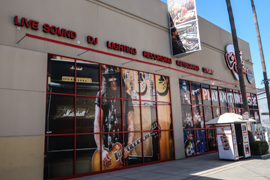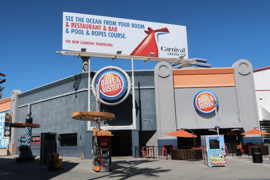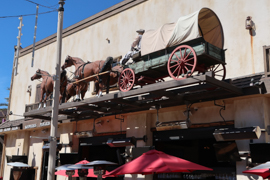 Honoring the Small One
Heading towards Los Angeles, I had to stop by at Hawthorne. The shortest street of the city has been dedicated to one of the city's shortest adult inhabitants: Michu Lane reminds of the Hungarian actor Mihaly "Michu" Meszaros. Don't know him? The just 84cm tall one was the person in the ALF costume. Unfortunately, he died in 2016. It was possible to honor him in a special museum near Hollywood – which closed down two weeks before my visit. Sad. But still I had to honor and memorize him on my trip.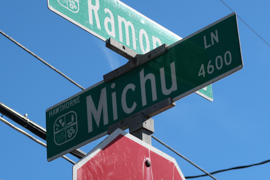 Would have loved to visit the grave of Max Wright aka William Tanner, who passed away in 2019, as well. Unfortunately, he the location of his grave is unknown (there are even different places of death in the press).
Planes, Pt. 2 – This time with a Burger
Next stop: Los Angeles Airport. Not flying that day, but visiting a very special fast food place. In-N-Out Burger is a California classic – but the one on the Northeast tip of Los Angeles Airport is a legend by itself. Not just as the burgers are delicious, but as the restaurant is right at the end of the approach of the 24R runway typically used for flight arrivals. I was not there during the peak hours of traffic – but still had quite some fun at this very special place.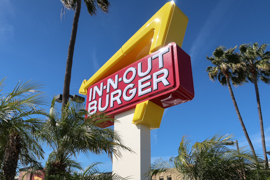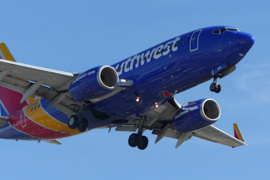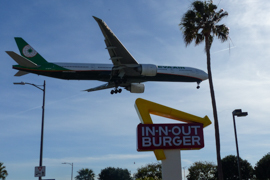 Missing Weird Al Yankovic & good staff at the Grammys
Time to head in the direction of Staples Center for the match. Los Angeles means traffic jam – and at least I could thus spot the Lufthansa plane, which would have been my alternative (First Class) option to fly into Los Angeles Airport.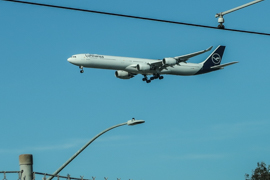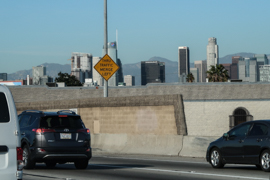 ,
I had pre-booked parking for the match and could park my car there early. Time to explore L.A. Live, the event space, which also features Microsoft Theater, restaurants and more places.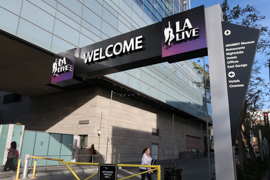 Before the match, I had time to visit the Grammy Museum. The place itself was nice, unfortunately very concentrated on the winners of the key Grammy categories. Thus, I could not spot any references of my very dear Weird Al Yankovic, for example. Even worse, the staff did not tell me that they will close down a whole floor thirty minutes after I reached the museum (by the way, the floor which they recommended me to visit last…). Terrible service attitude!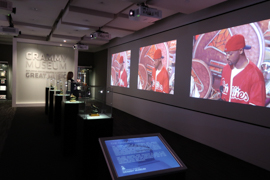 Los Angeles Kings vs. Pittsburgh Penguins 2-1
Time to head to Staples Center after that disappointment. There are a lot of statues around the venue (which I took by far too few pictures of – my review will be a bit of poor…). Staples Center feels a bit old fashioned for example compared to PPG Paints Arena.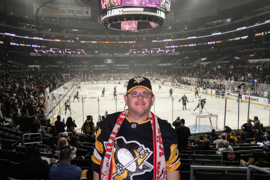 The match? We lost… Quite unnecessarily and unlucky. Pittsburgh dominated, but they were bad in scoring, good in hitting the post and the Kings just acted handier that day with a much better precision and effectiveness. At least it was a close and interesting match. Felt the jetlack in the second and third period, though (I left the venue at a time I would be in office already the next day in Germany…). Nevertheless, nice experience. Better luck in Anaheim – hopefully!
California with the Pittsburgh Penguins – Day by Day
Here is the overview of my daily postings on this trip report.
Day 2, 26.2.2020 – The First Match: L.A. Kings
Trip Reports
Here are all (other) Trip Report postings:
Sports Blogging on Flyctory.com
Here are all Sports Blogging entries (no match reports or similar) on Flyctory.com: