Visiting Orlando, I have to admit that I prefer Universal Studios parks in Florida much more to Disney ones. One thing I do love about Disney are the four mini golf courses they offer at Walt Disney World. I did them all on my visit in December 2018. While I chose SeaWorld for the Christmas celebrations, I did the "sportive" part with Mickey and friends. Here is an overview of playing mini golf under Mickey's and Pluto's eyes.
Mini Golf at Disney World – Location & Admissions
There are two areas in Disney World Resort where you can test your mini golf skills. Each locations features two courses each. Any course has 18 holes to play. The rules suggested are that you have six shots each and failing in completing one hole after six shots will lead to a seventh penalty point. The Winter Summerland area is located close to Blizzard Beach water park. Fantasia Gardens is located right across Swan hotel, close to Disney Boardwalk. Both course areas were some twenty minutes drive each from our hotel, Homewood Suites Lake Buena Vista. They are just a couple of minutes apart from each other, though.
Pricing is equivalent for all courses: you pay 14 USD for one adult play of 18 holes. The ball will be gone after hitting the 18th hole – the only exception here is Fantasia Fairways. There are numerous price reductions available. The easiest one is that you get 25% off your next round on any Disney mini golf course if you come back the same day or the following one. Thus, playing all four courses is about 45 USD plus tax.
Mini Golf at Disney World – Winter Summerland
We started our trip through the disney mini golf courses at Winter Summerland. The courses are inspired by Christmas – the Winter Course shows the holidays in the cold days, while the summer course rather reflects the climate conditions in the Southern hemisphere. You have corresponding underlying music on both courses – Christmas songs during playing the Winter Course and songs like the Beach Boys on the summer side.
The Winter Course
We started with the winter course, which has a lovely artwork and definitely gave some Christmas feeling some days before Santa's great days. If there is one disappointing course, I unfortunately have to name this one. I feel it is great with kids – but if you want to have some competition, I would definitely opt for the summer course. The key reason is that after the first holes, the following ones are just too easy. Very often, there is a decline towards the hole, so that even a not too precise shot will lead to a direct score. At some holes, even terrible tries may be successful. I started quite well and had a lead – due to that mis-feature, my wife had no chance to come back. Hole 18 is absolute disappointment, where just need to play along a wide course (just blocked by a mouse on a piece of cheese) for an easy hole in one.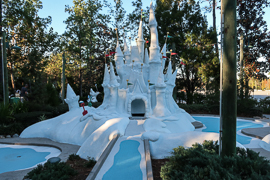 The Summer Course
We went on for the summer course right after the Winter Course. The course is as beautifully arranged and much more challenging. This is the course I would recommend to play with kids if they are a bit advanced. One disappointing factor was that some of the courses practically exactly matched the Winter Course. Unfortunately, this also applies for silly hole 18 – no chance to challenge there. We had a quite close battle at the summer course, which has been won by my wife.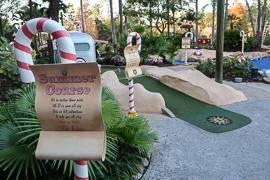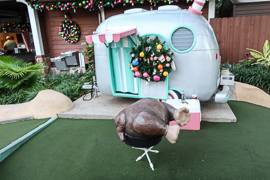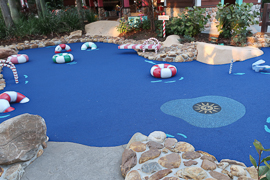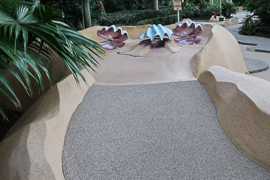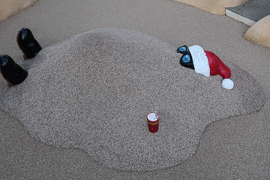 Mini Golf at Disney World – Fantasia Gardens
The next days, we went to Fantasia Gardens to do the two courses there. While we played the Summer and Winter Course in the afternoon hours, we played these rounds around noon. Fantasia Gardens was quite crowded, so that you have to wait for the groups in front of you from time to time. Significantly fewer people dare to take the Fantasia Fairways, which is a shame.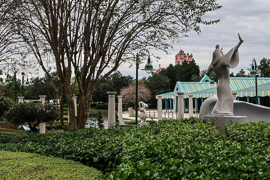 The Fantasia Gardens Course
Fantasia Gardens is themed about classical music. The first hole is already a challenge – depending on how quickly and well you hit the slope up, you may end up in a more or less fortunate position (or hit a hole in one). The lanes are nicely designed and offer some decent challenges. Some people even failed to pocket the ball within the six shot limit at some holes. Again, the 18th hole is a bit too easy in my view (I feel it should be a challenge so that you can still mix up the leader board), but at least you end up with a nice water fountain after your success.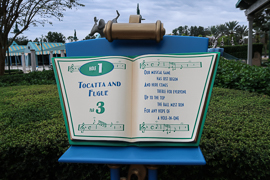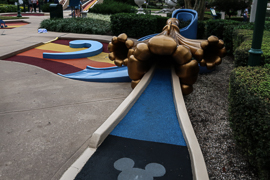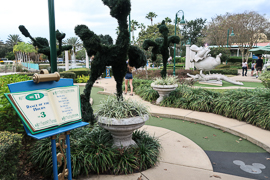 The Fantasia Fairways Course
If you google for the hardest mini golf courses in the world, you typically also find Fantasia Fairways in the list of candidates. Not too surprising – this monster of mini golf is inspired by real golf courses. The longest holes are more than 100 feet, roughly 30 meters. The course record for this 18-holer is 45 strokes. We had a close battle and ended up with 81 / 85 shots before we completed hole 18. On route, you multiple times fish your ball out of the rough and pray that it does not end up in the water (yeah, there are even water obstacles). Most of the courses feature bunkers – however, these are not sandy, but also made of artificial turf. Nearly all courses are very hilly. The holes have flags – otherwise, there would be no chance to see them from the starting point. Even hole 8, which is the shortest hole, has 63 feet / 19 meters.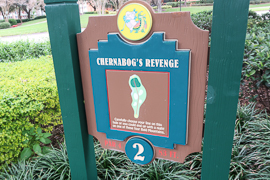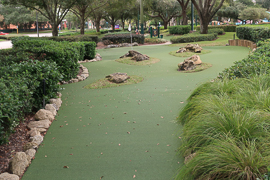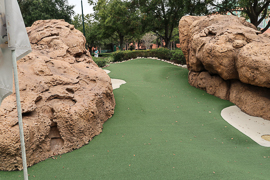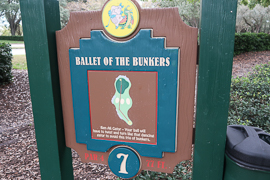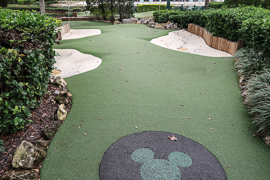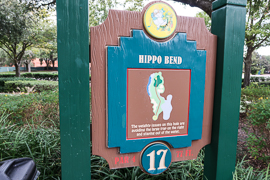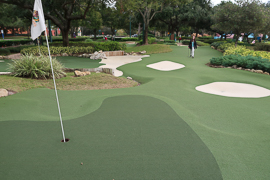 To my Fantasia Fairways is a highlight of each Florida trip. Though I fail and some holes just lead to desperation (Sarah and I did not manage to complete some holes within the six stroke limit), it is just massive fun and a challenge from the first long shot to the final putt. If you are in the area and have some 14 USD plus tax left, you just have to go for it – it is my personal mini golf Top Pick! Even though I absolutely enjoy playing it, I would highly recommend to leave younger kids at home when you do it – there is too much potential that you need to calm them down with loads of ice cream after this round.
Mini Golf at Disney World – My View
Yes, our visit to the world of small Disney Golf started with disappointment – the Winter Course is just too easy and does not allow to play close battles and have unexpected comebacks when you play with a group of people. The artwork and design of all four courses is just top notch and adds so much fun to your visit. The Summer Course as well as Fantasia Gardens are great courses to play a nice round of Mini Golf together.
Then there is Fantasia Fairways. Words can hardly tell how massive the experience is. Even if you end up in the 70s or 80s regarding the number of shots, you just want to restart playing after you stood the challenge for the first time. This place is just an incredible gem under the sign of the two big ears. You will have fun at all four golf courses – but the Fairways are just 18 holes of enjoyment. Hope to be able to play another round soon!
I decided that this post is my second best posting of the second half of 2018 in my "Very Important Postings" overview.