After four nights in Greater Los Angeles, it was time to follow my team and fly to San Jose with the Penguins on my fifth day of my California trip in February 2020. A bit of home town hockey feeling, as my Cologne team, the "Kölner Haie", have a Shark as their team mascot as well.
Eaaarly… And waiting….
JetBlue states on their website that you can drop off your luggage up to four hours before departure, certain airports (e.g. Canadian ones) excluded. However, when I arrived at the airport around 4:15am, so roughly 2:30hrs before the flight, there were just some waiting passengers. The staff arrived there some two hours before the flight – but it took them ages to accept luggage (and they did not feel to be too motivated as well). Not too much of a hurry, as I saw then, anyway… The TSA and security guys at Long Beach Airport started their duties even later.
Long Beach Airport itself is a nice place. Reminded me a bit of some Hawaiian destinations, as the airport is just partially roofed in some areas. I could work on some stuff before heading towards San Jose – a very enjoyable service on JetBlue after I passed the ground mess.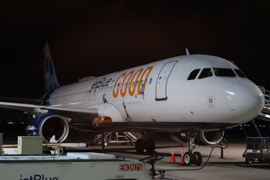 Touring the Silicon Valley
After arrival, I had a short shuttle ride to the other terminal and grabbed my rental car – I went for a Chrysler 300 S this time, which was quite some fun. At first, I wanted to do some tourist stuff in the Silicon Valley. My initial stop was the original Apple Garage, which is quite unspectacular (but there are quite frequent people stopping by… Felt a bit sad for the residents).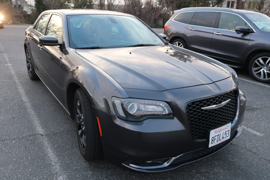 The next stop was the garage in which Hewlett and Packard built their first oscillator. California Historic Landmarks calls that the Birthplace of the Silicon Valley – I will come to that soon. The building as well as the place with the commemorative sign is much nicer than the Apple one – again, there is no museum or so, it is private property, which you have to respect when you travel there. By the way, this place was also just much nicer to watch, as you can see on the pictures.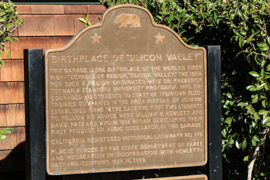 Geeks like me head then to what is likely more the real birthplace of the Silicon Valley. 381 San Antonio Rd in Mountain View was the site of the Shockley Semiconductor Laboratories, which created the boom of electronic stuff in the San Francisco Bay. Nowadays, it hosts a shopping and commercial district, the Village at San Antonio – but there is still a monument honoring this place.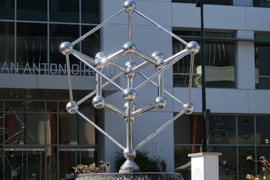 The new Center of Power? The Google Grounds
Ain't Google something like the new superpower of the world? From the Silicon Valley beginnings, I went to to the Google Campus or Google City or however you want to call the huge company grounds (which are very beautiful to walk and drive through, by the way).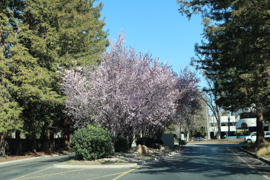 The Google Souvenir Store is just open Monday to Friday, but at least I visited the Google Android Lawn Statues. Cute!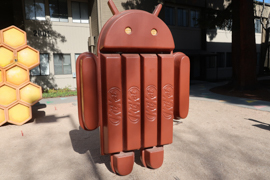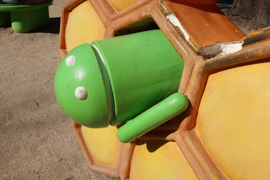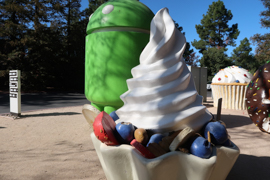 Computer History Museum
Of course, there are a couple of computer and technology museums around San Jose and the Silicon Valley. I went for the Computer History Museum, which is very close to Google. A very nice place, which is especially cool in showing a lot of historic calculation machines and computers – but there are also some very different exhibits there.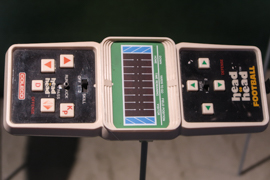 I took a break in the museum cafe, competed unsuccessfully in a Spacewar! tournament and also published my review of the 2020 Böhse Onkelz album.
A very special landmark
Before I headed back towards San Jose, I made a short stop at Sunnyvale to watch a very unique site. In contrast to Europe, where water pressure is typically generated by pumps, water towers are widespread in the United States. This one is very special though – as it is branded and shaped like a Libby's fruit can. Funny place!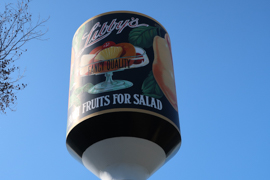 Gaming & Shopping
I decided to skip the (free) Intel Museum and went to the Great Mall of the Bay Area. Shopping there was not successful, but at least I had some more time in the local Dave & Busters.
Time to head to SAP Center thereafter. Match 3/3 of my trip with the Penguins.
San Jose Sharks – Pittsburgh Penguins 5-0
I just did not want to finish this Pittsburgh Penguins trip with a 0-0-3 statistics – but my team did not want me to have a single victory this time. I could more or less copy the match report of one of the other matches against Los Angeles on Day 2 and Anaheim on Friday: Pittsburgh did not start bad at all. In their first power play, they played one of the best strategies I ever saw – with the unfortunate detail that their play looked good, but in fact was not effective at all. Neither the big names like Crosby or Malkin did good in any of the three matches, neither of the trades like Marleau or Sheary did really feel to justify their move to Pittsburgh. I missed Dominik Kahun a lot (who scored in his first Buffalo Sabres match…).
The arena was quite nice, though, very central and well connected with quite a lack of organization. Terrible queues to get in, even worse queues in the intermissions for a snack or a pee. On the other hand, they had a small fan party and the arena hosts the honoring signs of the San Jose Sports Hall of Fame. Sometimes, I somehow felt happy that the physical impact of this tough trip made me sleep here and there – the longer the match took, the more deserved was the Sharks' victory. Best atmosphere of all three matches, by the way – maybe not too surprising if you are the underdog and smash away the favorite by a straight 5-0 score…
Hilton Garden Inn San Mateo
It is one of the unfortunate characteristics of this trip that I see quite a couple of hotels without being able to review them. My stay for the night was the quite nice looking
California with the Pittsburgh Penguins – Day by Day
Here is the overview of my daily postings on this trip report.
Day 5, 29.2.2020 – A bit of Home Town feeling – The Sharks
Flyctory.com about the Pittsburgh Penguins
Here are all postings related to the Pittsburgh Penguins:
Postings about Concerts
All postings about  concerts I visited: