Even during my December 2019 stay in Pittsburgh, I frequently did get in touch with Christmas. There were not just ugly sweaters and gift suggestions, but also a Christmas Market in the city. After I reviewed a couple of them in Cologne (for example the one at Cologne Cathedral) and happened to run into another one at Munich airport, I felt to give you some insides how these places look like on the other side of the Atlantic Ocean. This posting also includes some views of the PPG Place Ice Rink.
Pittsburgh Christmas Market – Location & Times
Peoples Gas Holiday Market, which is the official name of Pittsburgh Christmas Market, is located on Market Square. If you use local transport, the light rail / Underground Gateway Station is just a three minute walk away.
The Christmas Market opened on 22nd November 2019 and will close on 23rd December 2019. Monday to Thursday opening times are 11:00 to 20:00 hrs. On Fridays and Saturdays, the market will close 90 minutes later, while Sunday opening is limited to 18:00. There was no market activity at Thanksgiving.
Pittsburgh Christmas Market – Atmosphere
In general, Market Square is a really lovely place surrounded by smaller houses, but with a lot of the tall ones in the background. I unfortunately did not make it to visit the time in the later evening hours to catch a more nighly atmsophere.
The booths are comparably large and are mostly designed in a half-timbered house style. Thereby, the aisles are quite wide and clear.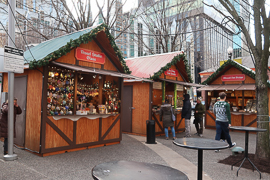 On the central part of the market, there was a stage with some tables and chairs. During my visit, a guy was playing live music. Children might also like to visit Santa at his home.
Pittsburgh Christmas Market – Vendors
The selection of vendors is one of the key difference between the Pittsburgh Christmas Market and the European ones. While in Europe, there is quite some focus on having a mulled wine and a bite together, the Pennsylvania version just had one out of some forty vendors for food. This Austrian-driven booth sold strudel, sausage and more (did not take a picture). The goods you can buy, though, do not differ too much from Christmas markets I visited in Germany this year. One booth even featured European soccer scarves among other crafts. There is a higher focus on Christmas goods, though. On the other hand, one booth was driven by an energy company, which was looking for new clients. Some vendors just have a temporary residence.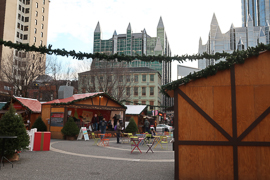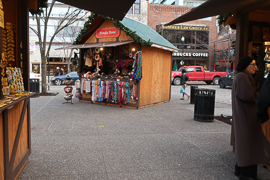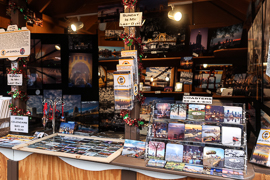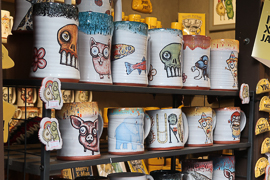 The Ice Rink at PPG Place
The ice rink, which is officially called Mass Mutual Ice Rink at PPG Place is just a very short walk away from Market Square. The architecture at PPG Place is quite impressive anyway – and the large Christmas tree together with the ice rink give a very nice atmosphere. The adult admission is 10 USD with a skate rental fee (on top) of 4 USD,
In two buildings around PPG Place, the reception areas host lifesize figures of Santa Clause in different cultures, together with pictures and similar items.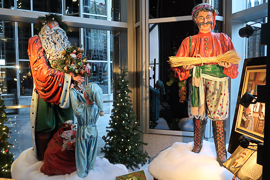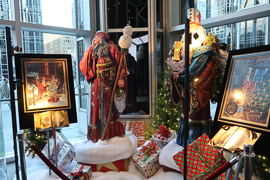 Pittsburgh Christmas Market – My View
You can't compare Pittsburgh Christmas Market wth a medium-sized European one – but still, the scenery around Market Square and the ice rink give some holiday feelings. Also interesting to see that the setup of vendors is that different between Europe and the US (of course, partially driven by the different alcohol laws).
Flyctory.com in Pittsburgh
Here are more postings by Flyctory.com related to Greater Pittsburgh:
Flyctory.com about Christmas
Here are all Flyctory.com postings which deal with Christmas in any way: