A museum about drums and percussion? Sounds like a perfect visit for a travel(, sports) and music website! Before I saw Weird Al Yankovic on his Strings Attached tour stage in Indianapolis, I just could not stand to visit this place in the center of the city.
Rhythm! – Location and Admission
Rhythm! is located right in the heart of Indianapolis, at the crossing of West Washington Street and North Illinois Street. There are a lot of attractions in walking distance, like the Eiteljorg Museum and the Indiana State Museum. From the Fairfield Inn & Suites I stayed in, it was about a five to ten minutes walk. There are a bunch of parking opportunities around – they are, however, quite ridiculously priced in the center of the city. If you have a longer day in the capital of Indiana, it might be sensible to for example park near Lucas Oil Stadium.
The museum is located in the basement of the building, so it took me some time to find the entrance. Adults pay 12 USD. Rhythm! Discovery Center is closed on Tuesdays. On all other days, the museum opens from 10:00 to 17:00 hrs, on Sunday the doors open at noon. In summer, the Wednesday times shift to noon to 19:00 hrs.
Rhythm! – The Visit
The museum tries to be interactive from the very beginning of your visit. There are displays with historic percussion instruments from different cultures, but, for example, you are also able to explore how to play a Chinese gong and which different kinds of sounds are possible. Quite soon, you reach an area with quite classical percussion instruments as we know them now or at least as they were known in the European-American culture of the last couple of hundred years. You also pass by the archive of the museum, which is massive – such a shame that they cannot add more instruments on display.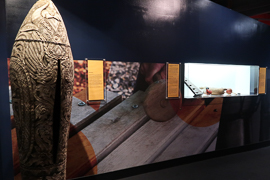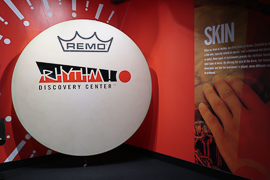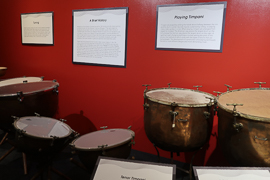 If Rhythm! would just be a bunch of musical instruments and related exhibits, it would at most be average – but this place is very interactive and also educative. Quite a couple of video displays illustrate different drum and percussion playing techniques, for example – of course, you can try them out. There are even two soundproof rooms with drum kits available. Another area features percussion instruments of all kinds, which you may grab and try out. There are also workshops driven by the museum.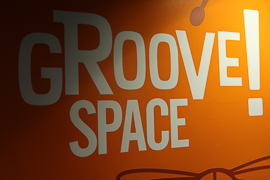 Finally, a very nice part of the collection are drum sets played by famous dummers. Even for a non-musician like me, it is very interesting to understand the different playing styles and setups.
Rhythm! – Shop
Before you leave the museum, there is – of course – a gift shop. Nothing special, just the stuff you would expect in a place like that.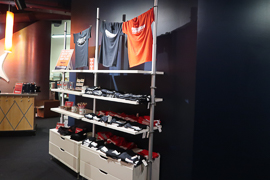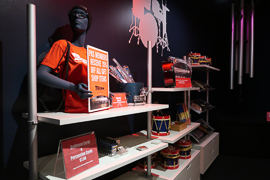 Rhythm! – My View
Great idea, maybe a bit limited in space, but a lovely collection with very friendly, close to enthusiastic employees – visiting Rhythm! Discover Center should definitely be on your Indianapolis bucket list when you are into music. The displays are very nice, you can learn a lot there and the way it is set up, it is just a lot of fun. The only bad luck I felt is that the museum somehow told me that I should have worked more on my musical skills during childhood. Very good!
Flyctory.com in Indianapolis
Here are all postings related to Indianapolis:
Postings: Museums & Exhibitions
Here are all my postings about all kinds of museums and kind of other exhibitions: